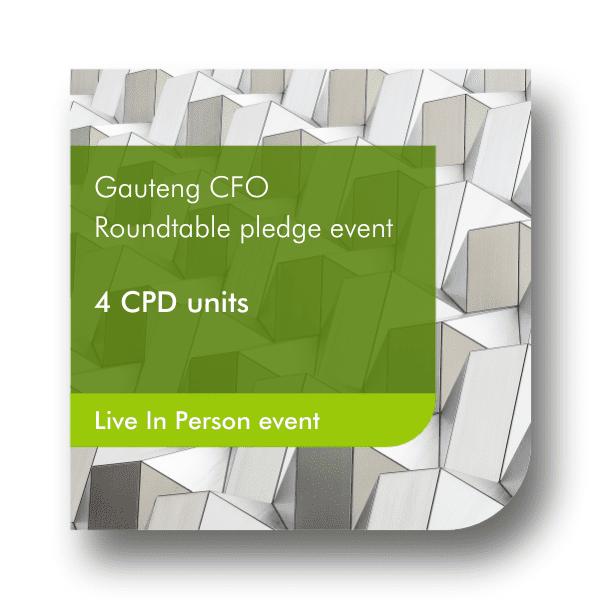 Gauteng CFO Roundtable Pledge Signing Event
Gauteng CFO Roundtable Pledge Signing Event, November 2023  
Overview
The Gauteng CFO Roundtable Pledge Signing Event is a landmark occasion bringing together Chief Financial Officers (CFOs) and financial leaders from across Gauteng. This event marks a commitment to enhancing the economic landscape of the province through collaborative efforts in financial governance, innovation, and strategic development.
The primary objective of this event is to formalise the commitment of CFOs to the Gauteng CFO Roundtable Pledge. This pledge symbolizes a collective dedication to improving financial governance, fostering economic growth, and addressing pivotal challenges in sectors such as energy, logistics, and crime.
This event promises to be a significant step towards a united and prosperous economic future for Gauteng, driven by the leadership and expertise of its financial community.
If you are interested in being invited to the event, select the Register Now button.
Information
Date: 29 November 2023
Time: 08h00 – 12:00
Venue: Sandton – to be confirmed
Dress Code: Business formal
Seats: Limited to 100
CPD: 4 units/hours
Purpose and Outcomes
Strengthened collaboration among financial leaders in Gauteng.
Increased commitment to good financial governance and ethical leadership.
Enhanced dialogue and partnership between the private sector and government bodies.
Identification of key areas for economic growth and development in the province.
Registration
Upon registration, you will qualify to receive an official invitation. Please note that only 100 registrations are available.
After Registration
After successful registration, the event will be listed as a course under your CIBA Academy profile. Login, My Dashboard, My Courses. Select start next to: Gauteng CFO Roundtable Pledge Signing Event.
The official invitation and ticket will be emailed later.
CIBA Academy Support
Login to CIBA Academy
Select My Dashboard
Select Submit a Ticket to log a new query