Non Profit Entity Engagements Specialist
Specialise in the accounting and financial reporting of NPOs, NPC, Schools and NGOs.
WHAT YOU WILL LEARN
The objective of this licence is to equip Business Accountants with the designations BAP(SA) to:
Develop their skills in charity and non-profit organisation accounting, financial management, and financial reporting.
Develop a specialist knowledge of the Non-Profit Organisations Act, 71 of 1997 and Income Tax Act provisions regarding Public Benefit Organisations.
Recognise the financial statement presentation and disclosure requirements that apply to not-for-profit entities.
Identify Department of Social Development and SARS filing requirements of an exempt organisation, recognise the core components of the annual information return, and identify when an NPO may be subject to unrelated business income tax.
Recognise best practices in NPO board governance, risk assessment and internal controls.
Identify steps involved in planning a successful audit, review or accounting officer engagement and identify key considerations and client communications.
To obtain the licence you need to provide evidence of competence in the specialist area. This evidence is presented by passing an exam. The exam is set by an independent industry expert and accredited by SAIBA.
*SAIBA provides guides that are available as part of your preparation. Any recommended textbooks and webinars are an additional cost for your own expense.
DESCRIPTION
As specialist in performing Non-Profit Engagements your will stand out from the crowd, be able to attract more clients, and earn higher fees.
As an accountant that specialises in NPOs, Schools, PBOs, Fund-raising, Lotto applications, and NPCs you will be able to set yourself apart with this license that covers the essentials of not-for-profit financial management, including accounting and financial reporting, tax compliance, governance and assurance.
PRICE
The following pricing apply: R2,500.00
Annual renewal fee from R1,500.00
The License does not form part of a subscription package.
Any recommended textbooks and webinars are an additional cost for your own expense.
CONTENT
Study Unit 1
Introduction to Non-profit Entities (NPE)
Identify the unique aspects of NPEs.
Understand the differences between for-profit entities and NPEs.
Recognise the various types of NPEs.
Identify NPE-specific terminology.
Identify the basic financial statement presentation differences between for-profit entities and NPEs.
Identify examples of the differences in the organisational structures of for-profit entities and NPEs.
Understand the provisions relevant legislation affecting NPEs including the Non-Profit Organisations Act, 71 of 1997, Companies Act, 71 of 2008 (NPC), and Income Tax Act provisions regarding Public Benefit Organisations.
Study Unit 2
Accounting and financial reporting
GAAP for NPEs
Financial Statement Presentation
Assets
Investments
Programmatic Investments
Split-interest Agreements and Endowments
Liabilities
Fair Value Issues Specific to NPEs
Net Assets
Revenue from Contributions
Exchange and Agency Transactions
Expenses
Study Unit 3
Tax compliance
Meaning of exempt purpose
Related vs. unrelated activities
Definition of unrelated business income
Consequences of excessive unrelated business income
Exempt vs. non-exempt income
Statutory exemptions and exclusions
SARS Filing Requirements
Study Unit 4
Governance and assurance
Best Practices in Board Governance
Risk Assessment and Internal Controls
Fraud Overview and Prevention
Auditing, Review, Accounting officer, Compilation considerations
Planning the professional engagement
Financial Oversight, Budget and Strategy
REQUIREMENTS
The entry requirements to enroll are as follows:
a BAP(SA) (SAIBA designation) OR an equivalent designation with another professional body equivalent at NQF level 7 plus SAIBA ASSOCIATE MEMBERSHIP together with
a minimum of 3 years of general accountancy experience.
Should you lack the 3 years of general accountancy experience you will have the following options:
Enroll manually by contacting content@saiba.org.za, but a certificate will NOT be issued upon completion (enrollment at the same price).
Apply for an exemption via our Educational Committee based on your practical experience (contact wendy@saiba.org.za). Should the committee approve your experience to be in line with the requirements for the BAP (SA) designation and you successfully obtain the BAP (SA) designation, you will be able to enroll and receive the certificate on successful completion. Should you lack the core subjects required to obtain a BAP (SA) designation, you can upskill and obtain your missing subjects (non-degree purposes). Read more here: HTTPS://SAIBA.ACADEMY/QUALIFY/
PRESENTER
Ricardo Wyngaard
Ricardo is passionate about the non-profit sector and has been focusing on non-profit law since 1999. He is a lawyer by profession who has obtained his LLB degree at the University of the Western Cape in South Africa and his LLM degree at the University of Illinois in the USA. He has authored a number of articles and booklets on non-profit law and governance, some of which have been published in international journals. Ricardo has participated as a speaker at both national and international conferences and has facilitated countless workshops with NGOs and community-based organisations.
ADDITIONAL MATERIAL
By enrolling in this exam preparation course, you will be provided with:
Reference to the recommended textbook
Knowledge assessments per study unit
Case study as final exam
CPD
The successful completion of the course contributes to 25 hours CPD of which 25% (6.25 hours) can be claimed as allocation towards your accounting CPD hours, based on SAIBA's CPD policy that CPD should be weighed according to different categories/topics.
PROSPECTUS
Click here to view the Prospectus:
Additional Course Information
| | |
| --- | --- |
| Category | License |
| Accredited | SAIBA |
| Verifiable CPD Hours | 25 |
| Non-verifiable CPD Hours | N/A |
| Effort | 2 months |
| Duration | 60 hours |
| Format | Self-study |
| Level | NQF Level 7 |
| Assessment | Yes |
| Study Material | Yes |
| Course Date | 1 March, 2020 |
Business Accountant in Practice (SA)
Certified Business Accountants (SA)
Certified Financial Officer (SA)
Practicing members of other professional bodies – additional R360 annual fee to become a SAIBA Associate. Join here.
This event is included in the following subscription packages: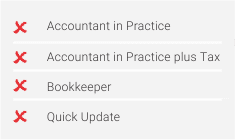 If you are not a subscriber, you need to purchase the event as a stand-alone event or subscribe to a SAIBA subscription package.
Subscribers pay less for their CPD points.
SAIBA offers 4 subscription packages that provides access to everything to run a successful accounting and tax practice.

Pay a small monthly amount and gain access to monthly webinars covering ethics, financials, reporting, audit and assurance, working papers, law, technology, management topics, and tax.