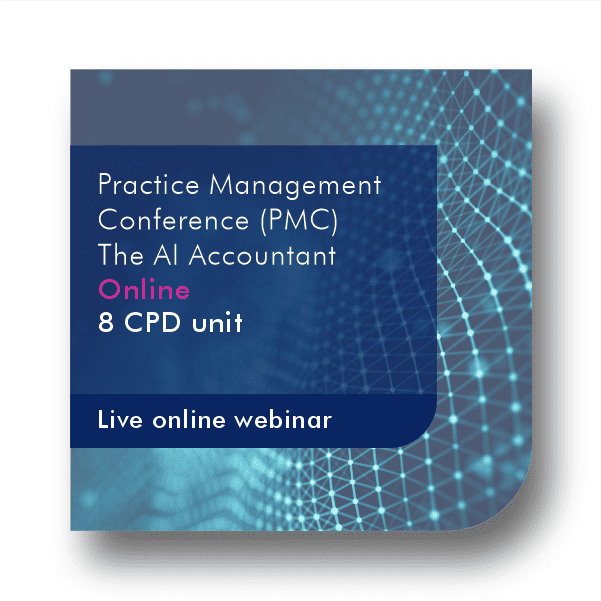 Practice Management Conference 2023: The AI Accountant – Shaping the future of finance (online)
CIBA's Annual Practice Management Conference dives into the dynamic world of AI in accounting.  
Overview
Discover the transformative power of artificial intelligence and its impact on the accounting profession. From streamlining processes to revolutionising decision-making, this event brings together industry experts, thought leaders, and practitioners to explore the intersection of AI and accounting. Gain valuable insights, learn from real-world case studies, and network with like-minded professionals, all while staying at the forefront of practice management innovation. Don't miss this opportunity to embrace the future of accounting and unlock the potential of AI in your firm.
What you will learn at the CIBA Practice Management Conference
Learn the winning strategy to integrate AI into accounting practices.

Learn how AI will impact economic sectors and what it means for the practising accountant.
Learn how to increase your client base, without increasing your practice staff and to become more profitable.
Obtain insights on how Microsoft's AI tools are utilised to enhance the day-to-day efficiency of accounting and taxation.
Discover how ChatGPT can revolutionise customer interactions, streamline workflows, and enhance user experiences in accounting.
Learn how to avoid the tax year-end rush with AI.
Discover how SARS is using data-driven insights, algorithms, and artificial intelligence in a bid to fight tax evasion.
New trends in AI regarding the effective management of your accounting team.
Know how to expand your business Advisory Services with AI.

Explore how AI is already being implemented in accounting firms, organisations, and finance departments, illustrating the tangible benefits it can offer. 

Learn how to help your clients implement AI to start and scale their businesses. 

Learn more about the potential challenges, ethical considerations, and risks associated with the integration of AI in accounting, while providing strategies and guidance on how to navigate these issues effectively.
Information
Past Event held on: 14 September 2023, Thursday
CPD: 8 units
Format: Recording of Live event
Recording: Loaded to your CIBA Academy profile if you registered for the event.
Programme/Brochure: Click here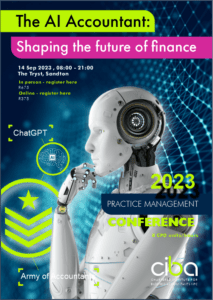 Pricing
Online attendance: R375.00 per person. Select the Register now.
In person attendance: R675.00 per person. Register here.
Multiple tickets: To purchase more than 1 ticket you will have to register under a different email address. The online link is unique to each delegate.
After successful registration, the event will be listed as a course under your SAIBA Academy profile. Login, My Dashboard, My Courses. Select start next to: Practice Management Conference 2023: The AI Accountant – Shaping the future of finance. A recording will be made available to all delegates who registered for the event.
Terms and Conditions
The event is open to all accountants.

We do not guarantee the availability of the presenter or exhibitors. Replacements might be invited.

CPD credits is dependent on completing an outcomes based assessment available on your free profile in CIBA Academy.
The event is non-refundable.
CIBA Academy Support
Login to CIBA Academy
Select My Dashboard
Select Submit a Ticket to log a new query