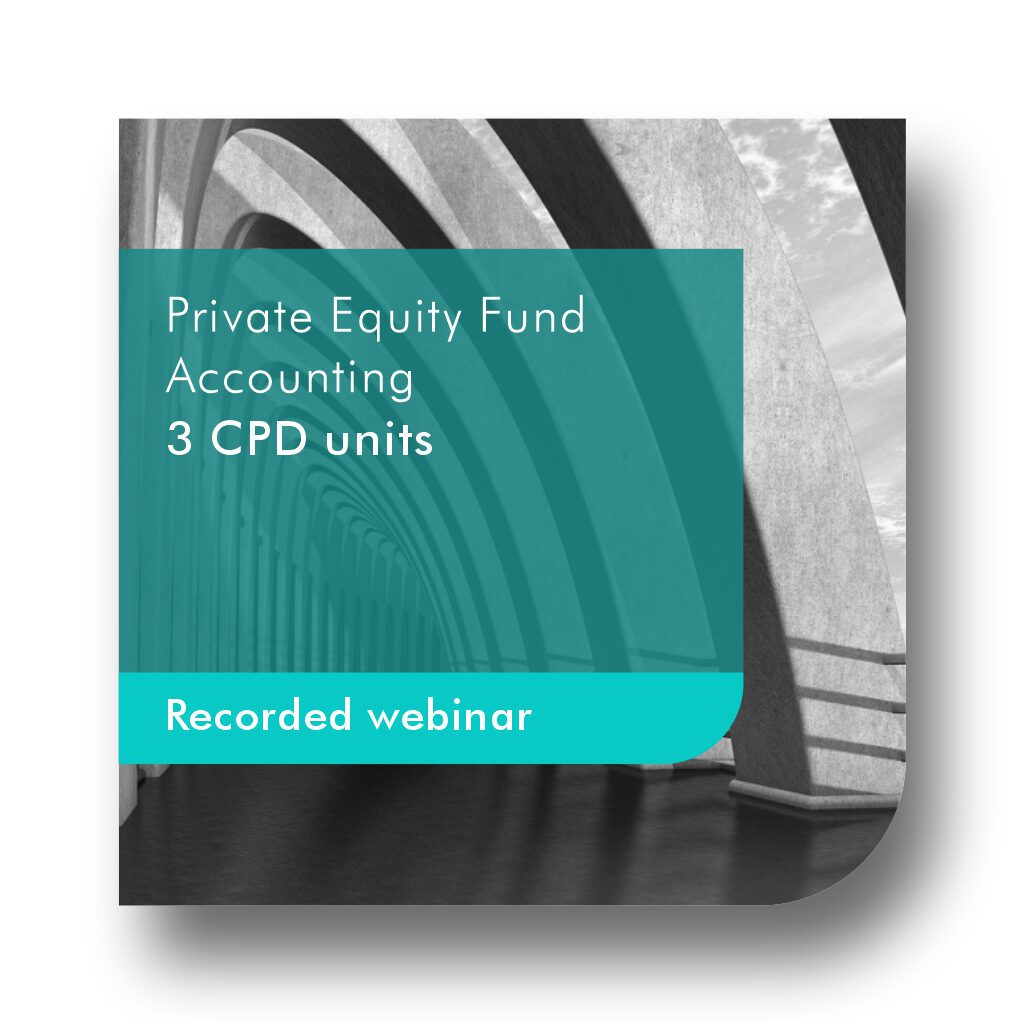 Private Equity Fund Accounting
To discuss intricate details of private equity including the legislation and accounting. November 2021
WHAT YOU WILL LEARN
By the end of this webinar the participant should:
An understanding of what an investment scheme is.

An understanding of investment decisions.

An appreciation of tax law implications of private equity funds.

A consideration of SARS' viewpoint on private equity funds.

An understanding of how to account for a private equity funding entity.
DESCRIPTION
A private equity fund is a collective investment scheme used for making investments in various equity securities according to one of the private equity investment strategies. Private equity funds are essentially fund accounting working with financial instruments and a variety of investors.
What governs private equity funds and how is the accounting for this collective investment scheme performed? 
This session answers the above question and aims at giving an understanding of the private equity funding model from the legislation to the accounting.  All the unique characteristics of this collective investment scheme are highlighted and discussed in full.
PRICE
Adhoc – R475
Subscription Package – N/A
CONTENT
Study Unit 1
The Collective Investment Schemes Control Act – An overview.  
Study unit 2
What is private equity funding? 
Study unit 3
Accounting for financial instruments:
Study unit 4
Fund accounting. 
Study unit 5
Tax implications. 
REQUIREMENTS
There are no preconditions for this course.
Moderate level.
Recorded webinar made available on a specified date
PRESENTER
Caryn Maitland is a Chartered Accountant (SA). She has been a member of IRBA as a registered auditor and accountant since 2002, Caryn has lectured Auditing and Accounting at various institutions and has conducted independent workshops and seminars for professional accountants since 2006 on various topics.
SAIBA ACADEMY SUPPORT
Go to HTTPS://SAIBA.ACADEMY/LOGIN/
Login
Select MY DASHBOARD
Select SUBMIT A TICKET to log a new query
ADDITIONAL MATERIAL
By attending this webinar, you will be provided with:
 Summarised slide presentation
 Reference documents and / or course material where available
Access to a technical knowledge base
Recorded webinar that includes an expert presenter and participant interaction