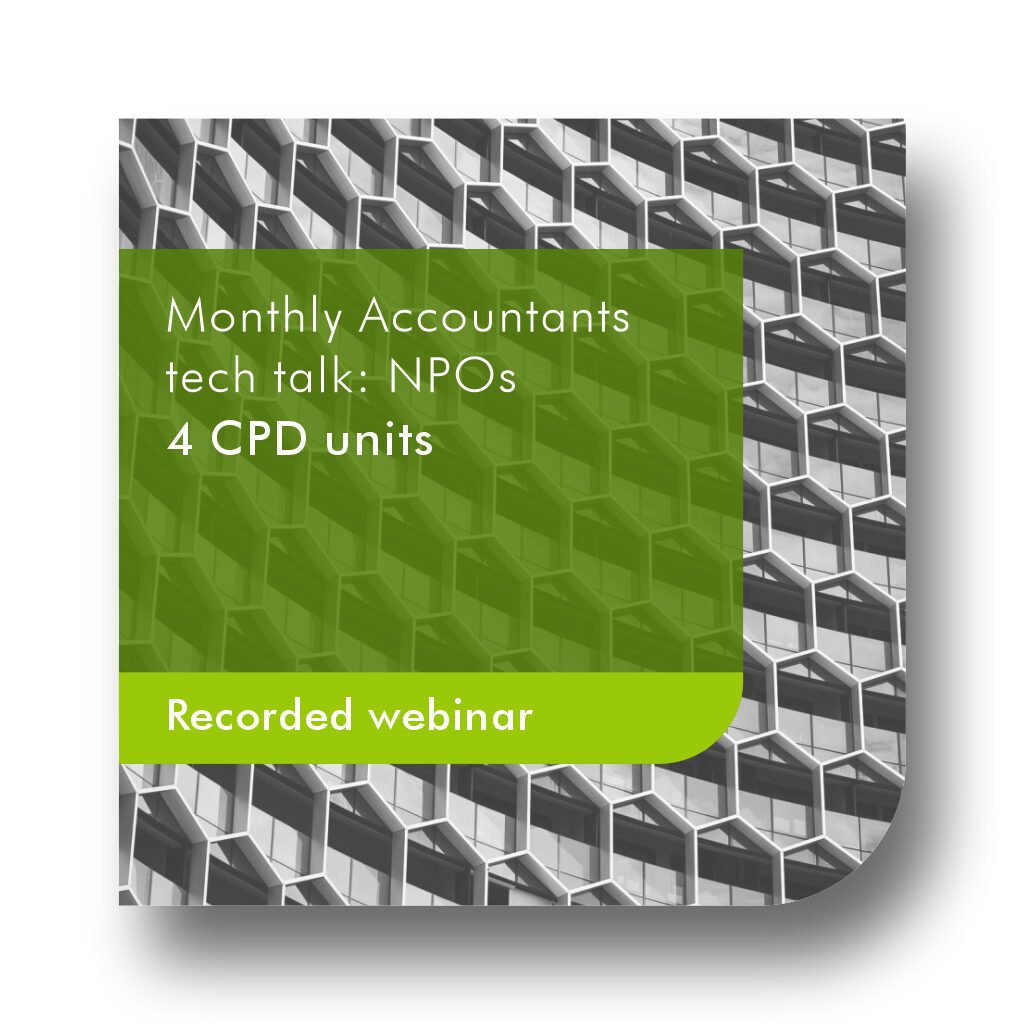 Monthly Accountants Tech Talk: NPOs
This event will discuss NPO's and all the compliance information accountants need. August 2022
What you will learn
By the end of this event the attendee should have the following competencies:  
Decode the common acronyms

Distinguish between the different types of income tax exemptions that are available.

Establish how fund accounting differs from IFRS? 

Review how to account for government and other grants in both IFRS and IFRS for SME's.

Analyse the income tax consequences of receiving a grant?

Investigate the practical difficulties that need to be considered.

Discuss VAT.
Description
The non-profit sector is currently irritated and civil society organisations have called for the withdrawal of the draft Non-Profit Amendment Bill 2021, citing concerns about how the proposed changes will impact the operation of NPOs. 
Non-profit organisations (NPOs) play an integral role in South African society, providing support, funding and expertise in areas ranging from social security to education, health to the environment.
Every single practitioner is involved in a non-profit entity to some extent or the other – whether this involvement comes through membership of a sporting club, charity, or religious organisation. These associations are often run on a volunteer basis, leaving the compliance to be an afterthought. 
Price
The following pricing apply:
Ad hoc: R450 for this webinar
Subscription: Included for free in Accountant in Practice, Accountant in Practice plus Tax, Bookkeeper and QuickUpdate packages.
Content
Statutory framework with respect to NPOs
Companies Act considerations with respect to Non Profit Companies
Non Profit Organization Act
Accounting for grants and other fund income
Assurance considerations
Income Tax consequences
VAT consequences
Requirements
There are no preconditions for this course.
Moderate level.
Recorded webinar made available on a specified date
Presenter
Caryn Maitland CA(SA) 
Caryn Maitland is a Chartered Accountant (SA). She has been a member of IRBA as a registered auditor and accountant since 2002.
Caryn has lectured Auditing and Accounting at various institutions and has conducted independent workshops and seminars for professional accountants since 2006 on various topics. She has presented on the national tour for the annual Legislation Update with ProBeta Training (Pty) Ltd in 2014 and 2015, as well as on the FASSET national tour for the Tax Administration Act in 2014.  
Carmen Westermeyer CA(SA) 
Carmen Westermeyer graduated in 2001 from the University of Natal, Durban (now UKZN), with a BCom Honours degree in Accounting and completed her articles with PwC in 2004. She has been a member of SAICA since then. In 2008, she was appointed lecturer at UKZN and coordinated the Taxation 300 course until December 2010. She then took over the role of Academic Leader for the Taxation Department, as well as the coordination of the Postgraduate Taxation Programme. 
In December 2012 Carmen started running ad hoc training courses for members of the profession. From December 2013, she moved into commercial training and consulting on a full-time basis. She has been involved in various training activities, such as the FASSET Budget and Tax Update in 2015 and 2016.
SAIBA Academy Support
Login to SAIBA Academy
Select My Dashboard
Select Submit a Ticket to log a new query