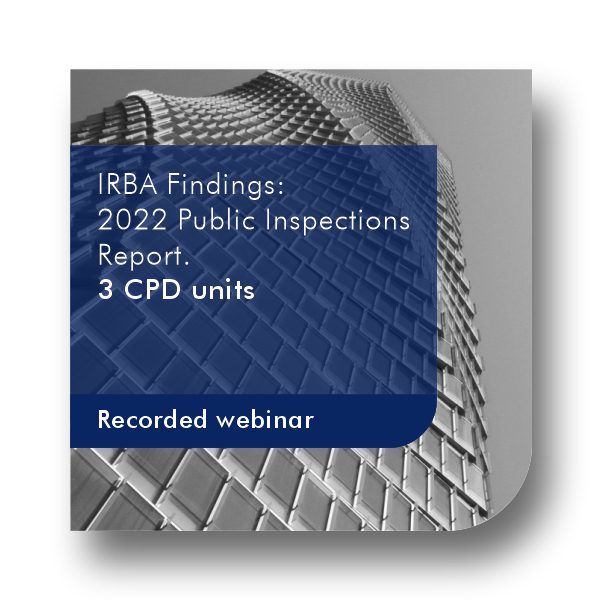 IRBA Findings: 2022 Public Inspections Report 2023
To discuss contents of the newly released 2022 IRBA Inspections Report. April 2023
What you will learn
By attending this webinar you will gain the following competencies:
Be up to date with the findings of the latest IRBA Public Inspections Report.  

Have a practical understanding of IRBA's minimum audit quality expectations.

Possess knowledge of basic requirements relating to the remedial action process, including root cause analysis. 

Develop the skill to identify similar shortcomings within your own practice and apply the remedial action process. 

Have the competence to implement good practices within your firm through informed assurance staff.
Description
IRBA released their brand new 2022 Public Inspections Report on 17 March 2023. The report which reveals recurring quality deficiency themes identified in the 1st year of their 8th Inspections Cycle, carries the theme: With a Commitment to Promote Improvement and Remediation of Audit Quality.
Registered auditors (including independent reviewers) need to apply the contents of the latest IRBA Inspections Report in their practices as they make their quality control processes more robust. By knowing mistakes that were made by other practices, firms and their assurance staff take measures to prevent the occurrence of the identified deficiencies within their own practices.
Compilers, accountants and bookkeepers need to understand how to prepare for audits.
Price
The following pricing apply:
Ad hoc: R450 for this webinar
Subscription: N/A
Content
The webinar will cover the following foundational to intermediate topics:
Looking at IRBA's latest inspections results. 

What is IRBA's 5 Whys Root Cause Analysis Tool?

How to use IRBA's 5 Whys Root Cause Analysis Tool.

Good practices and information technology.

Which deficiencies should I avoid within my practice?

Implementing recommendations made by IRBA.
Requirements
There are no preconditions for this course.
Moderate level.
Recorded webinar made available on a specified date.
Presenter
Lettie Janse van Vuuren CA(SA),  RA
Lettie is a Chartered Accountant, Registered Auditor, as well as an Assessor and Moderator. She joined SA Accounting Academy in November 2017 as Head of Technical. As a professional trainer and webinar host, she is able to hold the attention of an audience with her relaxed and humorous presentation style.  She has a unique ability to communicate with delegates at their respective levels of knowledge and experience.  Over the last 20 years, she has trained thousands of partners, managers, trainee accountants and other professionals.  
She is responsible for researching, compiling and presenting our MCLU (Monthly Compliance and Legislation Updates). She was the Professional Development Manager at SAICA for 4 years and in charge of accrediting new training offices and monitoring existing ones (including the moderation of training offices and trainee assessments).
CIBA Academy Support
Login to CIBA Academy
Select My Dashboard
Select Submit a Ticket to log a new query