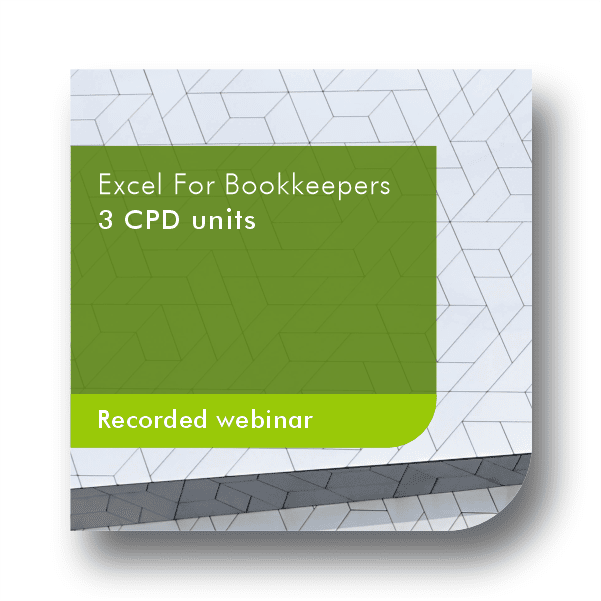 Excel For Bookkeepers 2023
To assist attendees with a toolkit of actionable Excel techniques and additional resources tailored for bookkeeping excellence June 2023.
What you will learn
After attending this webinar you will:
Practical Creation of Financial Sheets:The attendee will know how to design an Excel sheet that effectively converts bank statements into a trial balance, streamlining their bookkeeping process.
Mastery of Essential Functions:Attendees will become proficient in key Excel functions that every bookkeeper should be familiar with, enhancing their efficiency and accuracy in financial tasks.
Understanding of 3D Formulas:Participants will grasp the concept and application of 3D formulas in Excel, allowing them to work across multiple sheets and workbooks with ease.
Efficient Use of Shortcuts: Attendees will learn and internalize valuable Excel shortcuts, significantly reducing the time spent on routine tasks and boosting their productivity.
Access to Additional Resources:By the end of the webinar, participants will be equipped with extra resources and materials to further refine their Excel skills and stay updated in the realm of bookkeeping.
Description
This webinar offers practical instruction for crafting an Excel spreadsheet that efficiently converts bank statements into a trial balance. It empowers bookkeepers with tangible skills, covering everything from mastering vital functions and 3D formulas to making the most of time-saving shortcuts.
The most pivotal benefit of this webinar to the accounting profession is that practitioners will gain hands-on expertise in leveraging Excel's advanced features for bookkeeping. This not only streamlines their workflow but also ensures accuracy and efficiency in financial reporting and analysis.
Price
The following pricing apply:
Adhoc: R450.00
Subscription: Included for free in Bookkeeper.
Content
The webinar will cover the following topics:
Bank Statements to Trial Balance in Excel
Helpful functions all bookkeepers should know about
3D Formulas
Shortcuts
Extra Resources
Requirements
There are no preconditions for this course.
Moderate level.
Recorded webinar made available on a specified date.
Presenter
Nestene Botha CA(SA)
Nestene Botha completed her B.com (Hons) at North West University in 2012. In 2014 she completed her professional articles and her Master's Degree in Chartered Accountancy. She then registered with SAICA as a Chartered Accountant in 2015.
Nestene has lectured on the audit programme at the University of Cape Town. She started her own audit, tax & accounting practice which she has since grown into a reputable firm in the Table View area with 60 clients and two staff members.
CIBA Academy Support
Login to CIBA Academy
Select My Dashboard
Select Submit a Ticket to log a new query