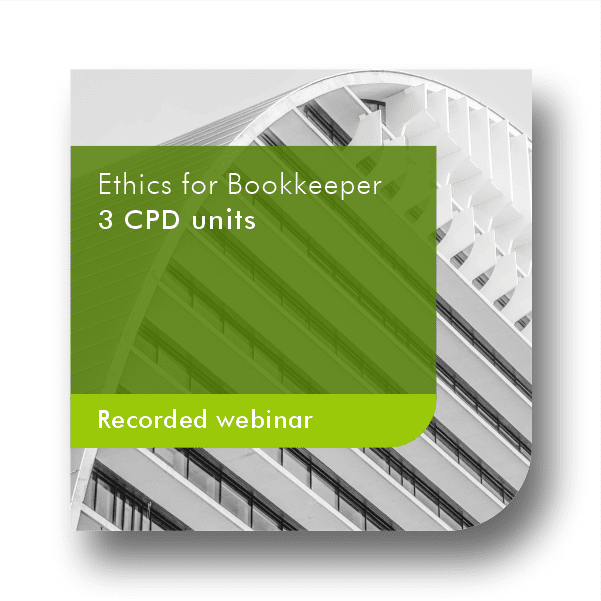 Ethics For Bookkeepers 2023
To assist attendees to be aware of, Business Ethics and promote ethical principles and standards within the realm of business 2023.
What you will learn
After attending this webinar you will:
Acquire a comprehensive understanding of the stipulations outlined in the Code of Professional Conduct.
Develop the skills to effectively apply the conceptual framework of the code to real-world situations and scenarios.
Stay updated on the latest advancements and emerging trends in the field of ethics specifically relevant to accountants.
Thoroughly consider the reporting obligations that exist between the Code of Professional Conduct and statutory requirements.
Cultivate the ability to introspect and effectively document ethical dilemmas encountered in professional practice.
Description
As professional bookkeepers and accountants, our responsibility lies in safeguarding the public interest by adhering to and upholding our Code of Professional Conduct.
Professional ethics offer numerous benefits for individuals and organisations alike. Some of the key advantages of practicing professional ethics include, trust and reputation; adhering to professional ethics builds trust and enhances reputation. Clients, employers, and stakeholders are more likely to trust professionals who consistently demonstrate ethical behaviour. A strong reputation for ethical conduct can lead to increased business opportunities and positive relationships.
Price
The following pricing apply:
Adhoc: R450.00
Subscription: Included for free in Bookkeeper.
Content
The webinar will cover the following topics:
Code of Professional Conduct (IFAC)
Non Compliance of Laws and Regulations
Requirements under ISQM 1
FIC Act implications
Requirements
There are no preconditions for this course.
Moderate level.
Recorded webinar made available on a specified date.
Presenter
Caryn Maitland CA(SA) 
Caryn Maitland is a Chartered Accountant (SA). She has been a member of IRBA as a registered auditor and accountant since 2002, Caryn has lectured Auditing and Accounting at various institutions and has conducted independent workshops and seminars for professional accountants since 2006 on various topics.
CIBA Academy Support
Login to CIBA Academy
Select My Dashboard
Select Submit a Ticket to log a new query