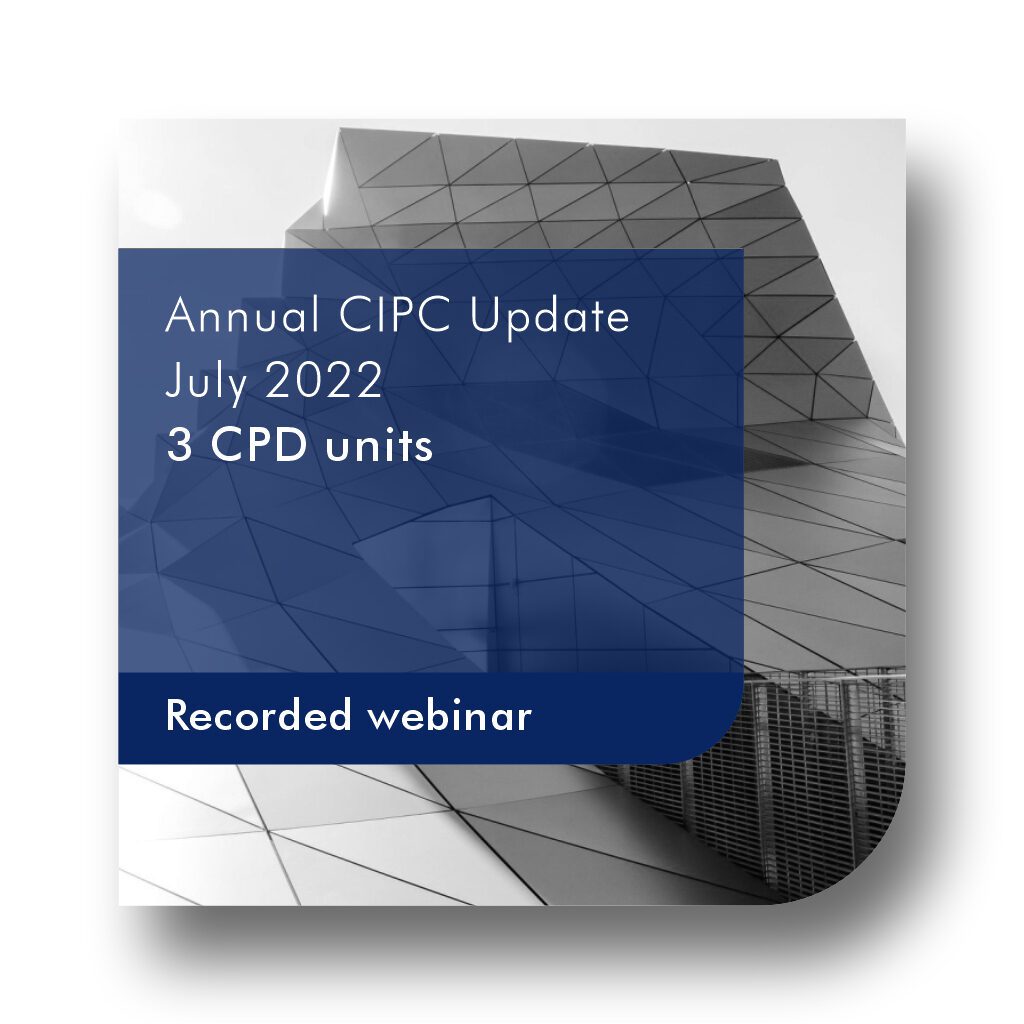 To keep up to speed with compliance and legislative updates issued by CIPC. July 2022
What you will learn
By the end of this event the attendee should understand:  
Knowledge of 

the latest compliance and legislative updates issued by CIPC

Analysis of the CIPC updates and their impact on the performance of engagements by 

accountants, auditors and tax practitioners.

Compliance with changes in requirements with regard to:

CIPC Notices;

CIPC Practice Guidelines;

Media statements; 

Compliance requirements and relevant Operational issues;

FAQs; and

Useful links to CIPC guides.
Description
Are you aware of all the latest and relevant CIPC publications?
Company secretarial functions are required for every company, Close Corporation and other relevant entities in South Africa.  
It also forms an integral part of most of our practices and the services that we provide to our accounting and assurance clients, so it is vital to stay abreast with the latest developments.
CIPC (Companies and Intellectual Property Commission) is at the helm of monitoring and enforcing compliance with the Companies Act, and regularly issues important updates. 
This 2-hour power-session will include developments during the last 9 months that you must know to ensure compliance-based activities within your practice.
Price
The following pricing apply:
Ad hoc: R450 for this webinar
Subscription: Included for free in Accountant in Practice, Accountant in Practice plus Tax and Bookkeeper packages.
Content
New notices;

Practice Notes and Guidelines;

Compliance requirements;

Operational and administrative matters of importance;

FAQs; and

Useful links to CIPC guides.
Requirements
There are no preconditions for this course.
Moderate level.
Recorded webinar made available on a specified date
Presenter
Lettie Janse van Vuuren | CBA (SA)
Lettie is a Certified Business Accountant (SA), Chartered Accountant, Registered Auditor, as well as an Assessor and Moderator. As a professional trainer and webinar host, she is able to hold the attention of an audience with her relaxed and humorous presentation style.  She has a unique ability to communicate with delegates at their respective levels of knowledge and experience.  Over the last 20 years, she has trained thousands of partners, managers, trainee accountants and other professionals.
She is responsible for researching, compiling and presenting our MCLU (Monthly Compliance and Legislation Updates). 
SAIBA Academy Support
Login to SAIBA Academy
Select My Dashboard
Select Submit a Ticket to log a new query