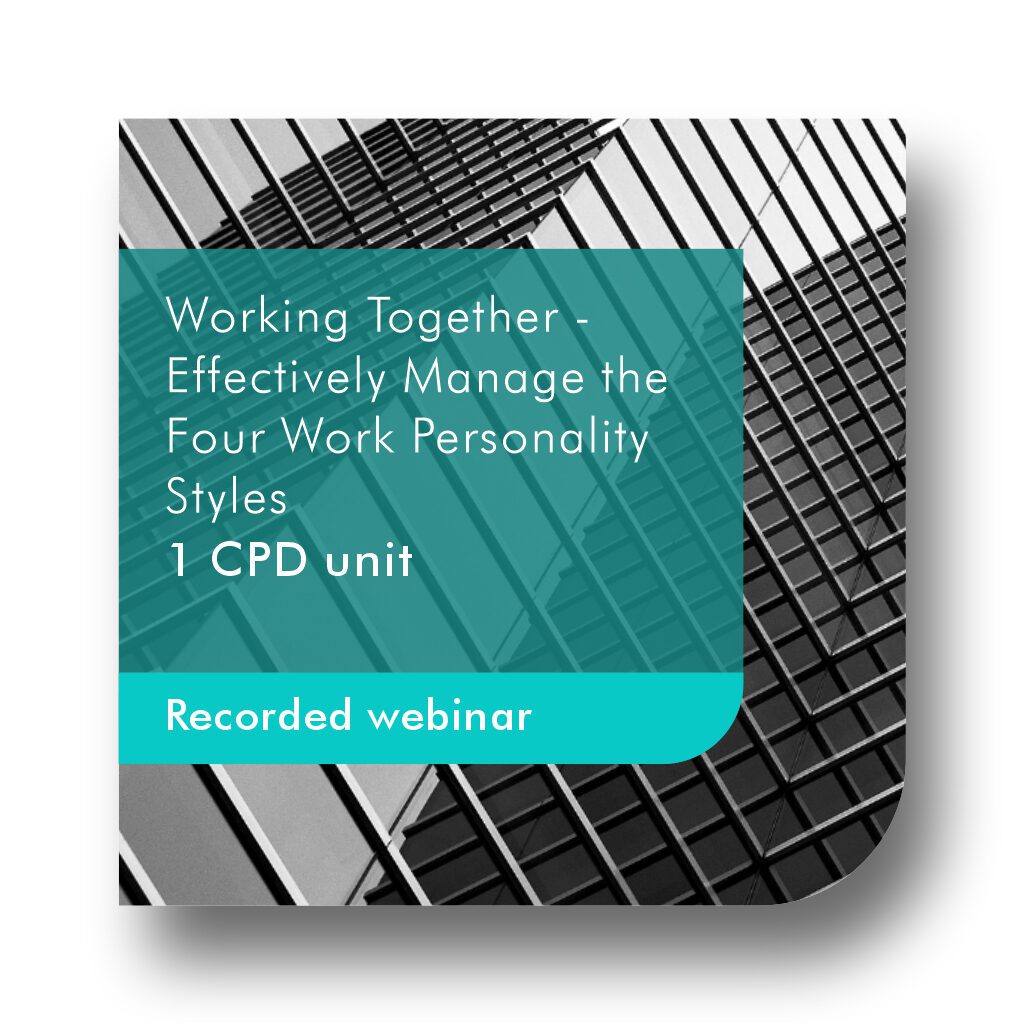 Working Together – Effectively Manage the Four Work Personality Styles
Attendees will gain insight into to help them understand and appreciate the differences between the different four personality styles.
WHAT YOU WILL LEARN
Define the four basic personality styles based on the DISC profile.
Identify how to read characteristic behavior in others.
Identify ways to adjust interactions with others based on their personality style.
DESCRIPTION
Increase the effectiveness of your professional teams by understanding the dynamics and interactions between the various personality styles. Do some of your coworkers drive each other crazy? It could be they have different personality styles. There are four basic personality styles, each very different with their own strengths and weaknesses. This CPE course is designed to help you understand and appreciate the differences between the different personality styles. You'll learn how to effectively hire and develop employees based on their strengths, weaknesses, wants, and needs.
PRICE
The following pricing apply:
Ad hoc: R 435.00 VAT incl.
Subscription: N/A
This is a digital product. You will have access to the content for 365 days after purchase date.
CONTENT
Define all four personality styles
Describe strengths and weaknesses
Identify motivating and de-motivating factors
Determine effective communication techniques appropriate for each style
Practice methods for interacting with differing personality styles
REQUIREMENTS
There are no preconditions for this course.
Moderate level.
Recorded webinar made available on a specified date
PRESENTER
Jennifer Elder – President, CEO/Owner, The Sustainable CFO
Jennifer Elder, CSP, CPA, works with organizations to create solutions to their most challenging problems. She helps organizations strategically position themselves to achieve success and fulfill their mission. In 2019, after surviving too many disasters, she authored, "Faster Disaster Recovery" to help others benefit from what she learned about recovering quickly.  In 2018, CPA Practice Advisor named Jennifer one of the Top 25 Women in Accounting. She is one of only 12 people worldwide who hold both the CPA and CSP (Certified Speaking Professional) designations. She is a geek who can speak!
SAIBA ACADEMY SUPPORT
Go to HTTPS://SAIBA.ACADEMY/LOGIN/
Login
Select MY DASHBOARD
Select SUBMIT A TICKET to log a new query
ADDITIONAL MATERIAL
By attending this webinar, you will be provided with:
– Summarised slide presentation.
– Reference documents and / or course material where available.
– Access to a technical knowledge base.
– Recorded webinar that includes an expert presenter and participant interaction.