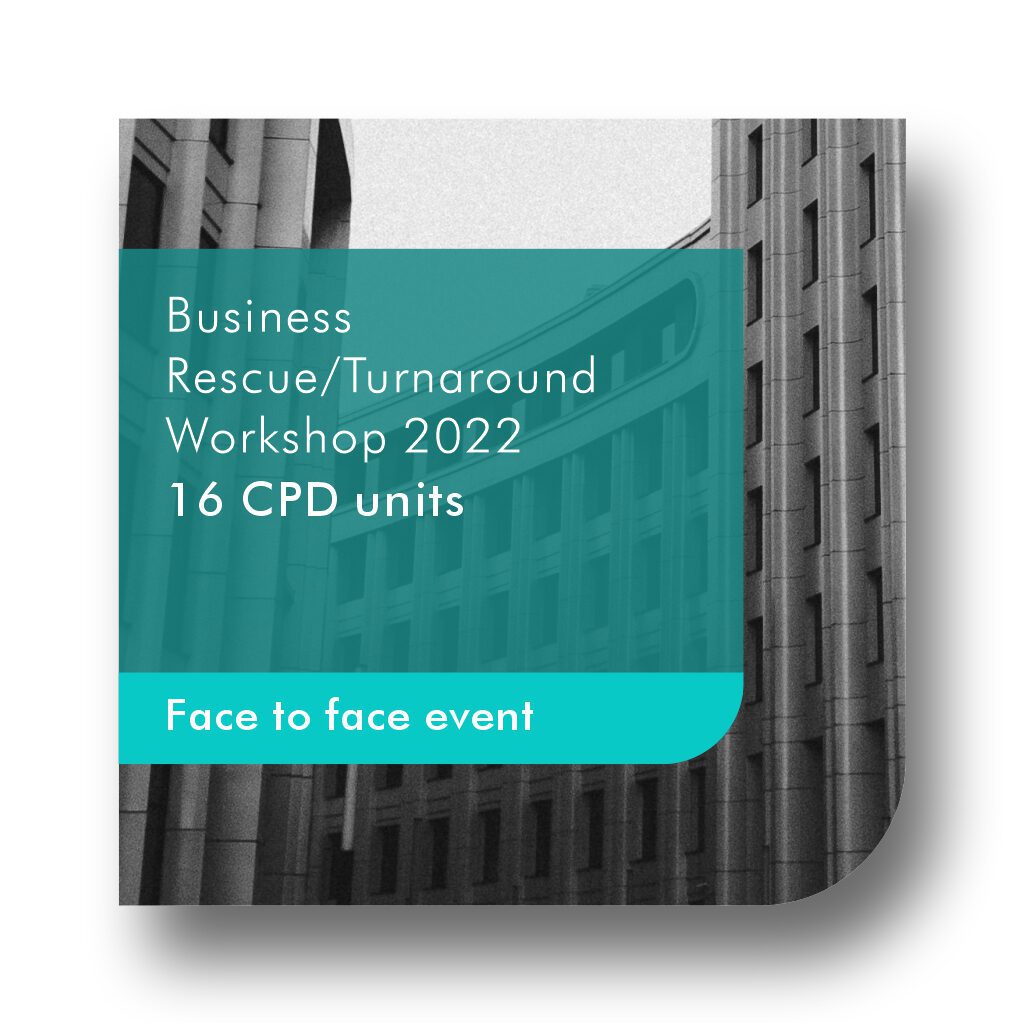 Business Rescue/Turnaround Workshop 2022
Workshop analysing distressed companies and facilitate the formulation of a successful turnaround and/or business rescue plan. March 2022.

WHAT YOU WILL LEARN
After attending this webinar you will be:
 Create diagnostics to analyse and interpret financial statements
Identify the root cause of financial distress
Identify the causal link between financial distress and operational inefficiencies
Create an efficient information engine
Introduction to business rescue legal framework
Prepare a business rescue plan
DESCRIPTION
The pandemic has resulted in a new reality that accountants need to upgrade their two dimensional view of where the business is now, to a three dimensional view of where the business is going. Rather than merely scrutinising the static numbers provided in management reports or annual financial statements, businesses need to evaluate, on a continuous basis, dynamic numbers, trends and forecasts indicating the future direction to prevent companies from going into financial distress.
The two day workshop in Pretoria, includes:
the techniques and methodologies to investigate the affairs of distressed companies,
how to identify the root causes of distress, and
facilitate the formulation of a successful turnaround and/or devise an effective business rescue plan.
Join us to learn about enhancing the value of businesses under stress.
PRICE
R3,385.00 R2,375.00 (discount available until 9 March 2022) per delegate for the workshop, including:
two days workshop
light lunch
beverage breaks
Travel cost to Pretoria for your own account.
DATE
Two day workshop:
Thursday, 10 March 2022
Friday, 11 March 2022
VENUE

The Maslow Hotel at TIME SQUARE CASINO, Menlyn, Pretoria.
Conference venue: The Diamond Ballroom.
Address: 209 Aramist Avenue, Menlyn, Pretoria.
Parking: Ample parking available in secure, underroof parking arcade at Time Square Casino at R20 per day.
Entrance strictly on presentation of ticket with QR Code. Save your ticket.
PROGRAMME
Times will be strictly adhered to.
| | | |
| --- | --- | --- |
| | | |
| Session 1: Introduction to financial distress and the challenges of the account and Business Rescue Practitioner | | |
| | | |
| Session 2: Business Rescue legal framework | | |
| | | |
| Session 3: Introduction to Distressed Business Syndrome | | |
| | | |
| Session 4: Metrics and diagnostics required to develop efficient data analytics | | |
| | | |
| --- | --- | --- |
| | | |
| Session 1: Develop an efficient information engine | | |
| | | |
| | | |
| | | |
| Session 3: Restructuring strategies | | |
| | | |
| Session 4: Writing a Business Rescue Plan | | |
TERMS AND CONDITIONS
It is mandatory for delegates to attend the workshop with a laptop with access to  Microsoft Excel
Limited to 50 delegates.
The event is subject to Covid regulations.
The event could be postponed based on government Covid regulations.
The venue can be changed at short notice, but replacement will be in close proximity.
Non-refundable.
A recording of parts of the workshop will be made available to participants only with prior approval of the Head of SAIBA Academy
PRESENTER
Louis Klopper B.Com Hons CFO(SA)
During a 20-year banking career Louis was intrigued by the question "why do companies fail?"
Availing of abundant data, he spent many hours and years analysing historical data of failed enterprises.
This eventually led him to discover a number of critical elements which provide early warning signs of impending disaster, critically linking operations to financial outcomes.
SAIBA ACADEMY SUPPORT
Go to HTTPS://SAIBA.ACADEMY/LOGIN/
Login
Select MY DASHBOARD
Select SUBMIT A TICKET to log a new query
ADDITIONAL MATERIAL
By attending this webinar, you will be provided with:
– Summarised slide presentation.
– Reference documents and / or course material where available.
– Access to a technical knowledge base.
– Recorded webinar that includes an expert presenter and participant interaction.