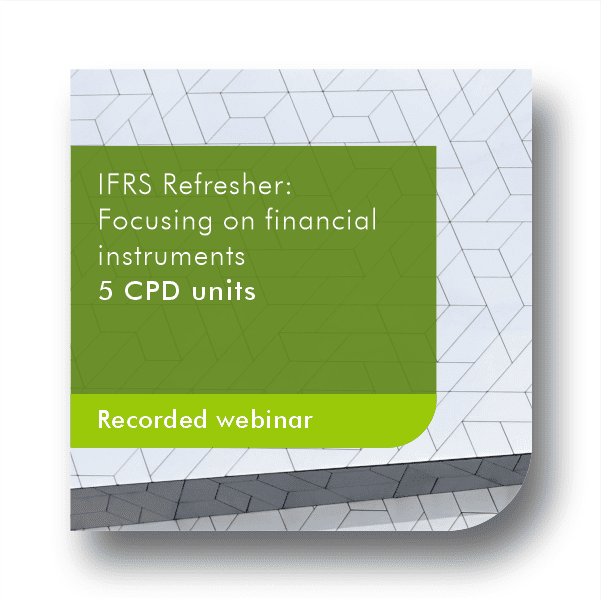 IFRS Refresher: Focusing on financial instruments 2023
To discuss the classification, recognition and measurement of the most commonly used financial instruments. July 2023
What you will learn
Attending this webinar will equip you with the following skills:
Be knowledgeable about what falls under the definition of financial instruments.

Understand the IFRS that you must apply when you account for financial instruments and see how the Standards all tie together.

Have the ability to correctly classify and measure financial assets and liabilities.

Possess adequate knowledge of how to correctly impair financial assets.

Be up to date with recent important IFRS updates. 
Description
Financial instruments are a key component of financial statements and have a significant impact that requires careful and correct accounting treatment. 
Accounting for financial instruments describes what accountants do when they report on:
Financial assets – investments in shares, bonds and receivables.

Financial liabilities – trade payables and long-term borrowings.

Equity instruments – equity share capital.
Price
The following pricing apply:
Adhoc: R575.00
Subscription: Included for free in Accountant in Practice, Accountant in Practice plus Tax, Bookkeeper.
Content
The webinar will cover the following topics: 
Fair value measurement principles.

How to disclose fair value.

Equity versus liabilities.

Defining financial instruments.

Financial assets.

Financial liabilities.

Compound instruments.

How to classify financial assets and liabilities.

Impairment of financial assets, including receivables.

Hedge accounting: Fair value and cash flow hedges.

Disclosure of financial instruments. 
Requirements
There are no preconditions for this course.
Moderate level.
Recorded webinar made available on a specified date.
Presenter
Prof Hentie van Wyk  
Prof van Wyk obtained his BCom degree in 1978 after which he served articles at KPMG. He qualified as a CA(SA) in 1982. He then left KPMG in 1984 to join the University of the Free State as a senior lecturer. He was promoted to Associate Professor in 1988 and to Professor and Head of the Centre for Accounting in 1992. He obtained a PhD in Public Sector Management in 2003.   
Prof van Wyk is currently the Programme Director for Chartered Accountancy Education at the University of the Free State. He lectured IFRS at postgraduate level for more than 30 years and is still involved with the School of Accountancy on a part-time basis. He is a former President of the SA Accounting Association and the former Vice-president of the International Association of Accounting Education and Research. He has published several articles in various research journals and is co-author of two well-known IFRS textbooks in South Africa. Prof van Wyk served as a board member of the Free State Society of Chartered Accountants for 20 years and he was also member of the Academic Review Committee of the SAICA from 2005 to 2012. An active member of the community, Prof van Wyk is an officer in his church. 
CIBA Academy Support
Login to CIBA Academy
Select My Dashboard
Select Submit a Ticket to log a new query