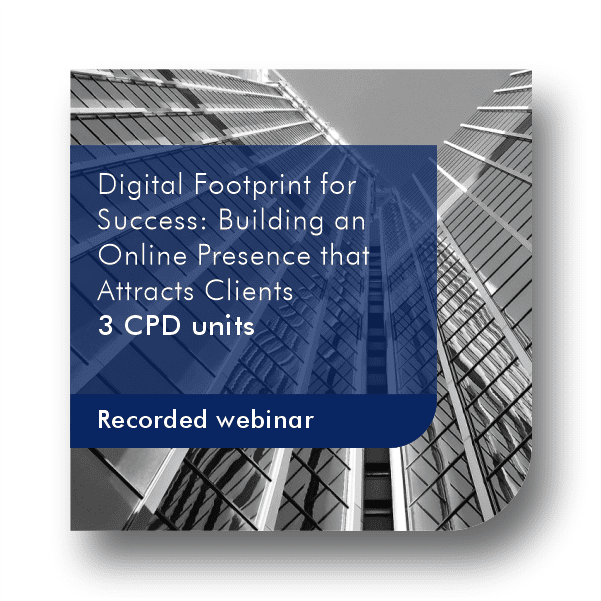 Digital Footprint for Success: Building an Online Presence that Attracts Clients 2023
To assist clients to develop the skills and strategies necessary to effectively attract and acquire clients for their businesses or professional practices. August 2023
What you will learn
By attending this webinar you will gain the following competencies: 
Understand what is required to create and optimise an online presence that will attract and acquire your ideal clients.

Possession of a comprehensive guide that lists key business directories for professional service providers. 

Knowledge of social media dos and don'ts for various platforms, through a checklist that will assist in planning and reviewing your social media strategy.

Have a content creation blueprint with tips on generating diverse, high-quality content that connects with your target audience.

Acquire an introductory guide on understanding SEO and its significance for online visibility through the SEO Basics Handbook.
Description
In this third episode of our Attracting New Clients Series, professional service providers will learn to create an impactful online presence with an emphasis on digital spaces where potential clients search for and research these professional services.
During this webinar, seasoned marketing strategist Marlon August, will discuss the importance of being listed in relevant business directories and give guidance on effective listing practices. The strategic use of social media for client acquisition will also be discussed at length. 
Price
The following pricing apply:
Adhoc: R450.00
Content
The webinar will cover the following topics:  
Navigating Business Directories:

Importance of listing on business directories.

Identification of key business sites and directories

.

Tips on how to get listed effectively.

Social Media Strategies:

Overview of the role social media plays in attracting clients.

Guidelines on social media platforms dos and don'ts.

Best practices for client engagement on social media.

Crafting Quality Content:

The role of content in building an online presence.

Guidelines for creating high-quality content.

Diverse content types and their effectiveness.

Website Optimization:

Key elements that should be on your website.

Website layout strategies that are attractive and user-friendly. 

Introduction to SEO:

U

nderstanding the basics of Search Engine Optimization (SEO).

How SEO impacts your online visibility and client attraction.

Leveraging Reviews and Testimonials:

Importance of client testimonials, reviews, and case studies.

Strategies for collecting and showcasing positive testimonials and reviews.

How to effectively use case studies to demonstrate your firm's capabilities.
Requirements
There are no preconditions for this course.
Moderate level.
Recorded webinar made available on a specified date.
Presenter
Marlon August
Marlon August is a seasoned Marketing Strategist and the founder of Story Advantage, a specialized marketing agency catering to B2B entrepreneurs with tailor-made marketing campaigns. With over 20 years of expertise in Marketing & Business Strategy, Marlon also boasts an impressive athletic background as an Olympian (Judo) in both 2008 and 2016. His wealth of experience makes him the ideal partner for crafting effective marketing solutions for your business.
CIBA Academy Support
Login to CIBA Academy
Select My Dashboard
Select Submit a Ticket to log a new query