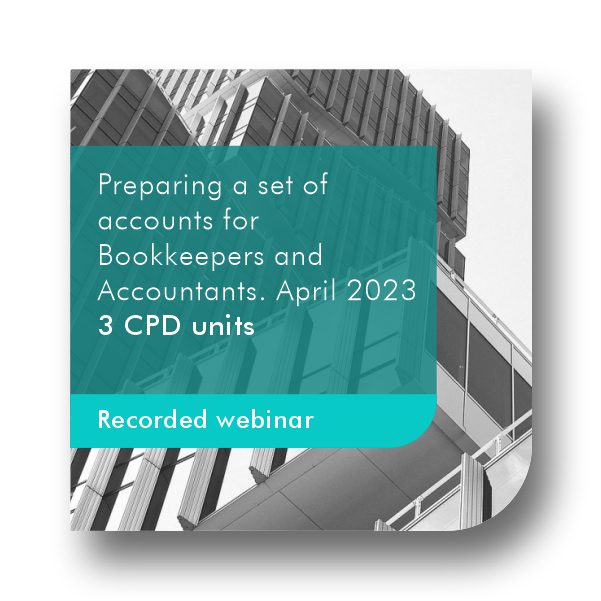 Preparing a set of accounts for Bookkeepers and Accountants 2023
To assist attendees with Preparing a set of accurate accounts saving them money. April 2023
What you will learn
By attending this webinar you will gain the following competencies:
Be able to identify supportive evidence required for transactions. 

Clearly communicate business objectives and strategies objectives and strategies using up to date information.

Giving your Bookkeeper and Accountant all information regarding terms with customers and suppliers.

Be able to identify which transactions relates to the income statement and which to the balance sheet.

 

Understand the use of accounting packages for real time. 
Description
Balancing books, saving time and being profitable is what every company in the industry is looking for. In this webinar we look at various ways and systems that can save you both money and your time as a practising Bookkeeper or Accountant.   
Join Monja van Zyl CA(SA) as she assists Bookkeepers and Accountants with accurate numbers to work with which will mean less time spent and more profitability.
Price
The following pricing apply:
Ad hoc: R450.00 for this webinar
Subscription: Included for free in Accountant in Practice plus Tax, Accountant in Practice and Bookkeeper package.
Content
The webinar will cover the following topics: 
What is a full set of accounts?

What is a financial period?

Terminology.

Balancing the books.

Setup of control accounts and what it entails.

Specific verifications that needs to be done like stock take for accuracy.

What type of supporting documents are required for which items on the trial balance.
Requirements
There are no preconditions for this course.
Moderate level.
Recorded webinar made available on a specified date.
Presenter
Monja van Zyl CA(SA) 
Monja van Zyl completed her CA(SA) articles in Durban and qualified as a chartered accountant in 2006. She then worked for both listed and unlisted companies in various industries where she mentored and led teams of different sizes.
Recognising the importance of balancing work and life, Monja started her own business called Aim Business Advisory Services in 2019. Her target market is the small-to-medium sized companies to whom she gives access to her vast skills and experience at a fraction of the cost on an outsourced retainer model. 
CIBA AAcademy Support
Login to CIBA Academy
Select My Dashboard
Select Submit a Ticket to log a new query