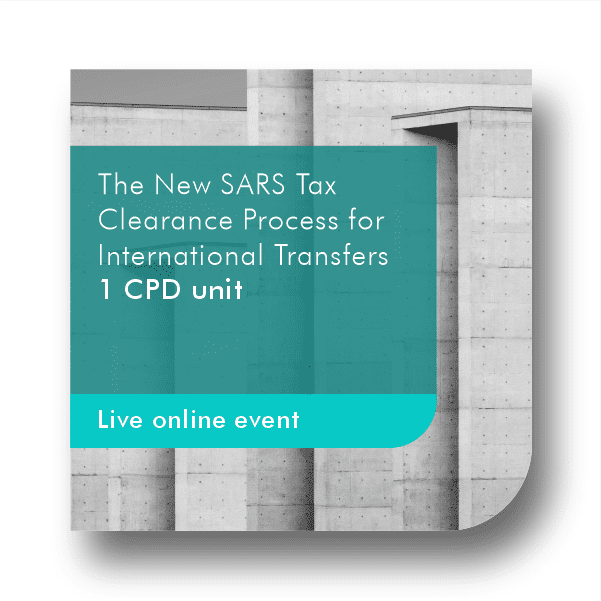 The New SARS Tax Clearance Process for International Transfers
A high-level overview on the new Tax Clearance process required to make international transfers introduced by SARS. June 2023
Overview
On 24 April 2023 South African Revenue Service (SARS) introduced a new Tax Clearance process to make international transfers. The new Approval for International Transfer (AIT) process applies to both South African tax residents who transfer more than R1 million out of South Africa in a calendar year, as well as for taxpayers who have ceased their tax residency in South Africa; which is now one combined SARS process.
The webinar will guide you through the intricacies of the supporting documents and disclosures required for a successful application, while sharing the latest insights received from SARS regarding post-application expectations. Explore real-life examples of both successful and rejected outcomes to enhance your understanding.
Tax Professional that wants to stay ahead should join the exclusive session hosted by CIBA in collaboration with Tax Consulting South Africa to gain valuable insights into this significant legislative change that took effect on 24 April 2023.
Register now to secure your spot and empower your tax practice.
Information
Date: 22 June 2023, Thursday
Time: 10:00-11:00
Format: Online Live Streamed event
Recording: Loaded to your SAIBA Academy profile if you registered prior to the event date
Presenter
Jashwin Baijoo, Head of Strategic Engagement & Compliance, Tax Consulting SA
Jashwin is an Admitted Attorney that holds a LLB , LLM (International Tax and Transfer Pricing). He has extensive experience in International tax, transfer Pricing and Crypto Asset Compliance
Why Attend?
By attending, you will gain an understanding of –
The context behind the change and SARS' strategic intent;
Why there is a risk of criminal sanction in the application process and risk mitigation hereon;
Unpacking the supporting documents and disclosures required to get the application right;
Latest insights received from SARS on what to expect after the application;
Examples of successful and rejected outcomes; and
Lessons learnt and strategy for dealing with potential SARS audits.
How to register
Select the Register Now button.
After registration
You will receive an email from Z00m (email: no-reply@zoom.us) with your unique link. Do not share the link publicly to ensure you gain access. The email will be send to the email address you listed under the heading Webinar Attendee in the Checkout Form.
After successful registration, the event will be listed as a course under your SAIBA Academy profile. Login, My Dashboard, My Courses. Select start next to: The New SARS Tax Clearance Process for International Transfers. A recording will be made available to all delegates who registered and attended the online webinar.
Price
The event is free to attend.
CIBA Academy Support
Login to SAIBA Academy
Select My Dashboard
Select Submit a Ticket to log a new query