Companies Act Update 2020
Overview of recent updates to the Companies Act and the effect on the work of the accountant. August 2020
WHAT YOU WILL LEARN
By the end of this event the attendee should:
Understand a broad overview of the Companies Act;

Understand the main purpose of the Act;

Understand specific parts of the Act that directly affect the accountant's work;

Know how the CIPC regulates the Act; and

Understand different stakeholders' roles, responsibilities and liabilities.

 
DESCRIPTION
The Companies Act, 2008 is the piece of legislation that forms the backbone of company regulation in South Africa. In a nutshell, it provides for the incorporation, registration, organisation, management and capitalisation of companies. This Act also defines the relationships between companies and their shareholders and directors/members.  
The purpose of this webinar is not to discuss all the legal provisions of the Act but to highlight the parts of the Act that affect accountants in their day to day roles. Recent amendments and their effect on the work of the accountant will also be discussed as well as the CIPC's increasing regulatory powers.
The Companies Act in a nutshell will be discussed with a major focus on the accountant's work and compliance requirements. 
PRICE
The following pricing apply:
Ad hoc: R575.00
Subscription: Included for free in Accountant in Practice plus Tax and Accountant in Practice packages.
CONTENT
Study unit 1
Introduction to the Companies Act
Study unit 2
Purpose of the Act
Study unit 3
Stakeholders' roles, responsibilities and liabilities
Study unit 4
The CIPC and its regulation of the Act
Study unit 5
Corporate governance, transparency and accountability
REQUIREMENTS
There are no preconditions for this course.
Moderate level.
Recorded webinar made available on a specified date
PRESENTER
Edith Wilkins
Edith Wilkins is currently a director at Sekretari (Pty) Ltd, a company secretarial practice. She has 25 years experience in Advanced Corporate Law and Corporate Governance. Edith acts as company secretary to various large companies on company statutory duties including drafting agendas, board packs, liaising with CIPC, attending meetings and drafting of minutes.
ADDITIONAL MATERIAL
By attending this webinar, you will be provided with:
– Summarised slide presentation.
– Reference documents and / or course material where available.
– Access to a technical knowledge base.
– Recorded webinar that includes an expert presenter and participant interaction.
Additional Course Information
| | |
| --- | --- |
| Category | Accounting |
| Accredited | SAIBA |
| Verifiable CPD Hours | 4 |
| Non-verifiable CPD Hours | N/A |
| Effort | 4 hours |
| Duration | 4 hours |
| Format | Webinar |
| Level | Moderate |
| Assessment | Yes |
| Study Material | No |
| Course Date | 22 August, 2020 |
Business Accountants in Practice (SA)
Business Accountants (SA)
Financial managers
Company secretaries
Accounting officers
This event is included in the following subscription packages: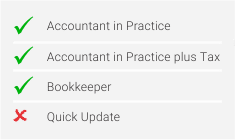 If you are not a subscriber, you need to purchase the event as a stand-alone event or subscribe to a SAIBA subscription package.
Subscribers pay less for their CPD points.
SAIBA offers 4 subscription packages that provides access to everything to run a successful accounting and tax practice.

Pay a small monthly amount and gain access to monthly webinars covering ethics, financials, reporting, audit and assurance, working papers, law, technology, management topics, and tax.