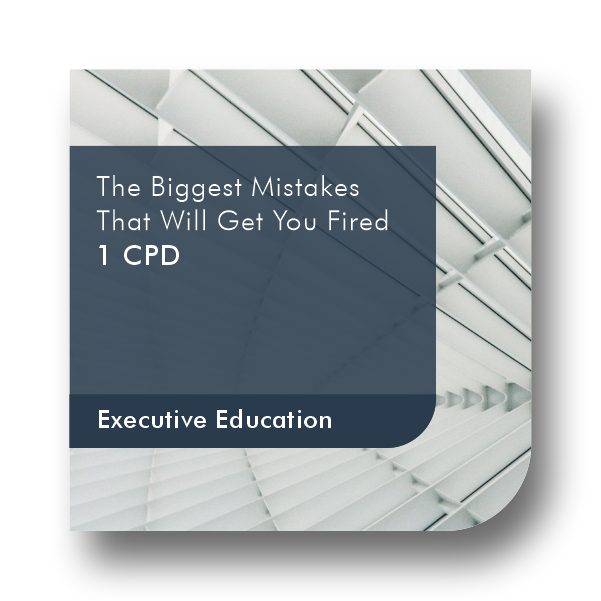 The Biggest Mistakes That Will Get You Fired (AICPA event)
This session will discuss the mistakes to avoid as you climb the ladder of success.
What you will learn
After attending this program you will be able to:
Identify career-ending mistakes
Select methods for handling mistakes
Determine strategies to avoid future potential career ending mistakes
Description
There is plenty of information on what to do to advance your career, but very little is discussed about what can derail your career, or worse get you fired.
This panel will discuss the mistakes to avoid as you climb the ladder of success.
About AICPA
The Association of International Certified Professional Accountants (the Association) is the most influential body of professional accountants, combining the strengths of the American Institute of CPAs (AICPA) and The Chartered Institute of Management Accountants (CIMA) to power opportunity, trust and prosperity for people, businesses and economies worldwide. AICPA & CIMA represent 689,000 members, students and engaged professionals in public and management accounting and advocates for the public interest and business sustainability on current and emerging issues.
In 2012, AICPA & CIMA established the Chartered Global Management Accountant (CGMA) designation to provide members with a new level of resources and recognition.
Price
Ad hoc normal price: R1330.00 incl. VAT incl. CIBA member price: R998.00 incl. VAT.
This is a digital product. You will have access to the content for 365 days after purchase date.
Content
Career Setbacks
Top Mistakes to Avoid
How to Recover From a Mistake
How Do You Avoid These Mistakes
Career Best Practices
Requirements
There are no preconditions for this course. Moderate level. Recorded webinar made available on a specified date
Presenters
Peter Margaritis
Peter Margaritis, CPA, is a keynote speaker, communication strategist, and improv virtuoso. Peter is the author of two books, Improv Is No Joke: Using Improvisation to Create Positive Results in Leadership and Life and Taking the Numb Out of Numbers: Explaining and Presenting Financial Information with Confidence and Clarity.
Jennifer Elder
Jennifer Elder, CPA, CMA, CIA, CFF, CGMA is a keynote speaker, trainer, and business coach dedicated to business transformation. For more than 20 years, she has been helping businesses by peeling back the layers of "administrivia" and finding the hidden strengths and core values that make you and your company awesome. Ms. Elder works with businesses to develop a compelling business strategy that is quick to implement that transforms your company from what you are now to what you have always wanted to be. Known for being energetic and enthusiastic, Ms. Elder has been delivering high-quality, customized training that make complicated topics easy to understand, relevant, and useful for years. She has conducted seminars for the Fortune 500, US Government, State CPA Societies, and CPA Firms in 33 states. Her sessions are highly interactive, full of discussion, and even entertaining. Ms. Elder received her BA from the University of Massachusetts and an MS in Organizational Management from Antioch University New England.
SAIBA Academy Support
Login to SAIBA Academy
Select My Dashboard
Select Submit a Ticket to log a new query