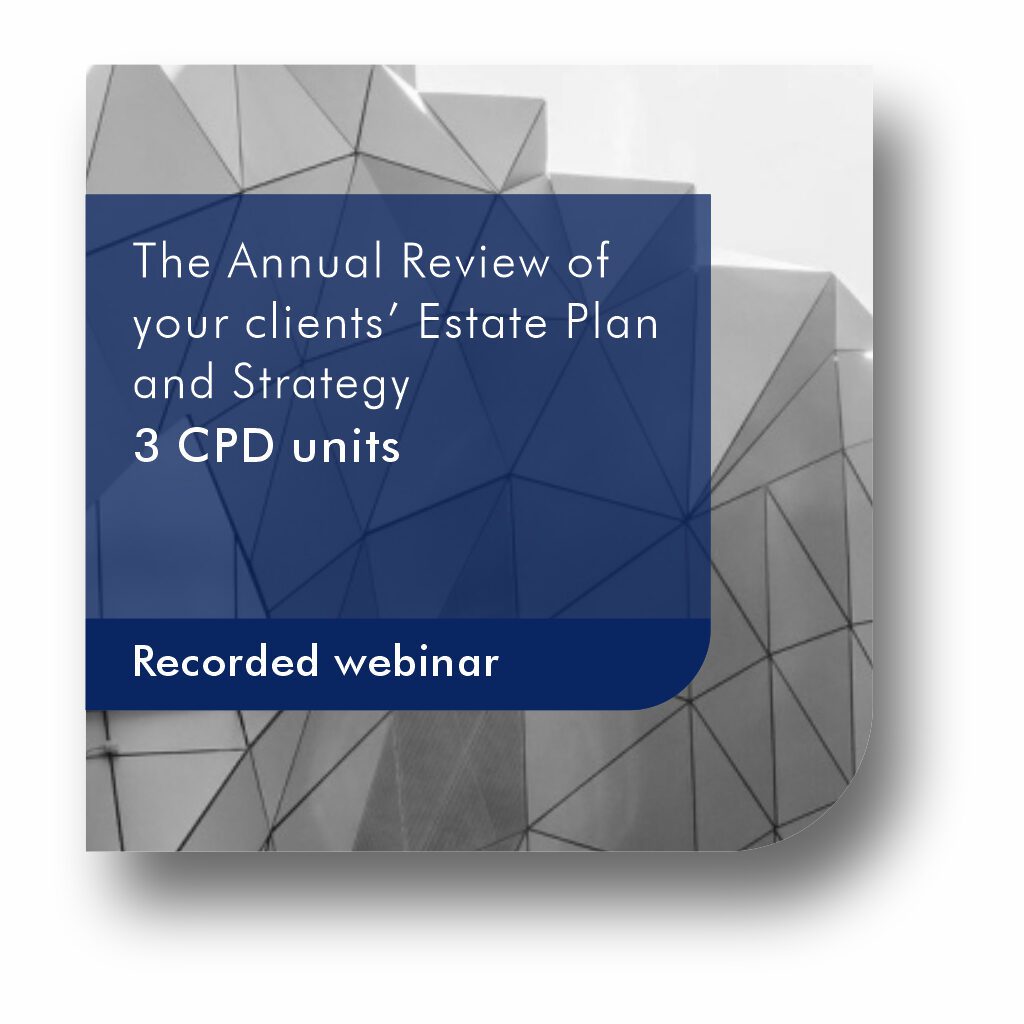 The Annual Review of your Clients' Estate Plan and Strategy
To inform participants how to increase their income by offering estate planning as an additional service to their clients. September 2022
What you will learn
By the end of this webinar the participant should:
Be conversant with the basics of estates and estate planning.

Know and understand the various Acts that regulate estate planning, including the taxation of estates. 

Gain the knowledge and skill required to become a competent and professional estate planner. 

Have a strong appreciation of estate planning as an additional source of income for your practice. 

Successfully implement estate planning as an additional service offering in your practice. 
Description
There is a general misconception that estate planning is a once-off activity that is mostly centred around the making of a last will! Estate planning requires annual review considering the growing trend of South Africans to invest in offshore assets, crypto-assets, provision of liquidity of the estate, tax consequences, and future growth of assets. 
Accounting professionals are well-placed to provide this value-added service to their clients. An annual review of clients' estates provides an opportunity for growth of the accounting professional's practice. Accountants can expand their service offering to support clients to plan for the future to ensure their businesses become multi-generational enterprises. 
Price
Non-subscriber Ad hoc: R450.00 incl. VAT
Subscriber: N/A
Content
What is estate planning?

The law in estate planning:

The Administration of Estates Act.

The Wills Act.

The Intestate Succession Act.

Estate duty and capital gains tax.

How to perform an estate planning process.

Creating an estates planning practice. 
Requirements
There are no preconditions for this course.
Moderate level.
Recorded webinar made available on a specified date
Presenter
Jako Liebenberg CA(SA) 
Jako became a Chartered Accountant and Registered Public Auditor in 2001. His entire career has been in public practice except for a stint as CFO in the Free State Provincial Government from 2010 to 2012.
Jako consults for clients across South Africa on Accounting Standards and Compliance, Broad Based Black Economic Empowerment, Tax and Business Development. He serves as an assessor in the Free State High Court of Appeals as representative in Public Practice. Jako is also a registered SAICA assessor for Trainees. 
SAIBA Academy Support
Login to SAIBA Academy
Select My Dashboard
Select Submit a Ticket to log a new query