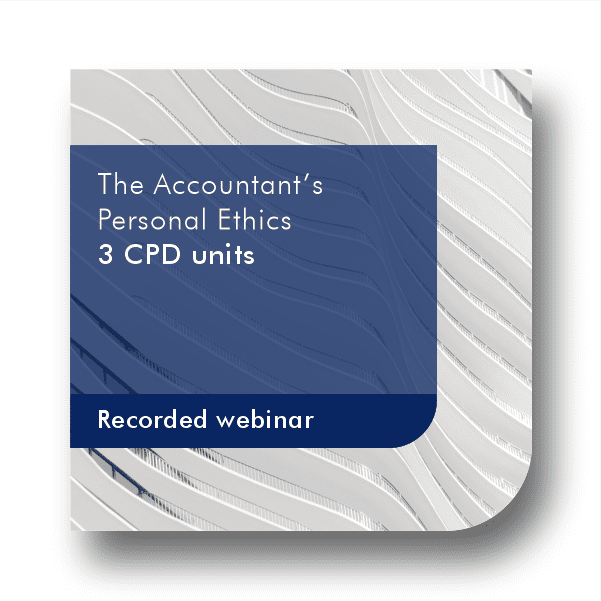 The Accountant's Personal Ethics 2023
To assist attendees to be aware of, and reflect upon their personal moral compass as it directly impact their professional and business lives. July 2023
What you will learn
By attending this webinar you will gain the following competencies: 
Working knowledge of the importance of ethical conduct and the relevance to society.

Awareness of how personal ethics are developed and moulded by society.

Ability to perform an introspective approach that searches one's own personal ethics. 

Know how to consider honesty, integrity and accountability when interacting with others.

Understand the threats that challenge the accountant's personal ethics and know how to respond to applicable threats.  
Description
Accountability is a basic trait expected of every professional, more so where one's job involves dealing with people's investments and finances as accountants do.  
Watching your ethical behaviour is very important because not only does it affect you personally, but it also affects your business or employer and the industry at large. It involves a lot more than "knowing what is right to do" and therefore, its full understanding requires us to investigate it from the following viewpoints: 
Personal ethics.

Business ethics.

Professional ethics.
Price
The following pricing apply:
Adhoc: R450.00
Subscription: Included for free in Accountant in Practice, Accountant in Practice plus Tax, Bookkeeper.
Content
The webinar will cover the following topics:  
What is ethics? 

The importance of ethics in society. 

How ethics develop.

Theories of ethics. 

Personal ethics – a

n introspection.

Threats and challenges.

How 

personal affects business and professional ethics.
Requirements
There are no preconditions for this course.
Moderate level.
Recorded webinar made available on a specified date.
Presenter
Caryn Maitland CA(SA) 
Caryn Maitland is a registered auditor and chartered accountant since 2002. Caryn has lectured Auditing and Accounting at various institutions and has conducted independent workshops and seminars for professional accountants since 2006 on various topics.
CIBA Academy Support
Login to CIBA Academy
Select My Dashboard
Select Submit a Ticket to log a new query