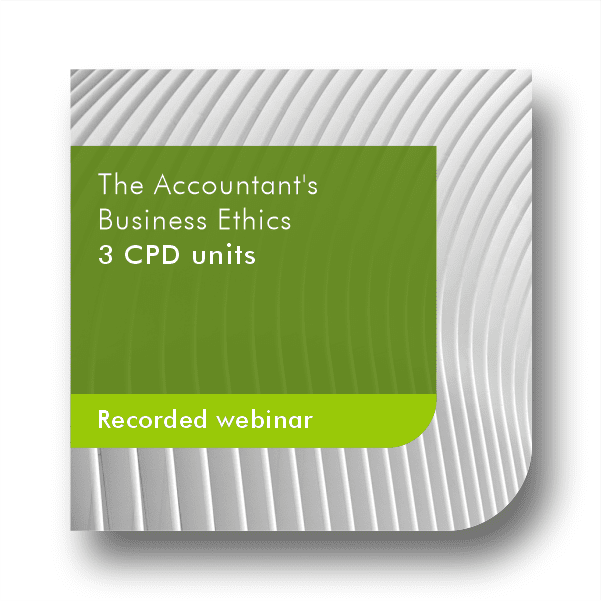 The Accountant's Business Ethics 2023
To assist attendees to be aware of business ethics and promote ethical principles and standards within the realm of business 2023.
What you will learn
After attending this webinar you will:
Gain a comprehensive understanding of the significance of ethical leadership.

Explore the advantages and obstacles involved in fostering a positive corporate culture.

Delve into the dynamics of balancing commercialism and professionalism while operating an ethically sound business.

Navigate the complexities of complying with national laws within a challenging and sometimes corrupt environment.

Recognise the impact our actions have on our employees, clients, and the future generation of business professionals.
Description
Business ethics revolves around establishing a robust corporate culture by fostering ethical leadership and exemplifying good moral conduct. This webinar explores the obstacles confronted by business leaders as they strive to make ethical decisions and maintain integrity when dealing with their employees and clients. 
Business ethics serve as the foundation for conducting business in an ethical and responsible manner. By upholding ethical principles, businesses can enhance their reputation, mitigate risks, foster long-term sustainability, and contribute positively to the greater society. This webinar is the second session in a 3-part series that explores personal ethics, business ethics, and professional ethics. 
Price
The following pricing apply:
Adhoc: R450.00
Content
What is business ethics?

The importance of business ethics.

Tone from the top-the importance of leadership.

Diversity in the workplace.

Addressing ethical dilemmas.

Corporate citizenship.
Requirements
There are no preconditions for this course.
Moderate level.
Recorded webinar made available on a specified date.
Presenter
Caryn Maitland is a Chartered Accountant (SA). She has been a member of IRBA as a registered auditor and accountant since 2002, Caryn has lectured Auditing and Accounting at various institutions and has conducted independent workshops and seminars for professional accountants since 2006 on various topics.
CIBA Academy Support
Login to CIBA Academy
Select My Dashboard
Select Submit a Ticket to log a new query