Tech Talk with Caryn Independent Reviews: When, what, how?
Overview of independent review engagements as required by the Companies Act, 2008
WHAT YOU WILL LEARN
By the end of this webinar the participant should:   
Understand what an independent review 

is;

 

Understand the requirements of the Companies 

Act;

 

Understand how to determine if a company qualifies for an independent 

review;

 

Know who can perform an independent review; and

 

Know how to perform an independent review.

 
DECRIPTION
The Companies Act, No 71 of 2008 changed the landscape of regulation and compliance with respect to the auditing of companies.  In 2011, the Companies Act as amended, introduced an alternative level of assurance – the independent review. 
Independent review engagements are a less onerous alternative to a full audit. They however offer more assurance than compilations and accounting officer's reports. This webinar is aimed at clarifying what an independent review is, what it aims to achieve, as well as highlighting how it differs from other engagements. 
PRICE
The following pricing apply:
Adhoc: R475.00
Subscription: Included for free in Accountant in Practice, Accountant in Practice plus Tax, Bookkeeper and QuickUpdate packages.
CONTENT
Study unit 1
Authority to conduct an independent review:
What us an Independent Review?
Requirements of the Companies Act.
Calculation of the Public Interest Score.
Who can perform and Independent Review?
Compilation vs Independent Review.
Study unit 2
Pre-Engagement and Planning:
Pre-conditions and accepting the engagement.
Engagement letter.
Ethical requirements
Professional scepticism and professional judgement.
Preliminary analytical review.
Areas that are likely to be misstated.
Documentation requirements.
Study unit 3
Performing the review for all financial statement areas:
Focused enquiries.
Additional procedures.
Reconciling financial statements to underlying records.
Related parties.
Fraud and non-compliance with laws and regulations.
Presentation and Disclosure.
Study unit 4
Finalisation and reporting:
Overall analytical review.
Evaluation of misstatements.
Letter of representation and management letter.
Reporting in terms of regulation 29 (RI).
Modified/Unmodified conclusion.
REQUIREMENTS
There are no preconditions for this course.
Moderate level.
Recorded webinar made available on a specified date.
PRESENTER
Caryn Maitland CA(SA) 
Caryn Maitland is a Chartered Accountant (SA). She has been a member of IRBA as a registered auditor and accountant since 2002. 
Caryn has lectured Auditing and Accounting at various institutions and has conducted independent workshops and seminars for professional accountants since 2006 on various topics. 
Caryn has presented on the national tour for the annual Legislation Update with ProBeta Training (Pty) Ltd in 2014 and 2015, as well as on the FASSET national tour for the Tax Administration Act in 2014.  
ADDITIONAL MATERIAL
By attending this webinar, you will be provided with: 
Summarised slide presentation 

Reference documents and / or course material where available 

Access to a technical knowledge base
Additional Course Information
| | |
| --- | --- |
| Category | Assurance |
| Accredited | SAIBA |
| Verifiable CPD Hours | 2 |
| Non-verifiable CPD Hours | N/A |
| Effort | 2 hours |
| Duration | 2 hours |
| Format | Webinar |
| Level | Moderate |
| Assessment | Yes |
| Study Material | No |
| Course Date | 29 April, 2020 |
Business accountants in Practice (SA).  
Accounting officers; 
Trainee accountants; and 
Accounting department staff.  
This event is included in the following subscription packages: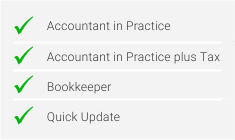 If you are not a subscriber, you need to purchase the event as a stand-alone event or subscribe to a SAIBA subscription package.
Subscribers pay less for their CPD points.
SAIBA offers 4 subscription packages that provides access to everything to run a successful accounting and tax practice.

Pay a small monthly amount and gain access to monthly webinars covering ethics, financials, reporting, audit and assurance, working papers, law, technology, management topics, and tax.