Tech Talk with Caryn: Business Valuation
There are a number of reasons why businesses may need to be valued, find out more during this webinar
WHAT YOU WILL LEARN
By the end of this event the participant will:
Know what business valuation is;
Understand business valuation drivers;
Know how to assess the required rate of return;
Understand the most common business valuation methods; and
Know how to construct your argument.
DESCRIPTION
There are a number of reasons why businesses may need to be valued. The most common reason is when a business is being sold. In that instance it is obvious why both the seller and the buyer would be interested in knowing the "true" value of the business.
Other drivers for business valuation include internal reorganisation and requests from lenders or investors who want to know what the business is worth before committing themselves. It is worth noting that there is more than one method of valuing a business. The method(s) chosen will depend on the type of business as well as the reason for selling it.
In this webinar Caryn will be looking at how you can arrive at a value for a business using various techniques, from assessing the intrinsic value of a business to basing the value on future earnings.
PRICE
Adhoc – R475
Subscription Package – Accountant in Practice, Accountant in Practice plus Tax, Bookkeeper, Quick Update
CONTENT
Study Unit 1
What is business valuation?
Study Unit 2
Business valuation drivers.
Study Unit 3
Relationship of risk and return.
Study Unit 4
Assessing the required rate of return.
Study Unit 5
How risk and return affect business valuation.
Study Unit 6
Constructing your argument.
REQUIREMENTS
There are no preconditions for this course.
Moderate level.
Recorded webinar made available on a specified date
PRESENTER
Caryn Maitland CA (SA)
Caryn Maitland is a Chartered Accountant (SA). She has been a member of IRBA as a registered auditor and accountant since 2002, Caryn has lectured Auditing and Accounting at various institutions and has conducted independent workshops and seminars for professional accountants since 2006 on various topics.
ADDITIONAL MATERIAL
By attending this webinar, you will be provided with:
 Summarised slide presentation
 Reference documents and / or course material where available
Access to a technical knowledge base
Recorded webinar that includes an expert presenter and participant interaction
Additional Course Information
| | |
| --- | --- |
| Category | Practice Management |
| Accredited | SAIBA |
| Verifiable CPD Hours | 2 |
| Non-verifiable CPD Hours | N/A |
| Effort | 2 hours |
| Duration | 2 hours |
| Format | Webinar |
| Level | Moderate |
| Assessment | Yes |
| Study Material | No |
| Course Date | 26 February, 2020 |
Professional Accountants including: RA(SA), CA(SA),PA(SA) and BAP(SA);
Accounting officers;
Tax practitioners; and
Bookkeepers.
This event is included in the following subscription packages: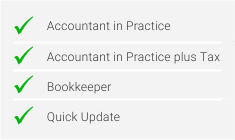 If you are not a subscriber, you need to purchase the event as a stand-alone event or subscribe to a SAIBA subscription package.
Subscribers pay less for their CPD points.
SAIBA offers 4 subscription packages that provides access to everything to run a successful accounting and tax practice.

Pay a small monthly amount and gain access to monthly webinars covering ethics, financials, reporting, audit and assurance, working papers, law, technology, management topics, and tax.