Preparing Professionals to thrive in the Fourth Industrial Revolution. July 2020
WHAT YOU WILL LEARN
After attending this webinar you will be able to:
Know what is changing in technology that impacts the tax professional
Know what to expect going forward
DESCRIPTION
Research shows that 65% of children entering primary school today will ultimately end up working in completely new job types that don't yet exist. Is this a scary thought or do you believe it is exciting? The PwC Finance Effectiveness Benchmark Report 2017 suggests that finance and tax professionals spend 50% of their time gathering data, rather than analysing it. How can accounting and tax professionals become more effective and efficient in performing mundane tasks, so that we can rather focus our time and energy on adding value to clients and businesses?
Join the webinar as a call to action – to respond to challenges in the changing business environment.
PRICE
The following pricing apply:
Ad hoc: R475.00
Subscription: Included for free in Accountant in Practice plus Tax package.
CONTENT
This event will cover the following aspects:
Creating a basic awareness and understanding of the impact of the Fourth Industrial Revolution on the accounting and tax profession.
A discussion of how tax professionals should reskill and upskill themselves, not only to avoid becoming redundant, but to grow, thrive and excel in an environment that is constantly changing and evolving.
Exploring tools such as Robotic Process Automation that could assist tax professionals in performing daily tasks – where to find these tools and how to use them.
REQUIREMENTS
There are no preconditions for this course.
Moderate level.
Recorded webinar made available on a specified date
PRESENTER
Lenore Kerrigan
Lenore is a committed South African whose ambition is to make a difference to the transformation of the country and development of its people. She is very much a people focused person and thrives on making the impossible possible. With many years of general and sales management experience, at various levels and across all industry sectors, she believes that selling is a personal commitment and therefore puts all her energy into building customer relationships and delivering on promises.
She is an experienced executive in ICT, with a vast range of experience in strategy, planning, management, sales, marketing and services. Lenore is self-motivated and a driven individual who builds long term customer relationships. She has experience in working for international corporations, local large enterprises as well as start-ups. She is a qualified chartered accountant with a particular interest in governance, risk and compliance.
She is a board member on the Southern Africa-Canadian Chamber of Commerce (SACANCHAM).
ADDITIONAL MATERIAL
By attending this webinar, you will be provided with:
– Summarised slide presentation.
– Reference documents and / or course material where available.
– Access to a technical knowledge base.
– Recorded webinar that includes an expert presenter and participant interaction.
Additional Course Information
| | |
| --- | --- |
| Category | Tax |
| Accredited | SAIBA |
| Verifiable CPD Hours | 2 |
| Non-verifiable CPD Hours | N/A |
| Effort | 2 hours |
| Duration | 2 hours |
| Format | Webinar |
| Level | Moderate |
| Assessment | Yes |
| Study Material | No |
| Course Date | 20 August, 2020 |
Business Accountant (SA)
Business Accountants in Practice (SA)
Certified Business Accountant (SA)
Certified Financial Officers (SA)
This event is included in the following subscription packages: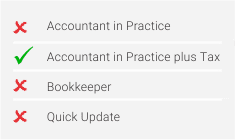 If you are not a subscriber, you need to purchase the event as a stand-alone event or subscribe to a SAIBA subscription package.
Subscribers pay less for their CPD points.
SAIBA offers 4 subscription packages that provides access to everything to run a successful accounting and tax practice.

Pay a small monthly amount and gain access to monthly webinars covering ethics, financials, reporting, audit and assurance, working papers, law, technology, management topics, and tax.