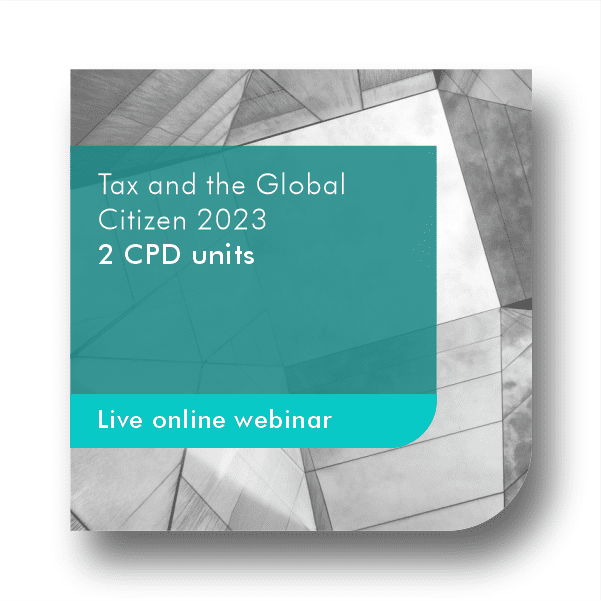 Tax and the Global Citizen 2023
Overview
Working overseas, earning overseas, moving overseas and financially emigrating overseas are different concepts and the impact on tax differs. Legislation has changed financial emigration. The old financial emigration process has been replaced with a new regime that comes a host of positives and negatives. A positive being the antiquated legislation around exchange control for the process is completely falling away, however, on the other hand, the tax treatment of the process will be more stringent with a focus on tax residency only, potentially making it more onerous to overcome the burden of proving non-resident status. Join us as we discuss the rules and regulations regarding leaving South Africa.
Please join us for this highly informative and practical session.
Information
Past event held on: 13 June 2023, Tuesday
Time: 10:00-12:00
Format: Recording of Online event
CPD: 2 units/hours
Recording: Loaded to your SAIBA Academy profile if you registered for the event date
Pricing
This is a free event
Content/Topics
South African tax residency
Difference between tax residency and financial emigration
Do's and don't of working overseas
Emigration process and important documentation
Source of income and capital gains
Estate Duty from a South African estate
Extraction of retirement funds upon emigration
Cashflow considerations
How to register
Select the Register Now button.
After registration
After successful registration, the event will be listed as a course under your SAIBA Academy profile. Login, My Dashboard, My Courses. Select start next to: Tax and the global citizen 2023. A recording will be made available to all delegates who registered for the event.
Presenter
Melissa Duffy
KPMG South Africa Director/Partner – Global Mobility Services and Employment Tax Advisory
Melissa's tax journey started in 2002. She is a tax specialist and has extensive experience in cross-border transactions and the employees and employers impacted by cross-border moves, including immigration and employment matters as relates to employees (expatriates and locals) and the employing entities (local and foreign). She leads multiple teams in delivering tax solutions on a timely basis. She actively facilitates the learning and development of KPMG employees.
Christelle Louw
Senior Advisory Partner, Bcom investment management (HONS) CFP®
Christelle Louw has been an Advisory Partner at Citadel for the last 25 years and has spent her career in finance with merchant banking, stock broking, family office and now wealth management. Citadel launched an online financial academy for scholars as part of their contribution to the community.
CIBA Academy Support
Login to CIBA Academy
Select My Dashboard
Select Submit a Ticket to log a new query