Security against Cybercrime
August2020 To inform attendees how they can protect their firms against hacking and cybercrime
WHAT YOU WILL LEARN
By the end of this event the participant should:
Know what cybercriminals are after;

Understand how cybercriminals make money;

Know the common methods that are used by cybercriminals;

Know how to protect his/her organization against attacks; and

Understand how to respond to an attack or possible breach.
DESCRIPTION
The current tech revolution is bringing more efficient ways to perform our roles. Today we can have large amounts of our data backed up on the cloud and we are also able to simultaneously subscribe to different apps that can be integrated for a perfectly streamlined organisation.  
While the good among us are taking up tech processes that make us more efficient, the hackers are after our information and are using simple as well as highly sophisticated means to get to it. 
How secure is your information and that of your clients?
We are presenting a webinar on cybercrime and how you can secure all your important information against it. The purpose of this webinar is to make you aware of who these cybercriminals are and the methods they use to get your information. We will also give you ways to protect yourself against having your organisation invaded electronically and your information and that of your clients stolen.
PRICE
The following pricing apply:
Ad hoc: R475.00
Subscription: Included for free in Accountant in Practice plus Tax, Accountant in Practice and Bookkeeper packages.
CONTENT
Study unit 1
Cybercrime – An introduction
Study unit 2
What do cybercriminals want from you?
Study unit 3
Common cybercriminal tactics
Study unit 4
Are you safe?
Study unit 5
Ways to protect yourself from attacks
Study unit 6
Responding to an attack/breach
Study unit 7
Cybersecurity and the law
REQUIREMENTS
There are no preconditions for this course.
Moderate level.
Recorded webinar made available on a specified date
PRESENTER
Ferdie van Schalkwyk
Ferdie van Schalkwyk is a business consultant and technology advisor at IPMG, heading up the Independent Chief Information Officer advisory arm of IPMG (iCIO).
With more than 15 years experience in the field, Ferdie has the rare ability to converse with technology people on highly technical topics and be able to translate, unpack and discuss those same topics with business owners and experts in other fields to ensure their practical understanding and alignment, so that they are empowered to make informed decisions.
ADDITIONAL MATERIAL
By attending this webinar, you will be provided with:
– Summarised slide presentation.
– Reference documents and / or course material where available.
– Access to a technical knowledge base.
– Recorded webinar that includes an expert presenter and participant interaction.
Additional Course Information
| | |
| --- | --- |
| Category | Practice Management |
| Accredited | SAIBA |
| Verifiable CPD Hours | 2 |
| Non-verifiable CPD Hours | N/A |
| Effort | 2 hours |
| Duration | 2 hours |
| Format | Webinar |
| Level | Moderate |
| Assessment | Yes |
| Study Material | No |
| Course Date | 27 August, 2020 |
Business Accountants in Practice (SA)
Business Accountants (SA)
Practicing bookkeepers
Accounting department staff and 
Trainee accountants  
This event is included in the following subscription packages: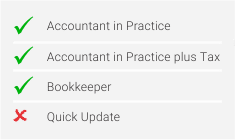 If you are not a subscriber, you need to purchase the event as a stand-alone event or subscribe to a SAIBA subscription package.
Subscribers pay less for their CPD points.
SAIBA offers 4 subscription packages that provides access to everything to run a successful accounting and tax practice.

Pay a small monthly amount and gain access to monthly webinars covering ethics, financials, reporting, audit and assurance, working papers, law, technology, management topics, and tax.