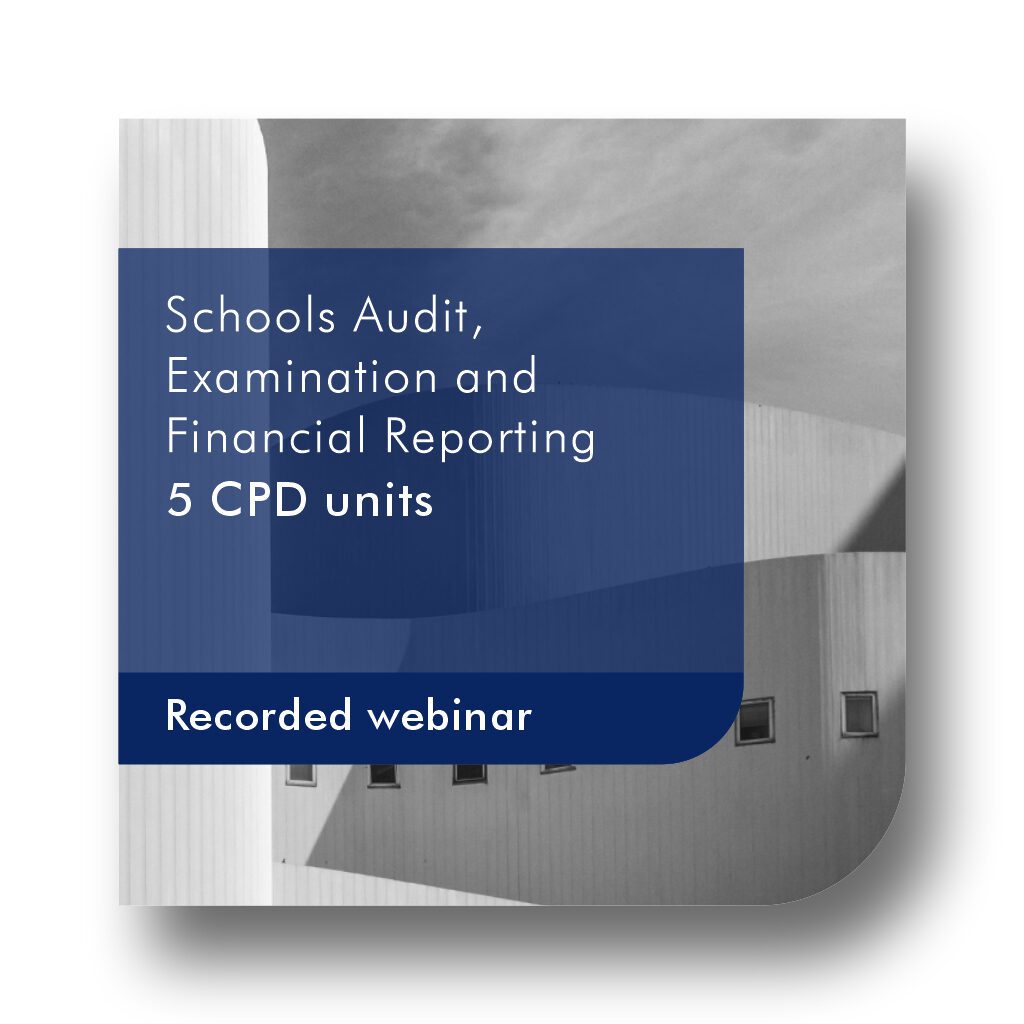 Schools Audit, Examination and Financial Reporting
To discuss the requirements of the SASA, regulations and recently issued circulars relevant to the services they offer.  July 2021
WHAT YOU WILL LEARN
By the end of this event the attendee should:  
Understand sections 42 and 43 of the South African Schools Act.

Understand how to assist public schools to improve financial management.

Understand the governance and compliance environment under which schools operate.

Understand the different roles and segregated roles of bookkeepers, accountants, accounting officers, and auditors.

Determine the appropriate financial reporting framework for public schools.
DESCRIPTION
One of the important roles of a school governing body is to appoint a person who is registered as an accountant and auditor to audit the school's records and financial statements.  
The South African Schools Act 84 of 1996 (SASA) also requires public schools to engage professionals to assist them with their financial management duties. These professionals include bookkeepers, accountants, accounting officers and auditors.  
The purpose of this webinar is to guide and update accounting professionals on the requirements of prescripts on schools, school regulations and recently issued circulars.   
PRICE
The following pricing apply:
Ad hoc: R575 for this webinar
Subscription: N/A
CONTENT
Study unit 1
Background to legislation governing the financial management of schools: 
South African Schools Act, 1996.

Basic Education Laws Amendment Act, 2011.
Study unit 2
Recent circulars and regulations on schools financial management. 
Study unit 3
Schools as public interest entities.   
Study unit 4
Assisting schools to draft financial management policies. 
Study unit 5
How to assist schools with drafting financial management policies. 
Study unit 6
Independence requirements applicable to auditors of schools. 
Study unit 7
Guideline for the preparation of public school financial statements.  
Study unit 8
Role of Bookkeeper vs Accountant vs Accounting Officer vs Auditor.  
Study unit 9
How to assist your school client to prepare for an audit. 
REQUIREMENTS
There are no preconditions for this course.
Moderate level.
Recorded webinar made available on a specified date
PRESENTER
Lettie Janse van Vuuren CA(SA), RA, CBA(SA) 
Lettie is a CA (SA), Registered Auditor, as well as an Assessor and Moderator. She joined SA Accounting Academy in November 2017 as Head of Technical. As a professional trainer and webinar host, she is able to hold the attention of an audience with her relaxed and humorous presentation style.  She has a unique ability to communicate with delegates at their respective levels of knowledge and experience.  Over the last 20 years, she has trained thousands of partners, managers, trainee accountants and other professionals. 
She is responsible for researching, compiling and presenting our MCLU (Monthly Compliance and Legislation Updates). 
Lucky Menoe 
Lucky Ronald Menoe is the managing director of Inkaba Human Capital Solutions. He has worked in the social justice sector for over 20 years where he gained extensive experience in community development, capacity development, stakeholder, projects and events management, as well as training and development. 
Lucky is an activist in the education sector advocating for access to quality education and has extensively worked with school governing bodies. Lucky is a former deputy director at Corruption Watch. 
David Machaba 
Mabetlwa Strike David Machaba is the director of Machaba Accountants and Auditors. He is multi-skilled in different fields with excellent academic achievements that include certificate in Pastoral Ordination, Computer, Diploma in Mechanical Engineering and BCompt. Financial  Accounting Science Degree.
David is a member of various accounting bodies. He has extensive public and private service managerial experience in project management, strategic planning, policy development, implementation, monitoring and evaluation for more than 20 years. David is also in the labour movement where he has been a regional organizer for more than five years. He is currently a community activist and an education facilitator in schools for school development plans and school financial management plans.
SAIBA ACADEMY SUPPORT
Go to HTTPS://SAIBA.ACADEMY/LOGIN/
Login
Select MY DASHBOARD
Select SUBMIT A TICKET to log a new query
ADDITIONAL MATERIAL
By attending this webinar, you will be provided with:
– Summarised slide presentation.
– Reference documents and / or course material where available.
– Access to a technical knowledge base.
– Recorded webinar that includes an expert presenter and participant interaction.