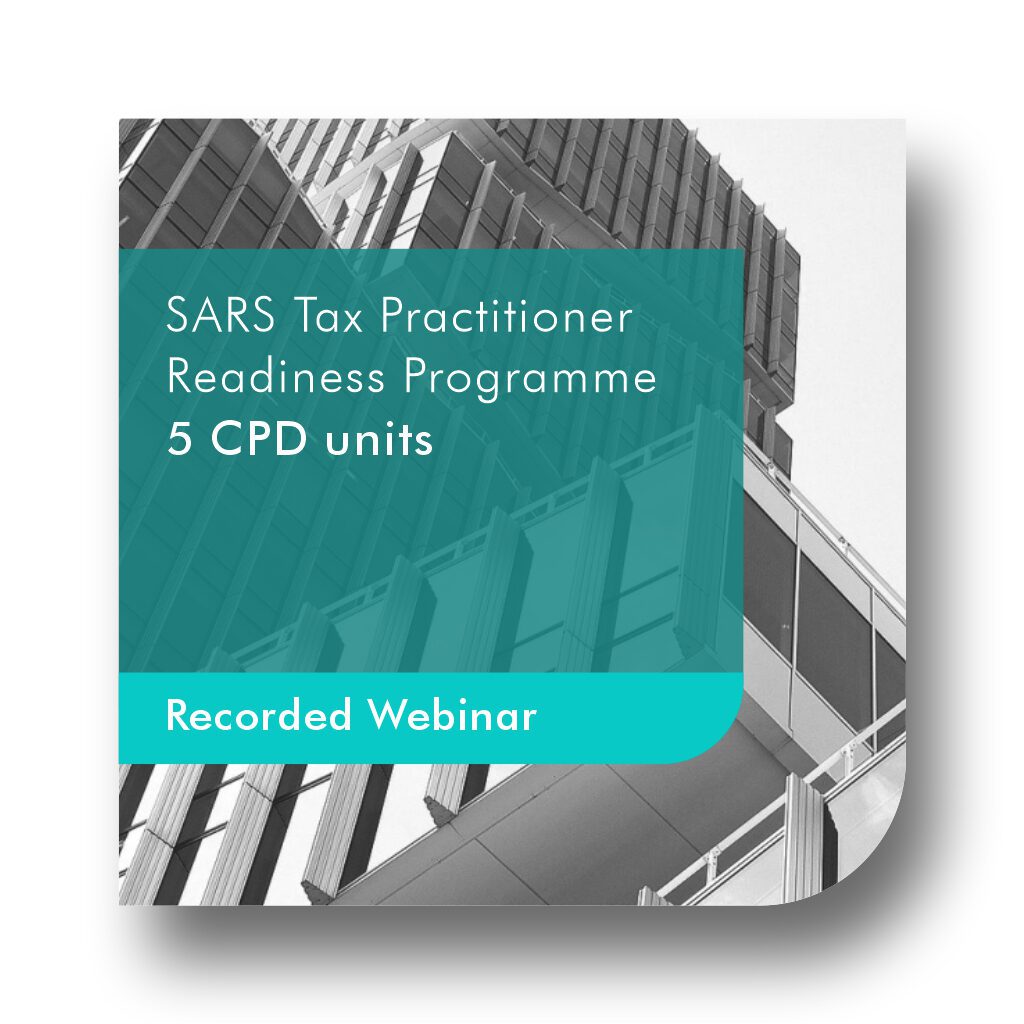 SARS Tax Practitioner Readiness Programme
The SARS readiness programme is mandatory for all newly registered Tax Practitioners. June 2022
What You Will Learn
By the end of this webinar you will:
Understand SARS Objectives
Understand legislation regarding the tax administration act
Have insight into regulatory codes for tax practitioners
Know the correct SARS channels to follow
Understand E-filing and the E@syFile app
Description
SARS is launching a SARS Readiness Programme (SRP) aimed at newly registered Tax Practitioners. The programme will cover various topics that are important for you in fulfilling your role as a registered tax practitioner.
Register for this course in order to gain access to the recorded webinars and slides. There will be assessments to complete in order to obtain your 5 CPD units. There are live sessions available on 28 and 29 June 2022 from 10h00-15h00.
Read more about the amended criteria for recognised controlling bodies relating to the registration and management of their tax practitioner members here.
To become a licensed Tax Practitioner with SAIBA, click here for the application details.
Price
Content
Module 1: Legislation
Module 2: Criteria for recognition of a controlling body
Module 3: How to register as a Tax Practitioner
Module 4: Becoming SARS ready
Module 5: Channels of Interaction with SARS
Module 6: eFiling
Module 7.1: EMP201 Declaration Submission
Module 7.2: Employer Tax Season made easy
Module 8.1: Debt Management
Module 8.2: Dispute Resolution
Module 8.3: Complaint and Escalation Management
Office of Tax Ombud: Process
Requirements
There are no preconditions for this course.
Moderate level.
Recorded webinar made available on a specified date
Presenter
SAIBA Academy Support
Login to SAIBA Academy
Select My Dashboard
Select Submit a Ticket to log a new query