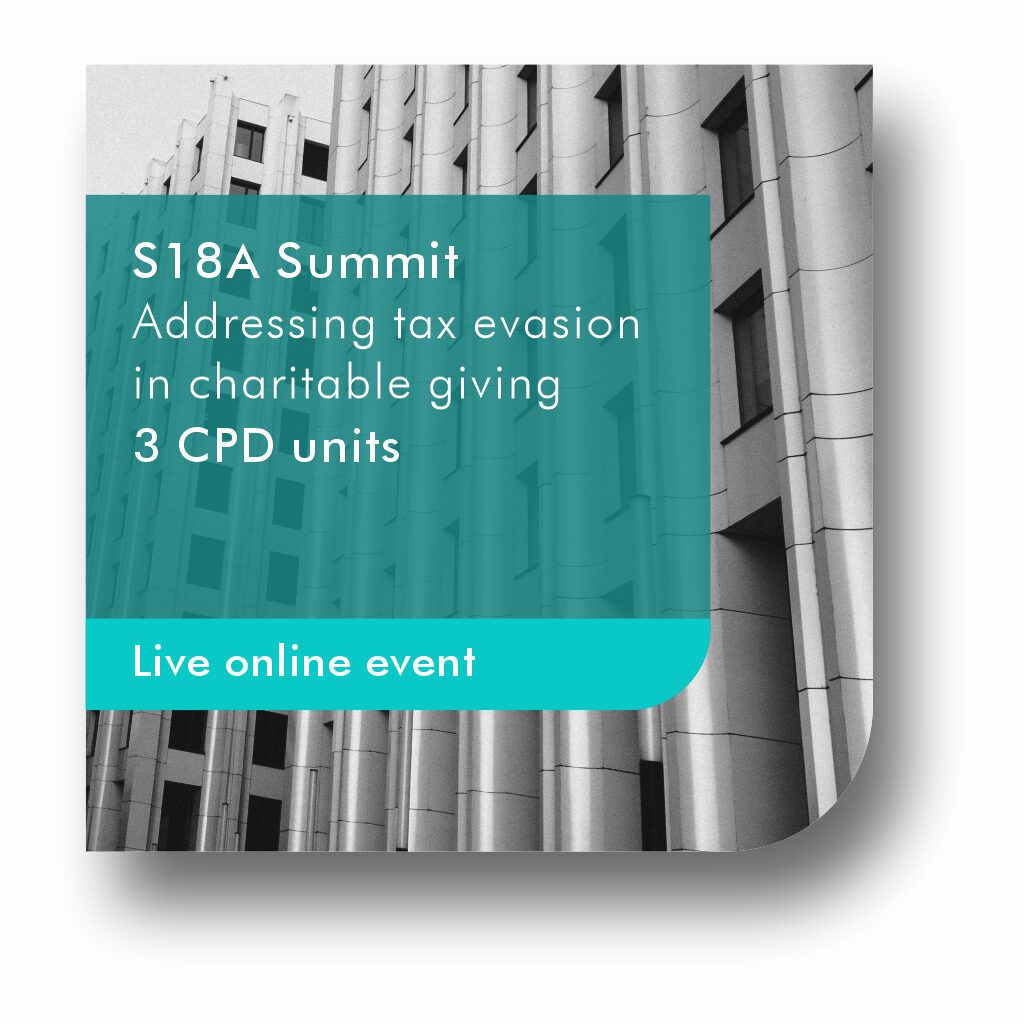 S18A Summit – Improving tax collection through collaboration: How to protect charitable giving from tax abuse S18A
SAIBA is hosting a webinar with SARS relating to Tax Evasion in Charitable Giving
Overview
Section 18A(1) and (2) of the INCOME TAX ACT 58 OF 1962, potentially provide a taxpayer with a deduction for bona fide donations made to any approved organisation, if the donation is supported by a section 18A receipt issued by that approved PBO organisation. However many charities are subject to tax abusers and don't understand their duties and liabilities.
Accountants and tax practitioners should ensure that their PBO clients understand their duties, assist with implementing accounting and reporting systems, shunning tax abusers, and issuing audit certificates based on rigorous and relevant procedures.
Accountants also carry the responsibility to better understand the challenges faced by SARS, the NPO Sector and the common abuse mechanisms deployed.
Join us in a discussion on important S18A matters to improve your responses, assist in preventing taxation leakages and contributing positively to our country's tax system.
Information
Date: 2 September 2022
Time: 10:00-13:00
Format: Live online event
Recording: Available to all delegates who registered and joined event
Price
This event is a free event.
Programme
Welcome and introduction by Nicolaas van Wyk, SAIBA CEO
Keynote speaker, Ms Minee Hendricks: SARS's challenges relating to S18A
Muhammad Sooliman, Executive Director of Gift of the Givers Foundation, will share how they effectively manage S18A accounting and taxation transactions for national and international donations and expenses.
Riaan Beekman, Nedbank Group Risk Specialised Investigations will present on fraudulent transactions.
Question and Answer session.
Presenters
Minee Hendricks
SARS Segment Lead- Tax Exemption Unit
Muhammad Sooliman
Executive Member/Director – Operations
Gift of the Givers Foundation
Founded in 1992, Gift of the Givers Foundation is one of the largest Disaster Response and Humanitarian relief agencies, responding to crises around the world. Muhammad Sooliman joined Gift of the Givers as a Regional Director and then later as Director of Operations. In his current role, he oversees finance and operational activities in South Africa. Additionally, he sits on the board of the Malawi and Zimbabwe chapters of Gift of the Givers.
Riaan Beekman
Specialised Investigations | Group Financial Crime, Forensics and Security
Nedbank Group Risk
Riaan Beekman is a (FP) SA, CA (SA) and is a Specialist Investigator at Nedbank since 2017.
Riaan has extensive experience in the investigation of financial crime, ethics and fraud risk management.
He was the Forensic Audit Manager at Impala Platinum from 2012 to 2017, before joining Nedbank.
His career in commercial forensics started in 2001 when he joined KPMG (Forensic) as a junior investigator and later became an Associate Director until 2012.
How to register
Select the Register Now button.
After registration
You will receive an email from no-reply@zoom.us with your unique link. To keep this webinar secure, do not share the link publicly.
After successful registration, the information will be listed as a course under your SAIBA Academy profile. Login, My Dashboard, My Courses. Select start next to: S18A Summit – How to protect charitable giving from tax abuse (S18A). A recording will be made available to all delegates who registered and attended the online webinar.