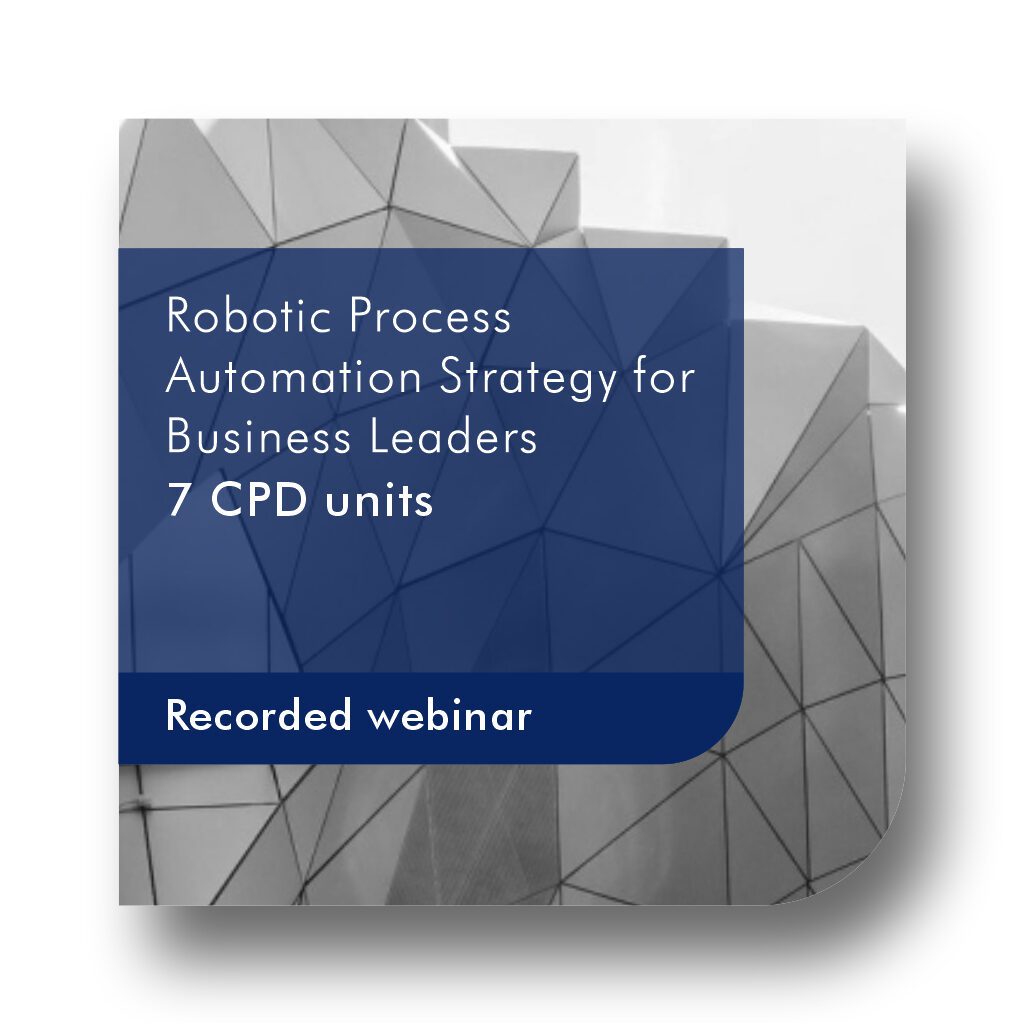 Robotic Process Automation Strategy for Business Leaders
Attendees will get an overview of RPA, learn how it's transforming businesses and understand how RPA provides a significant competitive advantage.
What you will learn
Define RPA
Describe how RPA is transforming business, specifically the accounting and finance functions
Indicate the business value of RPA
Identify key considerations in getting started with RPA
Identify the components of an RPA strategy to educate your organization about RPA
Recall the steps needed to build your RPA strategy
Recognize key issues that need to be addressed before starting to implement RPA
Description
As a business leader or a strategic business partner, you should be considering Robotic Process Automation (RPA). Whether you sponsor, drive, initiate or are responsible for managing a robotic process automation strategy, this three-course self study online program will prepare you for the future. You will get an overview of RPA, learn how it's transforming businesses and understand how RPA provides a significant competitive advantage. You will also learn key considerations and steps needed to begin building your RPA strategy including, how to address the cultural shift needed to overcome the "fear of robots" and understand the critical role human intelligence plays to ensure a successful strategy.
Price
The following pricing apply:
Ad hoc: R 5,040 VAT incl.
Subscription: N/A
This is a digital product. You will have access to the content for 365 days after purchase date.
Content
The definition of Robotic Process Automation
The business value of automation
The RPA market landscape
The importance of RPA in a digital strategy
The employee value proposition for RPA
Key components that are integral to a successful RPA implementation strategy
The process of creating an RPA strategy
How to prioritize use cases
How to address change management and culture challenges
Requirements
There are no preconditions for this course.
Moderate level.
Recorded webinar made available on a specified date
Presenters
Edward Brooks
Edward Brooks, trained as a Chartered Accountant in London with Ernst & Young, and went on to work as a consultant with Accenture and ISG before launching The RPA Academy in 2017.
During his consulting years, Ed specialized in outsourcing and business transformation, and advised and supported technology start-ups. The RPA Academy was founded to address the growing skills shortages in the automation space and has since expanded its training offerings to include courses on Machine Learning, AI, and Blockchain.
SAIBA Academy Support
Go to HTTPS://SAIBA.ACADEMY/LOGIN/
Login
Select MY DASHBOARD
Select SUBMIT A TICKET to log a new query
Additional Material
By attending this webinar, you will be provided with:
– Summarised slide presentation.
– Reference documents and / or course material where available.
– Access to a technical knowledge base.
– Recorded webinar that includes an expert presenter and participant interaction.