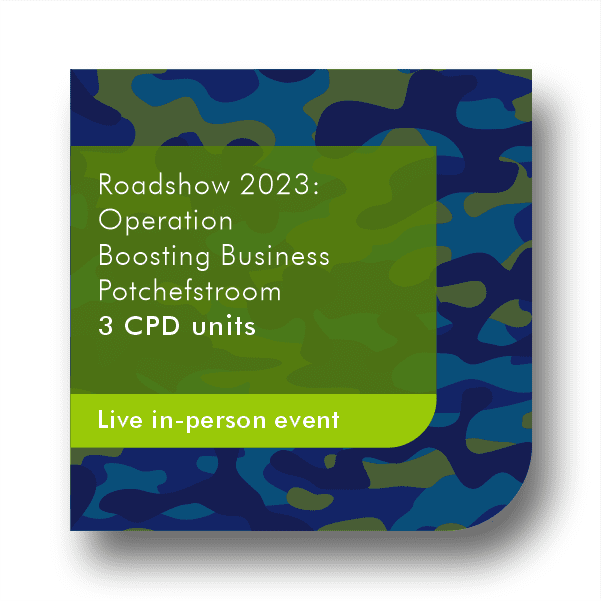 Roadshow 2023 – Operation: Boosting Business (Potchefstroom)
Connecting CIBA members in the Potchefstroom area with business and non-profit organisations to fuel growth.
It's our pleasure to invite you to the CIBA Roadshow 2023, themed "Army of Accountants: Operation Boosting Business".
This year, we're focusing on a rallying call for accountants and tax practitioners to become catalysts for economic growth, promoting sound financial management, transparency, and combatting corruption.
To guide you in enhancing client acquisition and conveying the value of your CIBA designation, we're incorporating proven principles from Dale Carnegie's "How to Win Friends and Influence People". We relate each principle to your professional context and will discuss this in detail and provide a toolkit that guarantees a boost to your business.
SMEs and NPOs are grappling with a series of legislative changes in the current regulatory landscape. Legal obligations relating to money laundering and beneficial ownership require enhanced disclosure to CIPC, The Master Office, DSD and SARS.
These changes have created an information gap and a significant challenge for SMEs and NPOs. By participating, you'll gain a thorough understanding of these new regulations, equipping you to serve as a vital source of guidance for these organisations. Your engagement will also demonstrate your commitment and expertise, laying the groundwork for strong, long-lasting professional relationships.
Together, let's seize this chance to unlock new opportunities, elevate your business, and navigate the road to success. We are committed to supporting your growth and look forward to seeing you at the event.
Join us
Date: 31 July 2023, Monday
Time: 09:00 – 13:00
Venue: Potchefstroom region – Limerick guest house: Road S646, Vredefort, 9595
Cost: R350.00 per delegate, including snacks (*)
Limited seats available
CPD: 3 units
*Should you wish to buy more than one ticket or require a manual invoice please contact Naledzani (nmamuremu@saiba.org.za) and she will assist.
Programme
View the full programme here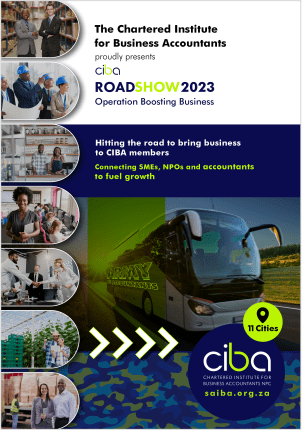 Bonus material to be distributed at the venue
Expand your business Toolkit, including material to impress your clients with
Checklist for reporting requirements relating to new legislation impacting the non-profit sector
Information regarding the DSD's deregistration campaign
What you will learn
Learn strategies to enhance collaboration among professionals, organisations and communities.
Learn how to harness new opportunities from business and community interactions to unlock untapped potential
Discover the NPO and SMEs networks operating in your area
Understand the unique financial considerations and challenges faced by non-profit organisations.
Learn effective financial management techniques and new legislative requirements specific to the non-profit sectorExplore technological solutions that can streamline financial management processes.
Learn about accounting software and tools that can enhance efficiency and accuracy.
Understand how technology can help optimise financial decision-making and reporting.
Learn about best practices for ensuring compliance with financial regulations.
Understand how finance professionals can support SMEs in driving growth and sustainability.
Terms & Conditions
The event is open to all CIBA Members and their invited guests
We do not guarantee the availability of the presenters or exhibitors. Replacements will be invited.
A CPD certificate will be issued after the event, based on the signed attendance register.
Registration
Click on the register now button to book your seat.
Pay the attendance fee.
Check your email for the confirmation and ticket.
Bring your ticket to the event.
Information available in CIBA Academy | Login | My Dashboard | My Courses | Roadshow 2023 – Potchefstroom.
Presenters
CIBA Academy Support
Go to CIBA Academy Login
Login
Select My Dashboard
Select Submit a Ticket to log a new query