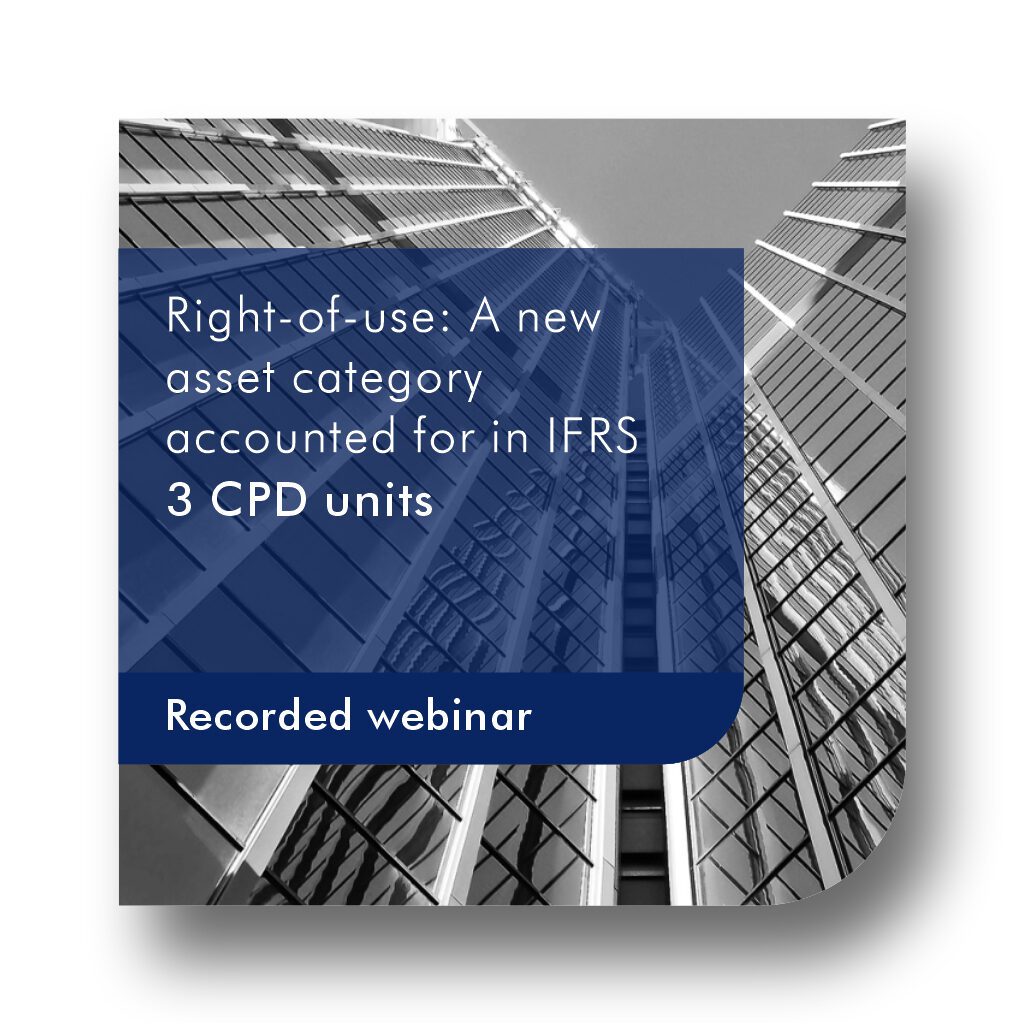 Right-of-use – A new asset category accounted for in IFRS
To discuss right-of-use assets under IFRS 16. December 2021
WHAT YOU WILL LEARN
By the end of this webinar the participant should:
An understanding of the background to lease agreements under IFRS 16, 

Leases.

A full understanding of the initial recording and recognition of right-of-use assets under lease agreements.

An understanding of how to account for and depreciate a right-of-use asset.

An understanding of the circumstances under which recognition other than right-of-use applies

 in lease agreements

. 
DESCRIPTION
A lot of discussions have been had on IFRS 16 regarding lease transactions, lessor and lessee responsibilities, cashflows arising from lease agreements as well as the recognition of assets and liabilities under lease contracts. What is usually not highlighted is the "creation" of a new asset type called a right-of-use asset. 
Under IFRS 16, lessees, unless validly exempted, are required to capitalise the lease. How should they deal with the underlying leasehold asset?  Which costs are taken into consideration when determining its value and where is it disclosed on the financial statements? 
PRICE
Adhoc – R475
Subscription Package – N/A
CONTENT
Study Unit 1
Introduction to IFRS 16 
Study unit 2
What is an identified asset in a lease? 
Study unit 3
What is a right-of-use asset. 
Study unit 4
Amounts included at initial recording of the asset.  
Study unit 5
Depreciating the asset. 
Study unit 6
Accounting for the asset. 
Study unit 7
Recognition other than right-of-use:
Low-value leases.

Short-term lease.
REQUIREMENTS
There are no preconditions for this course.
Moderate level.
Recorded webinar made available on a specified date
PRESENTER
Caryn Maitland is a Chartered Accountant (SA). She has been a member of IRBA as a registered auditor and accountant since 2002, Caryn has lectured Auditing and Accounting at various institutions and has conducted independent workshops and seminars for professional accountants since 2006 on various topics.
SAIBA ACADEMY SUPPORT
Go to HTTPS://SAIBA.ACADEMY/LOGIN/
Login
Select MY DASHBOARD
Select SUBMIT A TICKET to log a new query
ADDITIONAL MATERIAL
By attending this webinar, you will be provided with:
 Summarised slide presentation
 Reference documents and / or course material where available
Access to a technical knowledge base
Recorded webinar that includes an expert presenter and participant interaction