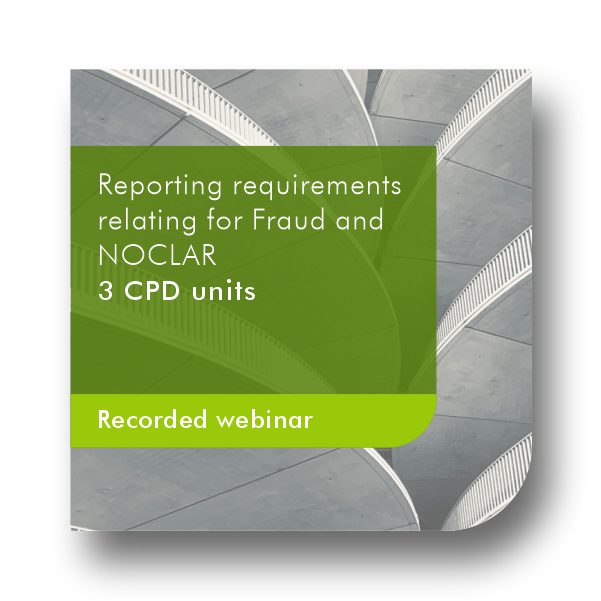 Ethical Reporting Requirements Relating to Fraud and NOCLAR 2023
To get participants updated on work ethics, independence and NOCLAR. February 2023
What you will learn
By attending this webinar you will gain the following competencies:
Have an understanding of various acts that fall under NOCLAR and fraud.

Know how to look out for potential illegal acts, including fraud. 

Perceive the obligations and impact of NOCLAR on yourself as an accounting practitioner.

Be aware of how to respond to NOCLAR under various circumstances.

Have the knowledge and ability to correctly report on fraud and NOCLAR.
Description
In the performance of their duties, accounting practitioners, auditors, and tax practitioners may encounter acts of omission or commission that are contrary to the prevailing laws and regulations. 
Discovery of an act of NOCLAR (Non-Compliance with Laws and Regulations) places specific obligations upon the practitioner who is then expected to respond by taking certain actions that are spelt out in the Code of Ethics for Professional Accountants (IESBA Code). How can one identify potential illegal acts, and how does one report on them?  

Price
Adhoc – R450
Subscription Package – Accountant in Practice, Accountant in Practice plus Tax, Bookkeeper
Content
The webinar will cover the following topics: 
Background to NOCLAR.

Requirements resulting from NOCLAR and fraud.

Reporting requirements resulting from NOCLAR.

Reporting requirements resulting from fraud.

Repercussions for non-compliance. 
Requirements
There are no preconditions for this course.
Moderate level.
Recorded webinar made available on a specified date

Presenter
Nestene Botha
Nestene completed her B.com (Hons) at North West University in 2012. In 2014 she completed her professional articles and her Masters Degree in Chartered Accountancy. She then registered with SAICA as a Chartered Accountant in 2015.
Nestene has lectured on the audit programme at the University of Cape Town. She started her own audit, tax & accounting practice which she has since grown into a reputable firm in the Tableview area with 60 clients and two staff members.
SAIBA AAcademy Support
Login to SAIBA Academy
Select My Dashboard
Select Submit a Ticket to log a new query