Guidance for Business Accountants in Practice (SA) on how to perform reporting engagements as accountants and accounting officers. April 2020
WHAT YOU WILL LEARN
By the end of this webinar the participant should:
Understand 

the various rules applicable to reporting engagements.
Understand the different types of engagements and when they should be applied.

Understand the 

risks and responsibilities associated with reporting engagements.
DESCRIPTION
The three distinct types of reporting engagements that accountants can perform are guided by specific framework, standards as well as legislation.
ISRS 4410, ISRS 4400 and ISRE 2400 give specific guidance on compilations, agreed-upon procedure engagements and independent reviews respectively. Various acts such as the Close Corporations Act, 1984, Companies Act, 2008, Sectional Titles Schemes Management Act, 2011, and South African Schools Act, 1996; have provisions that need to be adhered to during the performance of reporting engagements.
PRICE
The following pricing apply:
Ad hoc: R575.00
Subscription: Included for free in Accountant in Practice, Accountant in Practice plus Tax and Bookkeeper packages.
CONTENT
Study unit 1
Assurance vs non-assurance engagements
Study unit 2
Professional standards guiding performance of reporting engagements.
Study unit 3
Practical application of specific standards.
Study unit 4
Accepting, performing and completing a reporting engagement.
Study unit 5
Practical reporting engagement tools.
Study unit 6
Risks and liabilities of accountants and accounting officers.
Study unit 7
Common law, contract law and statutory law obligations
REQUIREMENTS
There are no preconditions for this course.
Moderate level.
Recorded webinar made available on a specified date
PRESENTER
Jako Liebenberg CA(SA)
Jako became a Chartered Accountant and Registered Public Auditor in 2001 after completing his training period. Jako's entire career has been in practice. Jako consults for clients across South Africa on Accounting Standards and Compliance, Broad Based Black Economic Empowerment, Tax and Business Development.
Which subscription package does this form part of?  
This event is included in the following subscription packages. If you are not a subscriber you need to purchase as a stand-alone event.   
ADDITIONAL MATERIAL
By attending this webinar, you will be provided with:
– Summarised slide presentation.
– Reference documents and / or course material where available.
– Access to a technical knowledge base.
– Recorded webinar that includes an expert presenter and participant interaction.
Additional Course Information
| | |
| --- | --- |
| Category | Law |
| Accredited | SAIBA |
| Verifiable CPD Hours | 2 |
| Non-verifiable CPD Hours | N/A |
| Effort | 2 hours |
| Duration | 2 hours |
| Format | Webinar |
| Level | Moderate |
| Assessment | Yes |
| Study Material | No |
| Course Date | 10 April, 2020 |
Business accountants in Practice (SA).
Accounting officers; and
Accounting support staff and trainees.
This event is included in the following subscription packages: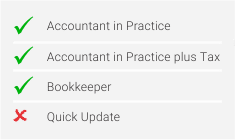 If you are not a subscriber, you need to purchase the event as a stand-alone event or subscribe to a SAIBA subscription package.
Subscribers pay less for their CPD points.
SAIBA offers 4 subscription packages that provides access to everything to run a successful accounting and tax practice.

Pay a small monthly amount and gain access to monthly webinars covering ethics, financials, reporting, audit and assurance, working papers, law, technology, management topics, and tax.