Quick Update CPD Subscription (MCLU's)
The most important updates and industry changes in a short and concise format. An online webinar series that covers SARS, CIPC, IRBA, IFRS, Professional body guides, Labour law, FIC, and big law updates.
WHAT YOU WILL LEARN
Subscribing for the Quick Update series will enable you to:
Be aware of the latest legislative changes and what it means for your business, practice, and your clients;
Be able to inform your staff and clients on how to stay compliant;
Adapt business models to fit new legislative landscapes;
Receive references to documents and guides;
Have access to your own technical resource; and
Have access to the presenter via an online Q & A.
DESCRIPTION
The SAIBA Quick Update Subscription option provides access to a monthly online webinar recorded with an expert in accounting and law.
The recording is available 24/7 within your own online CPD portal.
Each webinar is assessed providing 2 outcomes based CPD points.
24 CPD points available (Equivalent to 24 CPD hours).
CPD format is in-line with IES 7 of IFAC and recognized by all major professional accountancy bodies for CPD hours.
The subscription options is for 12 months with automatic renewal.
**NOTE: if you already subscribe to CPD packages with SAAA or SAIT, please continue your subscription with them.
***NOTE: the subscription is also available as a monthly payment you will pay a deposit for the months already elapsed for the year, then the monthly fee of R180 per month. 
OVERVIEW
Accountants and auditors must stay informed about changes in legislation and regulations that affect their firms and the business of their clients.
Experts do the monthly research and compile the relevant changes affecting accountants and present this in a 2-hour webinar bringing you up to speed quickly and empowering you to sell this information to your clients.
The webinar includes:
A reference guide of all changes to share within the firm;
Slide presentation summary of all new amendments;
Interactive session with the presenter; and
Online Q&A
PRICE
The subscription package consists of a predetermined list of CPD events from 1 Jan 2020 to 31 Dec 2020.
The cost can be paid monthly, but a deposit or sign-up fee is required for the months within the yearly cycle for which CPD events have been provided and delivered. The deposit or sign-up fee will increase as the cycle reach closer to 31 Dec 2020.
DATE AND TIME
Online recorded webinar available last week of every month
Uploaded to your online CPD profile and accessible for 12 months.
CONTENT
Click here for a list of the detailed topics
Study unit 1 – Accounting Updates
Study unit 2 – Assurance services updates
Study unit 3 – Company secretarial updates
Study unit 4 – Employment law updates
Study unit 5 – Other laws and regulation updates
Study unit 6 – SMP updates
Study unit 7 – SARS and tax updates
Study unit 8 – Regulatory news updates
Study unit 9 – General announcement updates
PRESENTER
Lettie Janse van Vuuren CA(SA), CBA(SA), RA(SA)
Additional Course Information
| | |
| --- | --- |
| Category | Subs |
| Accredited | SAIBA |
| Verifiable CPD Hours | 24 |
| Non-verifiable CPD Hours | N/A |
| Effort | 24 hours |
| Duration | 24 hours |
| Format | Webinar |
| Level | Moderate |
| Assessment | Yes |
| Study Material | Yes |
| Course Date | 1 January, 2020 |
The Quick Update subscription option is ideal for:
Accountants in Practice: CA(SA), PA(SA), BAP(SA), ACCA, CIMA, IAC, AGA(SA), CIS, ICBA
Practicing auditors, RAs
Company secretaries
Legal advisors
Compliance officers
This event is included in the following subscription packages: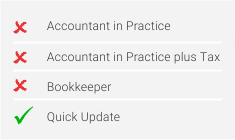 If you are not a subscriber, you need to purchase the event as a stand-alone event or subscribe to a SAIBA subscription package.
Subscribers pay less for their CPD points.
SAIBA offers 4 subscription packages that provides access to everything to run a successful accounting and tax practice.

Pay a small monthly amount and gain access to monthly webinars covering ethics, financials, reporting, audit and assurance, working papers, law, technology, management topics, and tax.