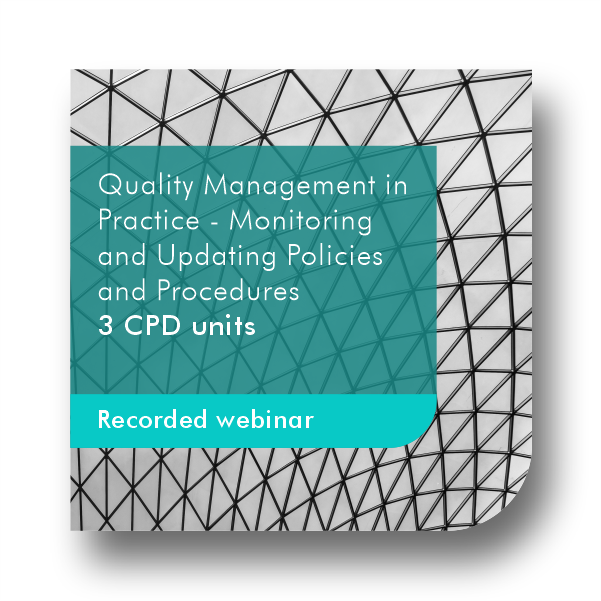 Quality Management in Practice – Monitoring and Updating Policies and Procedures 2023
This webinar will provide valuable insights into effective monitoring techniques and strategies for updating policies and procedures, enabling you to enhance your organization's quality management practices. June 2023
What you will learn
By attending this webinar you will gain the following competencies:
Have full understanding of what quality management entails.

Comprehend why there is need to monitor and update your QMS processes.

Acquire knowledge of the key elements of effective monitoring.

Be able to put into practice the strategies for updating policies and procedures.

Possess tools and technologies that you can implement in your practice for streamlined management.
Description
Successful organisations follow clear, well-formulated quality management systems (QMS). A good QMS aims to ensure the quality delivery of products or services which at a minimum meet the expectations of customers. 
The policies and procedures that make up a QMS must be practical, measurable and reliant on the concept of continuous improvement. This webinar presents practical approaches and industry-best practices to enhance your quality management practices by taking a proactive step towards improving your business operations and maintaining compliance in an ever-evolving landscape.
Price
The following pricing apply:
Adhoc: R450.00
Subscription: Included for free in Accountant in Practice and Accountant in Practice plus Tax.
Content
The webinar will cover the following topics: 
Introduction to quality management.

The characteristics of a good QMS.

The need for monitoring and updating.

Key elements of effective monitoring.

Practical strategies for updating policies and procedures.

Tools and technologies for streamlined management.
Requirements
There are no preconditions for this course.
Moderate level.
Recorded webinar made available on a specified date.
Presenter
Monja van Zyl CA(SA) 
Monja van Zyl completed her CA(SA) articles in Durban and qualified as a chartered accountant in 2006. She then worked for both listed and unlisted companies in various industries where she mentored and led teams of different sizes.
Recognising the importance of balancing work and life, Monja started her own business called Aim Business Advisory Services in 2019. Her target market is the small-to-medium sized companies to whom she gives access to her vast skills and experience at a fraction of the cost on an outsourced retainer model. 
CIBA Academy Support
Login to CIBA Academy
Select My Dashboard
Select Submit a Ticket to log a new query