Public Sector Series 2021
This series will explain the laws and regulations that govern the financial management of public funds. May 2021 – Dec 2021
WHAT YOU WILL LEARN
By the end of this series the attendee should:  
Understand the structures and role players of the public sector in South Africa;

Be able to identify the legislation and regulations that govern the operations of the various public sector spheres and levels;

Understand the Public Finance Management (PFM) cycle and identify where various role players operate within this cycle;

Understand the concept of governance relating to the Public Sector and the King IV Report requirements;

Understand the concept of ethics and the objectives of codes of ethics in the public sector and how to respond to ethical dilemmas;

Understand the theory and process of risk management in the public sector, and the internal controls to manage risks;

Understand the

Public Finance Management Act (PFMA) regulations of financial management;

Learn more about the legislation that gives direction on how municipalities should operate;
Understand processes and reporting relating to PFM;
Understand accounting in the PFMA;
Understand how performance management is measured in the public sector; and
Understand auditing in the public sector.
DESCRIPTION
The public sector is highly regulated. As opposed to the private sector, the laws and regulations that govern the financial management of public funds require that actions are only taken by government if they are compliant with prescripts. 
 In order for financial management to function effectively, with accountability and good governance, it is critical that all role players and all public sector employees understand the legislative structures within which the public sector operates, from the political and decision making structures all the way through to those involved in the day to day operations of service delivery. 
The aim of this course is to take a 360 degree look at the public sector from its environment, legislation, internal processes, ethics, performance management as well as auditing. The course uses practical examples that illustrate the principles that should be followed in public sector processes. 
PRICE
The following pricing apply:
Ad hoc: R1200 for the full series
CONTENT
The release dates of when the units will be made available within the series are listed below:
Study unit 1
Public sector context (May 2021)
Under this topic you will get an introduction to the South African public sector context and the spheres, levels, role players and functions of government.
Study unit 2
Governance and ethics in the public sector (May 2021)
The principles of good governance must be applied on a daily basis, in every role and at every level in the public sector. This course discusses governance and ethics as well as ways to identify and respond to the ethical dilemmas that public servants are faced with daily.
Study unit 3
Risk management and internal controls (June 2021)
Under this topic, you will learn about risk management and internal controls in the public sector. The process of risk assessment must happen throughout government and at all levels. Get to know how to identify and manage risks through internal controls, policies and procedures.
Study unit 4
Introduction to the PFMA and Treasury regulations (tbc)
The Public Finance Management Act (PFMA) is defined as the "regulation of financial management to ensure that all revenues, expenditures, assets and liabilities are managed efficiently and effectively, and to provide for the responsibilities of persons entrusted with financial management and matters connected therewith". Join us as we unpack this Act and Treasury regulations. 
Study unit 5
Introduction to MFMA, PFMA and MSA (tbc)
What guides how municipalities are run? This topic takes a good look at the legislation that gives direction to how municipalities should operate internally to ensure efficiency and good service delivery.
Study unit 6
PFM processes and reporting and UIF (tbc)
This topic goes deeper in as far as public finance management processes and reporting is concerned. 
Study unit 7
MFM processes and reporting and UIF (tbc)
This topic focuses on municipal finance management processes and reporting and UIF. 
Study unit 8
Accounting in PFMA (tbc)
As would be expected, accounting in the public sector has its own peculiarities when compared to accounting for private sector entities. This topic defines and discusses accounting in the PFMA.
Study unit 9
Accounting in MFMA (tbc)
Service delivery, not profit-making, is the main focus of municipalities. Therefore, accounting procedures, processes and reporting will differ from that which we are familiar with in the private sector. Topic number 9 looks at accounting in MFMA
Study unit 10
Performance management (tbc)
This topic looks at performance management in the public sector. How is performance measured in the public sector where the goal is service delivery and moreover taking into consideration the complex dimensions of politics? 
Study unit 11
Public sector auditing (tbc)
This topic takes a look at auditing in the public sector where instead of the Companies Act, the auditor must focus on Treasury regulations and/or the PFMA, MSA and the MFMA.
REQUIREMENTS
There are no preconditions for this course.
Moderate level.
Recorded webinar made available on a specified date
PRESENTER
Caryn Maitland is a Chartered Accountant (SA). She has been a member of IRBA as a registered auditor and accountant since 2002, Caryn has lectured Auditing and Accounting at various institutions and has conducted independent workshops and seminars for professional accountants since 2006 on various topics.
SAIBA ACADEMY SUPPORT
Go to HTTPS://SAIBA.ACADEMY/LOGIN/
Login
Select MY DASHBOARD
Select SUBMIT A TICKET to log a new query
ADDITIONAL MATERIAL
By attending this webinar, you will be provided with:
– Summarised slide presentation.
– Reference documents and / or course material where available.
– Access to a technical knowledge base.
– Recorded webinar that includes an expert presenter and participant interaction.
Additional Course Information
| | |
| --- | --- |
| Category | Law |
| Accredited | SAIBA |
| Verifiable CPD Hours | 32 |
| Non-verifiable CPD Hours | N/A |
| Effort | 32 hours |
| Duration | 32 hours |
| Format | Webinar |
| Level | Moderate |
| Assessment | Yes |
| Study Material | No |
| Course Date | 6 May, 2021 |
Business Accountants in Practice (SA).  
Business Accountants (SA).
Employers.
Practicing bookkeepers.
HR practitioners/Compliance officers.
This event is included in the following subscription packages: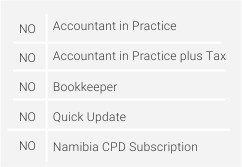 If you are not a subscriber, you need to purchase the event as a stand-alone event or subscribe to a SAIBA subscription package.
Subscribers pay less for their CPD points.
SAIBA offers 4 subscription packages that provides access to everything to run a successful accounting and tax practice.

Pay a small monthly amount and gain access to monthly webinars covering ethics, financials, reporting, audit and assurance, working papers, law, technology, management topics, and tax.