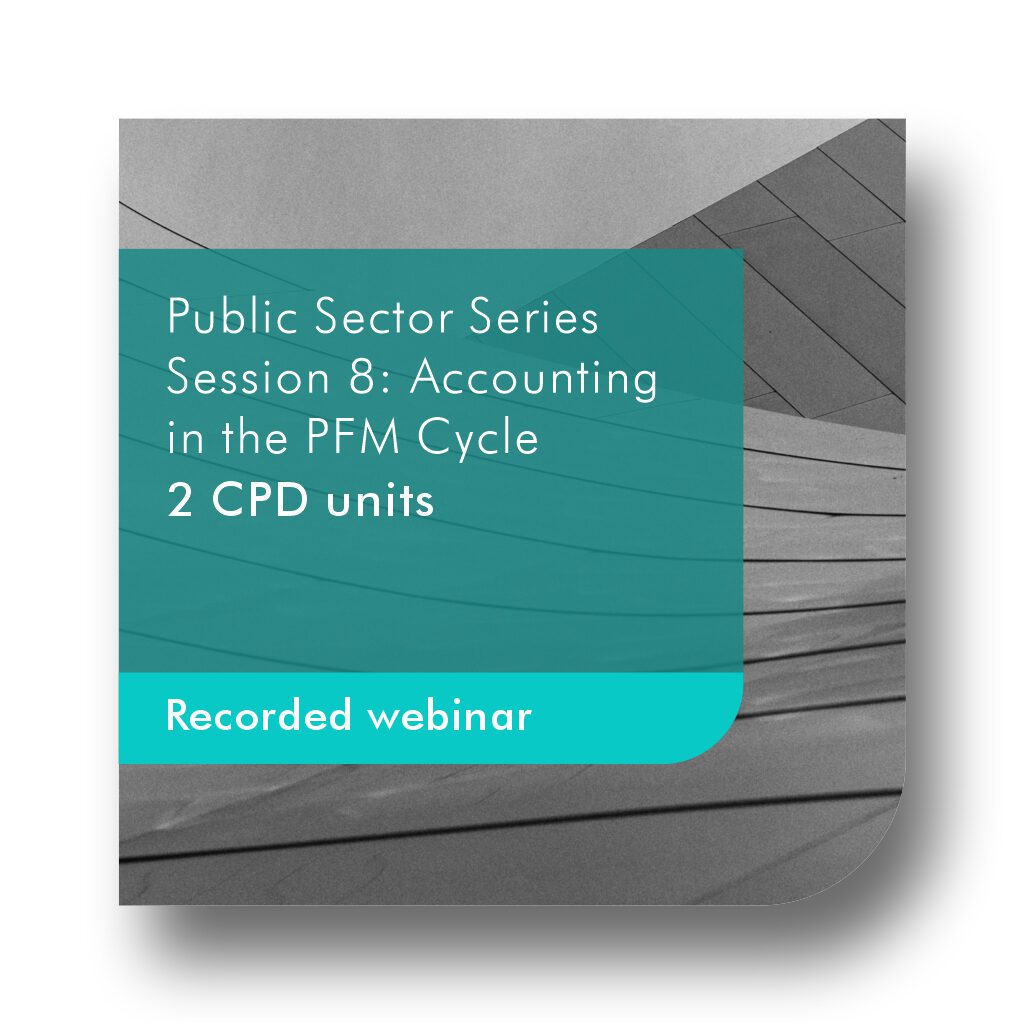 Public Sector Series – Session 8: Accounting in the PFM Cycle
To give attendees guidance on accounting in the PFM cycle. August 2021
WHAT YOU WILL LEARN
After attending this webinar you will:
Understand the establishment, legislative mandate and work of the Accounting Standards Board (ASB);

Identify the Conceptual Framework for General Purpose Financial Reporting as issued by the Accounting Standards Board applicable to PFMA entities;

Identify the legislation that prescribes the relevant accounting frameworks;

Differentiate between cash basis and accrual accounting and understand the framework for the cash basis of accounting; and

Understand the context that impacts on the application of International Financial Reporting Standards to the public sector.
DESCRIPTION
The public sector is highly regulated. As opposed to the private sector, the laws and regulations that govern the financial management of public funds require that actions are only taken by local government if they are compliant with prescripts. 
Governments have a responsibility to provide services to the citizens of a country, to protect and grow the country's resources and to ensure the creation and maintenance of generational capital for future generations. Service delivery is a complex, multi-faceted concept that is dependant on many variables, some within the control of the country, and some that emanate from global issues. 
Proper management of public funds requires robust accounting processes and systems that can keep track of how these funds are moving in and out of public entities. This webinar addresses
PRICE
The following pricing apply:
Adhoc: R475.00
R1200.00 for the full series
CONTENT
Study unit 1
The Accounting Standards Board (ASB):
Establishment.

Legislative mandate.

Conceptual Framework for General Purpose Financial Reporting. 
Study unit 2
Accounting frameworks for PFMA entities. 
Study unit 3
Legislation prescribing the frameworks. 
Study unit 4
Cash basis VS accrual accounting. 
Study unit 5
Framework accounting on the cash basis. 
Study unit 6
IFRS application to the public sector. 
REQUIREMENTS
There are no preconditions for this course.
Moderate level.
Recorded webinar made available on a specified date.
PRESENTER
Caryn Maitland is a Chartered Accountant (SA). She has been a member of IRBA as a registered auditor and accountant since 2002, Caryn has lectured Auditing and Accounting at various institutions and has conducted independent workshops and seminars for professional accountants since 2006 on various topics.
Bronwyn MacCallum CA(SA)
Bronwyn qualified as a CA(SA) in 2004 and has spent time in private practice as a partner and later director of small and medium firms as well as a tenure at the Auditor-General of South Africa as a Senior Manager.
SAIBA ACADEMY SUPPORT
Go to HTTPS://SAIBA.ACADEMY/LOGIN/
Login
Select MY DASHBOARD
Select SUBMIT A TICKET to log a new query
ADDITIONAL MATERIAL
By attending this webinar, you will be provided with: 
Summarised slide presentation 

Reference documents and / or course material where available 

Access to a technical knowledge base

Recorded webinar that includes an expert presenter and participant interaction