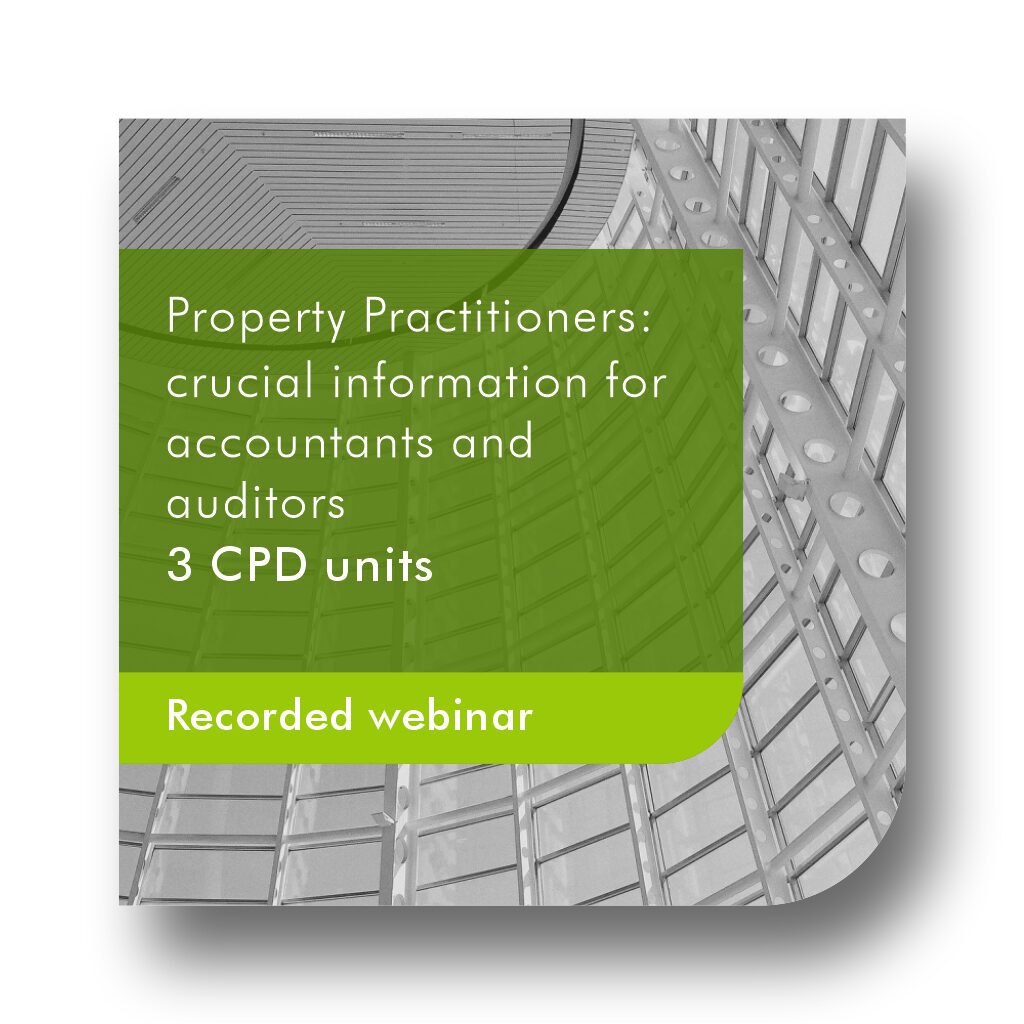 Property Practitioners: Crucial Information for Accountants and Auditors
This webinar will discuss the Property Practitioners Act's requirements and Regulations, as well as specific contents of the PPRA's Draft Guideline. June 2022
What you will learn
By the end of this event the attendee should have the following competencies:  
Awareness of the basic requirements of the Property Practitioners Act, specifically focusing on definitions.

Be knowledgeable on the contents of the Property Practitioners Regulations.

Understand contents of the Draft Guidelines on audit, accounting records and trust account requirements for business property practitioners.

Be able to link up your knowledge of this Act to other legislation that must be complied 

with 

e.g FICA, Debt Collectors Act, Auditing Profession Act and tax legislation. 

Act as a compliance advisor to clients who fall under the definition of "Property Practitioner". 
Description
The Property Practitioners Act of 2019 commenced on 1 February 2022. It has an expanded definition of "Property Practitioner" that now includes many more people than before. 
What this means for accountants, auditors and independent reviewers is that many of their clients have technically become "Property Practitioners" and are now subject to the Property Practitioners Act and Regulations. To assist, the Property Practitioners Regulatory Authority (PPRA) has issued a Draft Guideline that gives direction on specific requirements of the Act. 
Price
The following pricing apply:
Ad hoc: R450 for this webinar
Subscription: N/A
Content
What is the Property Practitioners Act?

Important definitions.

The Property Practitioners Regulations.

Contents of the Draft Guideline on:

Audit requirements.

Accounting records.

Trust accounts.

Annual financial statements.

Audit vs independent review.

Other legislation:

FICA.

Debt Collectors Act.

Auditing Profession Act.

Tax legislation.

11 Annexures to make your life easier.
Requirements
There are no preconditions for this course.
Moderate level.
Recorded webinar made available on a specified date
Presenter
Lettie Janse van Vuuren | CBA (SA)
Lettie is a Certified Business Accountant (SA), Chartered Accountant, Registered Auditor, as well as an Assessor and Moderator. As a professional trainer and webinar host, she is able to hold the attention of an audience with her relaxed and humorous presentation style.  She has a unique ability to communicate with delegates at their respective levels of knowledge and experience.  Over the last 20 years, she has trained thousands of partners, managers, trainee accountants and other professionals.
She is responsible for researching, compiling and presenting our MCLU (Monthly Compliance and Legislation Updates). 
SAIBA Academy Support
Go to HTTPS://SAIBA.ACADEMY/LOGIN/
Login
Select My Dashboard
Select Submit a Ticket to log a new query
ADDITIONAL MATERIAL
By attending this webinar, you will be provided with:
– Summarised slide presentation.
– Reference documents and / or course material where available.
– Access to a technical knowledge base.
– Recorded webinar that includes an expert presenter and participant interaction.