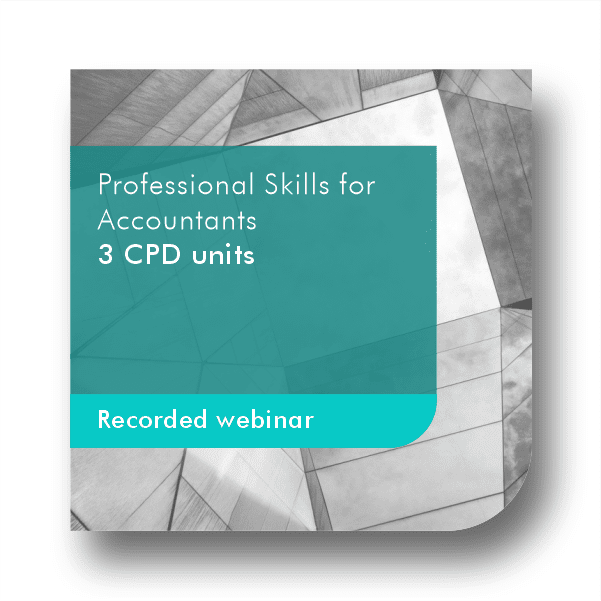 Professional Skills for Accountants 2023
To discuss how accountants can practically use professional skills in their working environment. August 2023
What you will learn
By attending this webinar you will gain the following competencies: 
Know how to consult with others to obtain information, solve problems and maximise benefits from opportunities.

Possess time management techniques that assist in the development, organisation, and prioritisation of tasks to achieve professional commitments.

Communicate in a professional manner using clear and concise language appropriate to the audience and situation.

Correctly apply conflict resolution strategies to resolve conflicts that arise in the workplace.

Work effectively as a resourceful and trustworthy team member who treats others respectfully and equitably. 
Description
Success in the accounting profession requires more than technical prowess and compliance with laws, rules and regulations. The area of client acquisition and retention calls for mastery in people-oriented soft skills such as:
Time management

Communication.

Emotional intelligence.

Conflict resolution. 

Teamwork.
Price
The following pricing apply:
Adhoc: R450.00
Subscription: Included for free in Accountant in Practice, Accountant in Practice plus Tax.
Content
The webinar will cover the following topics:  
Communication skills.

Etiquette.

Business etiquette. 

Open office etiquette.

E-mail etiquette.

Telephone and cell phone etiquette. 

Time management.

Teamwork.

Self-motivation skills.
Requirements
There are no preconditions for this course.
Moderate level.
Recorded webinar made available on a specified date.
Presenter
Lettie Janse van Vuuren CA(SA),  RA
Lettie is a Chartered Accountant, Registered Auditor, as well as an Assessor and Moderator. She joined SA Accounting Academy in November 2017 as Head of Technical. As a professional trainer and webinar host, she is able to hold the attention of an audience with her relaxed and humorous presentation style.  She has a unique ability to communicate with delegates at their respective levels of knowledge and experience.  Over the last 20 years, she has trained thousands of partners, managers, trainee accountants and other professionals.  
She is responsible for researching, compiling and presenting our MCLU (Monthly Compliance and Legislation Updates). She was the Professional Development Manager at SAICA for 4 years and in charge of accrediting new training offices and monitoring existing ones (including the moderation of training offices and trainee assessments). 
CIBA Academy Support
Login to CIBA Academy
Select My Dashboard
Select Submit a Ticket to log a new query