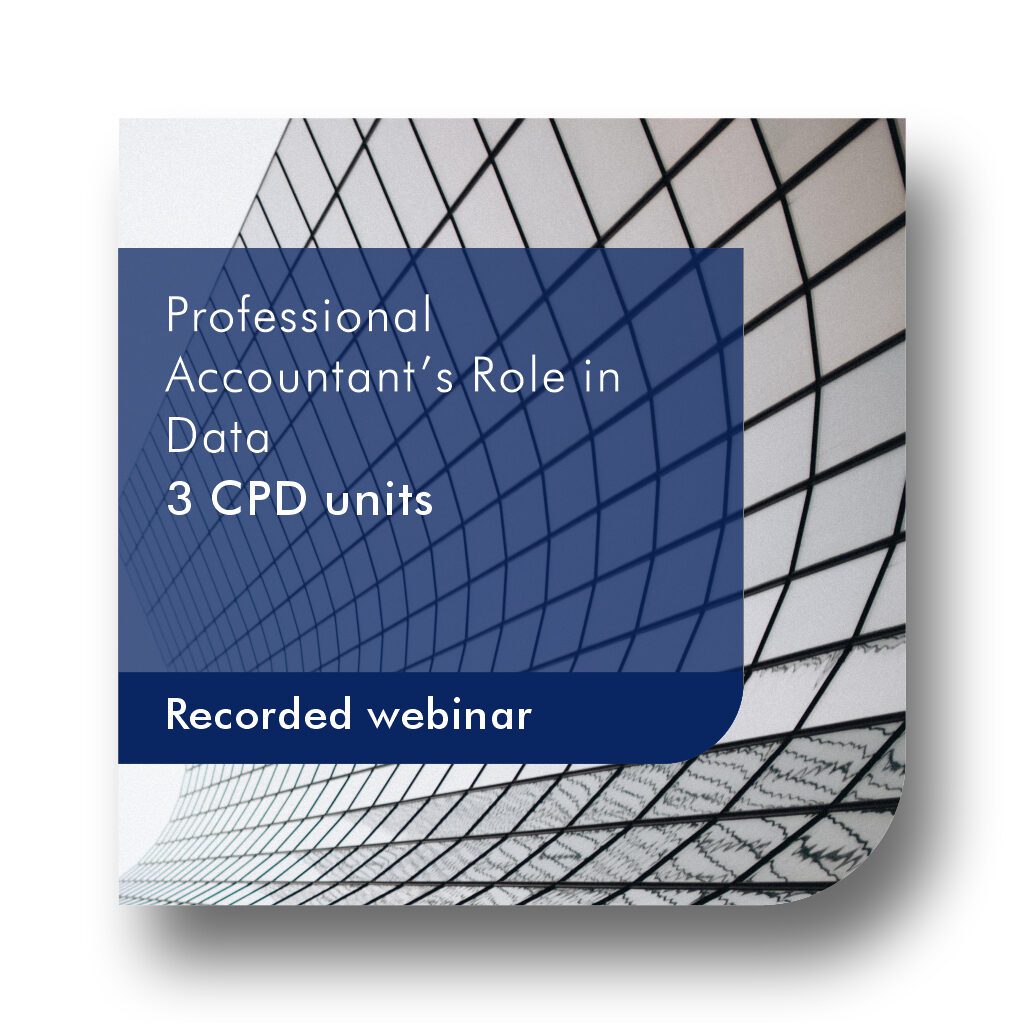 Professional Accountant's Role in Data
To discuss the data management value chain and the professional accountant's role therein.  July 2021
WHAT YOU WILL LEARN
By the end of this event the attendee should:  
Have a better understanding of the impact of the 4IR and how professional accountants can adapt;

Be aware of how data and the proliferation of information should be strategically harnessed, utilised and provided to users to drive more informed decisions;

Have a better understanding of the digital economy as a new frontier;

Know what the data management value chain is and what it consists of; and 

Be aware of the 3 case studies that illustrate the professional accountant's role in each element of the data management value chain.
DESCRIPTION
As economies digitize in the fast-paced fourth industrial revolution, the accountancy profession must adapt to contribute strategically.
While professional accountants have always dealt with data, their professional expertise can be predominantly focused on structured data sets which are no longer the norm.  But accountants are uniquely positioned and can leverage their existing expertise and expand their approach to include both structured and unstructured datasets that capture financial and non-financial data to support organizations in making insight-driven decisions that seize opportunities and respond to risks.
The International Federation of Accountants (IFAC) released The Professional Accountant's Role in Data which outlines a new model, the data management value chain, in which accountants can, by building upon key competencies, reimagine their roles to meaningfully contribute to the digital economy.  
PRICE
The following pricing apply:
Ad hoc: R475 for this webinar
Subscription: N/A
CONTENT
Study unit 1
How accountants can adapt to the 4IR. 
Study unit 2
What is the digital economy? 
Study unit 3
Harnessing and effectively using data. 
Study unit 4
The data management value chain. 
Study unit 5
Accountant's role in the data management value chain.
Data gathering.

Data sharing.

Data insights.

Communication.
Study unit 6
3 illustrative case studies.   
REQUIREMENTS
There are no preconditions for this course.
Moderate level.
Recorded webinar made available on a specified date
PRESENTER
Lettie Janse van Vuuren CA(SA), RA, CBA(SA) 
Lettie is a CA (SA), Registered Auditor, as well as an Assessor and Moderator. She joined SA Accounting Academy in November 2017 as Head of Technical. As a professional trainer and webinar host, she is able to hold the attention of an audience with her relaxed and humorous presentation style.  She has a unique ability to communicate with delegates at their respective levels of knowledge and experience.  Over the last 20 years, she has trained thousands of partners, managers, trainee accountants and other professionals. 
She is responsible for researching, compiling and presenting our MCLU (Monthly Compliance and Legislation Updates). 
SAIBA ACADEMY SUPPORT
Go to HTTPS://SAIBA.ACADEMY/LOGIN/
Login
Select MY DASHBOARD
Select SUBMIT A TICKET to log a new query
ADDITIONAL MATERIAL
By attending this webinar, you will be provided with:
– Summarised slide presentation.
– Reference documents and / or course material where available.
– Access to a technical knowledge base.
– Recorded webinar that includes an expert presenter and participant interaction.