Preparing and Interpreting Financial Statements
September2020 How to prepare and interpret financial statements according to IFRS, the Companies Act and the Tax Administration Act.
WHAT YOU WILL LEARN
By the end of this event the attendee should:
Understand how to align financial statements to legislative requirements;

Understand how to practically apply IFRS in the preparation and presentation of financial statements;

Be aware of recent important updates to reporting standards;

Be aware of relevant updates to the Companies Act and the Tax Administration Act; and

Be able to create and apply a disclosure checklist in their engagements. 
DESCRIPTION
Accountants, bookkeepers, financial managers and accounting officers play important roles in the preparation, presentation and interpretation of financial statements. In these roles, they are guided by IFRS or IFRS for SMEs, the Companies Act and the Tax Administration Act. 
The aim of this webinar is to take the requirements of the above Acts and reporting standards, and condense them into an understandable and practical presentation so that application, presentation and disclosure in the financial statements is simplified for practitioners.
During the webinar, attendees will receive practical advice and guidance as they are taken through an illustrative set of financial statements that will enable them to create a disclosure checklist that they can make use of in their work. 
PRICE
The following pricing apply: 
Ad hoc: R575.00   
Subscription: Accountant in Practice plus Tax, Accountant in Practice, Bookkeeper
CONTENT
Study unit 1
Background to the Companies Act and Tax Administration Act
Study unit 2
Recent updates to the Companies Act and Tax Administration Act
Study unit 3 1
Introduction to IFRS and recent amendments
Study unit 4
Components of annual financial statements:

Statement of financial position;

 

Statement of comprehensive income and income statement;

 

Statement of changes in equity; 

 

Statement of cash flows; and

 

Notes to the financial statements.

 
Study unit 5
Practical application of IFRS in financial statements w.r.t :

Preparation;

Presentation;

Disclosures; and

Interpretation.

 
Study unit 6
Disclosure checklist
REQUIREMENTS
There are no preconditions for this course.   
Moderate level. 
Recorded webinar made available on a specified date.
PRESENTER
Jako Liebenberg CA(SA) 
Jako Liebenberg CA(SA) is a Registered Public Auditor and Broad Based Black Economic Empowerment Consultant.  
Jako has experience in the Public Sector serving as Chief Financial Officer in various Departments within the Free State Provincial Government. Jako serves an assessor in the Tax Division of the Free State High Court and is also a qualified liquidation practitioner. 
ADDITIONAL MATERIAL
By attending this webinar, you will be provided with:   
Summarised slide presentation 

 

Reference documents and / or course material where available 

Access to a technical knowledge base
Additional Course Information
| | |
| --- | --- |
| Category | Accounting |
| Accredited | SAIBA |
| Verifiable CPD Hours | 4 |
| Non-verifiable CPD Hours | N/A |
| Effort | 4 hours |
| Duration | 4 hours |
| Format | Webinar |
| Level | Moderate |
| Assessment | Yes |
| Study Material | No |
| Course Date | 17 September, 2020 |
Business accountants in Practice (SA)
Business accountants (SA)
Bookkeepers
Accounting/audit trainees
This event is included in the following subscription packages: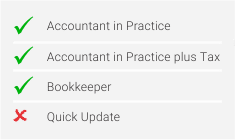 If you are not a subscriber, you need to purchase the event as a stand-alone event or subscribe to a SAIBA subscription package.
Subscribers pay less for their CPD points.
SAIBA offers 4 subscription packages that provides access to everything to run a successful accounting and tax practice.

Pay a small monthly amount and gain access to monthly webinars covering ethics, financials, reporting, audit and assurance, working papers, law, technology, management topics, and tax.