Practice Management Series 2020
The A – Z of practice management, from start-up to expansion and everything in between.
WHAT YOU WILL LEARN
Know how to find, evaluate and recruit the best staff for your practice.
Know how to motivate and retain the best staff.
Be aware of how to manage staff.
Know how to grow your practice by having the right staff.
DESCRIPTION
The Practice Management series of webinars is hosted once per month and covers critical aspects of running and managing a firm. 
The series provides comprehensive guidance to help small- and medium-sized practices operate more efficiently in the increasingly complex and competitive global marketplace for professional services. The series is loosely organized around a comprehensive range of topics including:
Strategic planning

Practice models

Firm expansion

Managing staff

Leveraging technology

Client relationship management

Risk management

Succession planning
If you are a SAIBA member and a SAIBA CPD subscriber then you qualify to attend the webinar series for free.  
If you are not yet a SAIBA member you can join here and also share in  SAIBA benefits. www.saiba.org.za/join-as-associate/
PRICE
The following pricing apply:
R 2850.00 – Entire webinar series registration. (R475.00 each)
Subscription: Included free in Accountant in Practice plus Tax , Accountant in Practice and Bookkeeper packages
The individual webinars can be purchased separately.
CONTENT
Study unit 1
Client acceptance procedure
Deciding on what type of client to accept
Client acceptance procedure
Documenting the client acceptance procedure
Using a client acceptantance checklist
Incorporating client data into the engagement plan
Re-evaluating current clients
Study Unit 2
The Code Of Ethics, Quality Control And NOCLAR
Ethical standards and considerations in terms of a professional code of conduct.

New and revised rules adopted by professional bodies.

The IAASB and quality control.

Quality control for audits, reviews and other engagements. 

Applicable laws and regulations. 

Who is subject to 

NOCLAR.

What is NOCLAR and what are its objectives. 
Study Unit 3
Engagement Standards
Study Unit 4
Finding and retaining the right staff
Study Unit 5
Develop your own business continuity and disaster response plan
Study Unit 6
Computer and Network Risks
Study unit 7
Avoid POPI Act and Electronic Communications Penalties

The POPI Act – An Overview.

Responsibilities for data protection.

How to manage personal information collected.

Identifying areas of potential non-compliance.

Repercussions for non-compliance.

Study unit 8
The practice manager's guide to running a successful practice
Study unit 9
Avoiding bad public relations
REQUIREMENTS
There are no preconditions for this course.
Moderate level.
Recorded webinar made available on a specified date
PRESENTER
Maya Nikolova BAP(SA), MTP(SA)
Accountant and Registered Tax Practitioner with a demonstrated professional history in the financial accounting and tax industry for over 20 years.  
Nestene Clausen CA(SA)
Nestene completed her B.com (Hons) at North West University in 2012. In 2014 she completed her professional articles and her Masters Degree in Chartered Accountancy. She then registered with SAICA as a Chartered Accountant in 2015. Nestene has lectured on the audit programme at the University of Cape Town. She started her own audit, tax & accounting practice which she has since grown into a reputable firm in the Tableview area with 60 clients and two staff members.
ADDITIONAL MATERIAL
By attending this webinar, you will be provided with: 
Summarised slide presentation. 

Reference documents and / or course material where available.

Access to a technical knowledge base.

Recorded webinar that includes an expert presenter
Additional Course Information
| | |
| --- | --- |
| Category | Practice Management |
| Accredited | SAIBA |
| Verifiable CPD Hours | 10 |
| Non-verifiable CPD Hours | N/A |
| Effort | 10 hours |
| Duration | 20 hours |
| Format | Webinar |
| Level | Moderate |
| Assessment | Yes |
| Study Material | No |
| Course Date | 8 July, 2020 |
Business accountants in Practice (SA).
Persons thinking about starting an accounting firm.  
Firm managers.  
This event is included in the following subscription packages: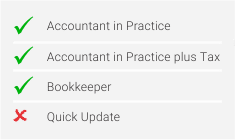 If you are not a subscriber, you need to purchase the event as a stand-alone event or subscribe to a SAIBA subscription package.
Subscribers pay less for their CPD points.
SAIBA offers 4 subscription packages that provides access to everything to run a successful accounting and tax practice.

Pay a small monthly amount and gain access to monthly webinars covering ethics, financials, reporting, audit and assurance, working papers, law, technology, management topics, and tax.