Practice Management Conference 2020
Practice Management in the age of COVID-19
WHAT YOU WILL LEARN
After attending this online conference, you will be able to:  
Understand the purpose, mandate, and challenges faced by regulators, agencies and administrators.

 

U

nderstand how to connect and access regulators and agencies. 

Gain insights into how leading firms are responding to the crises.

 

Devise new ways of working from home and engaging with clients remotely.

 

Offer clients new types of services and support. 

 
DESCRIPTION
The Art of Practice Management is the only thing standing between you and failure. We don't want you to fail.   
Join the Saiba and QuickBooks Practice Management Online Conference 2020 and become an Artist by understanding the changing regulatory and technology environment and learning how to respond.   
We have invited more than 20 regulators, agencies, administrators, funders, lenders, leading accounting firms and technology companies to share critical information with you relating to: 
Their role and 

function

, 

 

How they interact with accountants,

 

Their response plans to 

COVID-19 and 

the l

ockdown

, 

 

How you can access the f

unding, loans, and other support programs available to 

you

 and 

your

 clients.

 

How are leading firms adjusting to the new way of work.

 

The technologies to use in the new remote work environment.  

 

 
Together we want to assist you in devising new ways of starting, managing and future proofing your firm's income stream.   
The conference is open to all accountants in Southern Africa. Let us navigate the future and improve our practice management skills together.     
Practitioners can also learn from each other. How are some firms able to identify opportunities from change? How do they manage to implement their insights? How to they ensure co-ordination between their staff, clients and business objective? What technologies are they adopting and how do they see the future of the practice of accounting in South Africa.   
PRICE
This is a free event
CONTENT
Study Unit 1 – Intuit QuickBooks perspective
Items:
Intuit QuickBooks' response to COVID-19 and lockdown;
COVID-19 and the lockdown's effect on clients;
Biggest threats to the firm during lockdown;
Managing a practice's workflow with Intuit QuickBooks;
Intuit QuickBooks tools and resources to assist practitioners to grow and work smarter;
Get free training and attract clients using the Intuit QuickBooks network of small businesses;
Keep to deadlines and streamline tasks using Intuit QuickBooks software;
Small practices: Get Intuit QuickBooks Certified and receive client referrals;
Generate income by becoming an Intuit QuickBooks reseller;
Intuit QuickBooks special offers available to SAIBA practitioners;
Study Unit 2 – The government perspective
Government's role and mandate, functions and services provided to practitioners during COVID-19 lockdown;
Government's approach to interacting or engaging with accountants/practitioners;
Key areas practitioners can improve when engaging with the relevant institution;
Government's mode of operation under the COVID-19 and/or lockdown restrictions;
Practitioners mode of engagement with government during COVID-19 lockdown restrictions;
Support mechanisms in place for users/customers/public;
Advice on how clients/SME's can access the funding, loans, and other support programs available to them;
 Study Unit 3 – Leading accounting firm perspective
Firms Response To COVID-19 And Lockdown;
COVID-19 And The Lockdown's Effect On Clients;
Biggest Threats To The Firm During Lockdown;
Firms reallocation of resources to alternative opportunities if applicable;
Remote working, the new normal? Firms perspective;
Firms deployment of technical resources to support remote working;
Firms insights as to what constitutes good practice management with regards to:

New business development.
Engaging with current clients to develop your service portfolio.
Fee negotiations.
Appointing and retaining the right employees.
How to effectively communicate with your prospects, influencing, do's and dont's of pitching.
Leveraging social media, traditional media and thought leadership to improve visibility and awareness of your firm's brand and your personal brand.
Benchmarking against industry best practice, and behaviors and skills for successful strategy execution.
Best practices for making difficult choices in an uncertain environment and for communicating and implementing them appropriately.
Understanding the shaping forces that will define your business and your clients' business in 10 years.
Brainstorming how we must reinvent our profession given new technologies and environmental changes.
Study Unit 4 – Technology perspective
Technology Firms Response To COVID-19 And Lockdown;
COVID-19 And The Lockdown's Effect On technology firms;
Biggest Threats To The technology Firm During Lockdown;
Remote Working, The New Normal? Technology Firms Perspective;
Technology firms solutions for practitioners
REQUIREMENTS
The following requirements apply:

The event is open to all practicing professional accountants, tax practitioners, and auditors.
We do not guarantee the availability of any of the presenters.
The AGM is restricted to SAIBA members in good standing.
All persons that register for the event must be registered as a free user on saiba.academy and the material and recordings will be made available within the online e-learning portal at no additional cost.
CPD credits is dependent on completing an outcomes based assessment available on your free profile in saiba.academy.
CPD awarded in line with IFAC IES7 and the new SAIBA CPD accreditation model.
PRESENTER
Invited Government constituents include: 

 

 

SARS, CIPC, CIPC Enforcement unit, FASSET, DSD, CIDB, NLB, DBE, EAAB, DOL, SEDA/SEFA, DTI, Banking council, DOH, ABASA, AG, 

AccGen

, FIC, Co-ops, Sectional-Titles 

etc

 

 

Invited Firms constituents include: 

 

 

Mazars, Middle and Partners, Sizwe, SAB&T, Nexia. 

 

Invited technology constituents include: 
Main Sponsor – Intuit QuickBooks
Microsoft, Receipt Bank, Tangent Solutions, Bridgement
ADDITIONAL MATERIAL
By attending this webinar, you will be provided with:
 Summarised slide presentation
 Reference documents and / or course material where available
Access to a technical knowledge base
Recorded webinar that includes an expert presenter and participant interaction
Additional Course Information
| | |
| --- | --- |
| Category | Practice Management |
| Accredited | SAIBA |
| Verifiable CPD Hours | 20 |
| Non-verifiable CPD Hours | N/A |
| Effort | Online event |
| Duration | 20 hours |
| Format | Webinar |
| Level | Moderate |
| Assessment | Yes |
| Study Material | No |
| Course Date | 10 April, 2020 |
Practicing members of SAIBA, SAICA, ACCA, CIMA, IAC, SAIT and IBASA.  
Firm owners.  
Practice managers.  
Support staff.  
This event is included in the following subscription packages: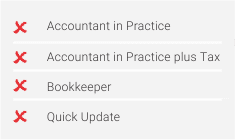 If you are not a subscriber, you need to purchase the event as a stand-alone event or subscribe to a SAIBA subscription package.
Subscribers pay less for their CPD points.
SAIBA offers 4 subscription packages that provides access to everything to run a successful accounting and tax practice.

Pay a small monthly amount and gain access to monthly webinars covering ethics, financials, reporting, audit and assurance, working papers, law, technology, management topics, and tax.