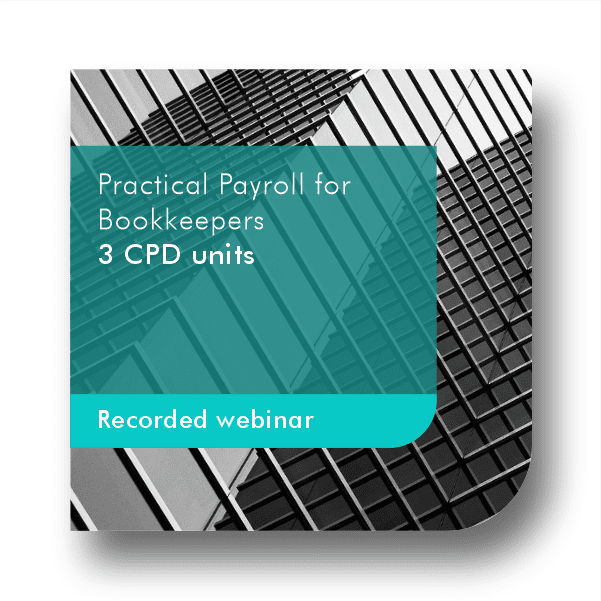 Practical Payroll for Bookkeepers 2023
To assist attendees to be aware of business ethics and promote ethical principles and standards within the realm of business 2023.
What you will learn
After attending this webinar you will:
Understand practical techniques to accurately calculate gross and net salaries.
Know how to handle transactions originating from external sources, including investment income, contributions for medical aid/insurance, pension or provident fund contributions, and retirement annuity contributions.
Gain knowledge on the appropriate timing and process for registering for PAYE, SDL, UIF, and COIDA.
Gain confidence to effectively prepare and file an EMP201 return.
Understand how to accurately prepare a payroll reconciliation, file the EMP501 return, and generate employee tax certificates (IRP5s).
Description
Bookkeepers and accountants who perform the payroll function must possess full understanding of relevant legislation, SARS administrative requirements, and how to work the numbers.
This webinar provides bookkeepers with a comprehensive overview of essential payroll processes, compliance requirements, and key payroll returns. Participants will gain the knowledge and skills necessary to accurately calculate gross and net salaries, ensure compliance with legal obligations such as UIF and SDL, and effectively handle payroll returns like EMP201 and EMP501.
Join Bekithemba Ndebele (ACCA) as he illustrates how bookkeepers and accountants can accurately calculate payroll figures as well as administer the payroll function in compliance with legislation and SARS requirements.
Price
The following pricing apply:
Adhoc: R450.00
Subscription: Bookkeeper
Content
Accounting for payroll expenses.

An general overview.
The debits and credits.
Leave provision.

How to register for:

Pay As You Earn (PAYE).
Unemployment Insurance Fund (UIF).
Skills Development Levy (SDL).
eFiling.

Monthly payroll statutory returns.
Bi-annual payroll reconciliation.
Employee tax certificates.
Requirements
There are no preconditions for this course.
Moderate level.
Recorded webinar made available on a specified date.
Presenter
Bekithemba Ndebele ACCA
Bekithemba Ndebele is an Associate of the Chartered Certified Accountants (ACCA). He completed his articles with PNA Chartered Accountants in 2015 after which he worked in the private sector as Group Finance Manager at Shearwater Adventures (Pvt) Ltd until December 2020.
Bekithemba is currently a managing partner at Zuva Financial Services (Pty) Ltd where he is responsible for tax advisory, assurance, business valuations, accounting, and business mentorship and acceleration.
CIBA Academy Support
Login to CIBA Academy
Select My Dashboard
Select Submit a Ticket to log a new query