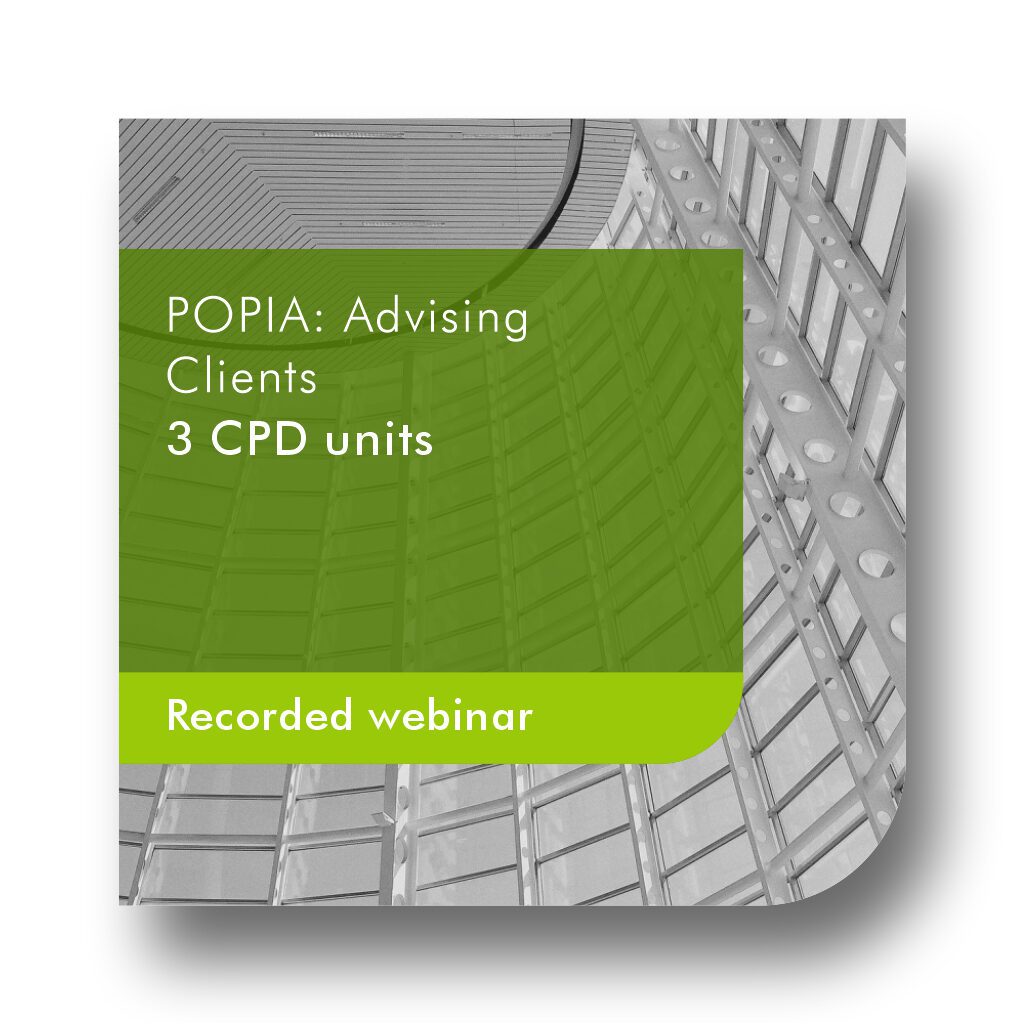 POPIA: Advising your clients
To discuss how accountants can offer the service of POPIA compliance to their clients. May 2022
What you will learn
By the end of this event the attendee should understand:  
Be u

pdated with the important provisions of POPIA and its application. 

U

nderstand how to apply the POPIA compliance checklist in your practice. 

Be able to develop a client communique to alert your clients about the consequences of non-compliance with POPIA.

Have an understanding of how you can assist your clients with their compliance of POPIA.

Be able to fulfil your professional accountant duty and report non-compliance with POPIA to regulators.
Description
The 1st of July 2022 marks the first anniversary of the effective date of The Protection of Personal Information Act (POPIA). However, a large contingent of businesses are not yet fully compliant with POPIA. 
POPIA is national legislation that your clients must comply with, and which accountants must ensure compliance with.  Accountants have certain reporting obligations in terms of NOCLAR (Non-Compliance with Laws and Regulations).  Appropriate action includes the accountant reporting the applicable non-compliance to management, evaluating the appropriate disclosure of the non-compliance in annual financial statements, issuing a qualified audit opinion, reporting the non-compliance as a reportable irregularity, etc.
Price
The following pricing apply:
Ad hoc: R450 for this webinar
Subscription: N/A
Content
Overview of important aspects of POPIA.

Who does POPIA apply to?

What are the basic requirements for compliance?

8 requirements for processing of information.

Information officer's appointment, roles and responsibilities.

How you assist your clients.

Are you allowed to offer this service?

Tips on how you can advise your clients.

What are the consequences of non-compliance?

Using our free POPIA compliance checklist.
Requirements
There are no preconditions for this course.
Moderate level.
Recorded webinar made available on a specified date
Presenter
Lettie Janse van Vuuren | CBA (SA)
Lettie is a Certified Business Accountant (SA), Chartered Accountant, Registered Auditor, as well as an Assessor and Moderator. As a professional trainer and webinar host, she is able to hold the attention of an audience with her relaxed and humorous presentation style.  She has a unique ability to communicate with delegates at their respective levels of knowledge and experience.  Over the last 20 years, she has trained thousands of partners, managers, trainee accountants and other professionals.
She is responsible for researching, compiling and presenting our MCLU (Monthly Compliance and Legislation Updates). 
SAIBA Academy Support
Login to SAIBA Academy
Select My Dashboard
Select Submit a Ticket to log a new query