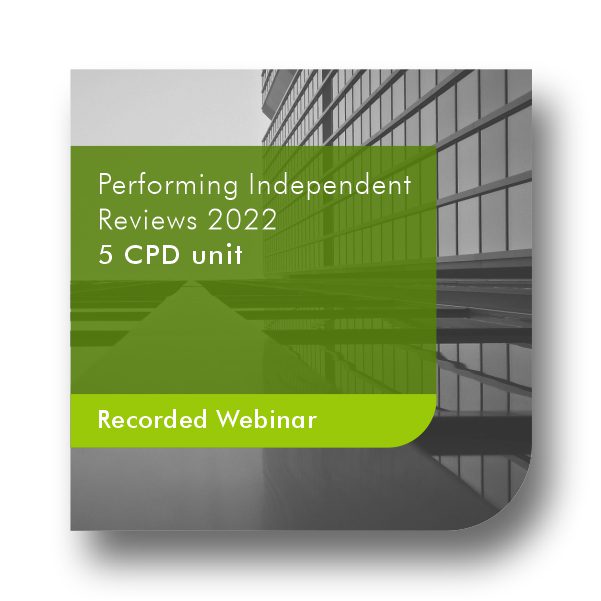 Performing Independent Reviews 2022
To discuss independent reviews w.r.t what they are, to which entities they should be performed, and persons. September 2022
What you will learn
By attending this webinar you will gain the following competencies: 
Have a broad understanding of the different types of assurance and other related services engagements.

Have updated knowledge of the international standard and legislation on independent reviews.

Establish how to determine whether a business should be audited or have an independent review performed on its financial statements. 

Know how to accept, perform, and report an independent review engagement.

Setting up and establishing a system of quality control for your independent review engagements.
Description
Independent reviews are voluntary limited assurance engagements that are optional to audits for certain business entities. Close corporations, schools, trusts, partnerships and sole proprietorships can opt for this less onerous and less costly type of engagement.   
Determining whether to perform a full audit or an independent review mainly depends on the Public Interest Score (PIS) of the entity. This means that an entity that scores below the PIS threshold is not obliged to have an annual audit. 
Because independent reviews are a service that qualifying accountants can take up as an additional revenue source, we have invited Monja van Zyl CA(SA) to present a full discussion on this limited assurance engagement type. During this webinar, Monja will give you the latest updates to the standards on independent review engagements.
Price
Adhoc – R575
Subscription Package – Accountant in Practice, Accountant in Practice plus Tax, Bookkeeper
Content
The webinar will cover the following topics: 
Differentiating the various engagements. 

ISRE2400 (Revised) – Engagement to Review Financial Statements.

SAAPS3 (Revised May 2019) Illustrative reports.

Companies Act 71 of 2008.

Calculating the (PIS) threshold. 

How to obtain the independent reviewer licence.
Requirements
There are no preconditions for this course.
Moderate level.
Recorded webinar made available on a specified date
Presenter
Monja van Zyl CA(SA)  
Monja van Zyl completed her CA(SA) articles in Durban and qualified as a chartered accountant in 2006. She then worked for both listed and unlisted companies in various industries where she mentored and led teams of different sizes.
Recognising the importance of balancing work and life, Monja started her own business called Aim Business Advisory Services in 2019. Her target market is the small-to-medium sized companies to whom she gives access to her vast skills and experience at a fraction of the cost on an outsourced retainer model. 
SAIBA Academy Support
Login to SAIBA Academy
Select My Dashboard
Select Submit a Ticket to log a new query