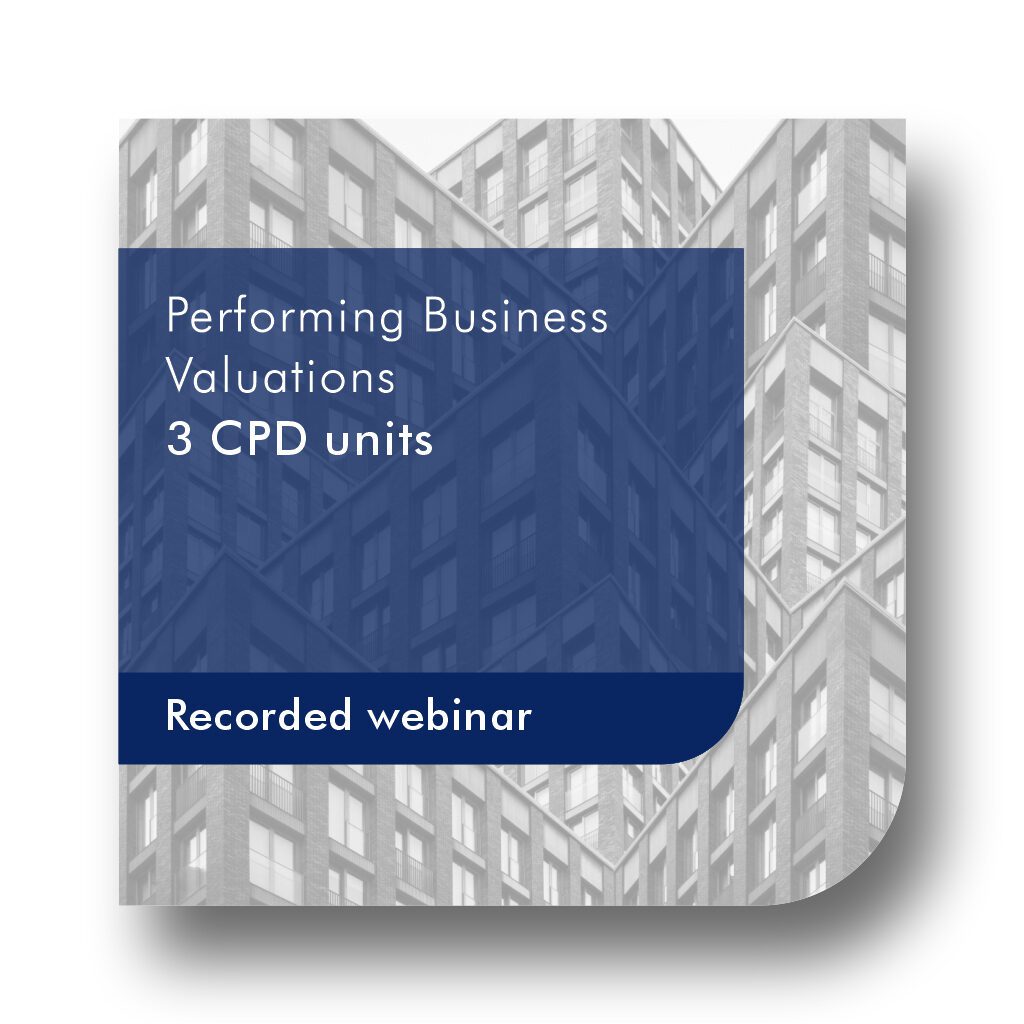 Performing Business Valuations
To discuss business valuations and how attendees can become competent business valuers. August 2021
WHAT YOU WILL LEARN
By the end of this event the attendee should:  
Understand business valuation and its drivers. 

Know how to assess the required ROI.

Understand how to construct an argument. 

Understand the different business valuation methods. 

Be aware of online tools that may be used in the business valuation process. 
DESCRIPTION
Businesses exchange ownership regularly for a number of reasons. Those businesses  that are sold as going-concerns require a fair valuation so that the buyer gets value for his/her money while the seller is satisfied that he or she sold the business at its "true" value.   
Business valuation also occurs when there is internal reorganisation and requests from lenders or investors who want to know what the business is worth before committing themselves. It is worth noting that there is more than one method of valuing a business. The method(s) chosen will depend on the type of business as well as the reason for selling it.  
We are presenting this webinar where we will discuss how participants can arrive at a value for a business using various techniques, from assessing the intrinsic value of a business to basing the value on future earnings.
PRICE
The following pricing apply:
Ad hoc: R475 for this webinar
Subscription: Included for free in Accountant in Practice plus Tax, Accountant in Practice and Bookkeeper package.
CONTENT
Study Unit 1
What is business valuation?  
Study Unit 2
Business valuation drivers. 
Study Unit 3
Business valuation methods. 
Study Unit 4
Choosing the correct business valuation method(s). 
Study Unit 5
How risk and return affect business valuation. 
Study Unit 6
Assessing the required ROI. 
Study Unit 7
Constructing your argument.  
Study Unit 8
Useful online tools for the business valuation process. 
REQUIREMENTS
There are no preconditions for this course.
Moderate level.
Recorded webinar made available on a specified date
PRESENTER
Nestene Botha CA(SA)
Nestene completed her B.com (Hons) at North West University in 2012. In 2014 she completed her professional articles and her Masters Degree in Chartered Accountancy. 
Nestene has lectured on the audit programme at the University of Cape Town. She started her own audit, tax & accounting practice which she has since grown into a reputable firm in the Tableview area with 60 clients and two staff members.
SAIBA ACADEMY SUPPORT
Go to HTTPS://SAIBA.ACADEMY/LOGIN/
Login
Select MY DASHBOARD
Select SUBMIT A TICKET to log a new query
ADDITIONAL MATERIAL
By attending this webinar, you will be provided with:
– Summarised slide presentation.
– Reference documents and / or course material where available.
– Access to a technical knowledge base.
– Recorded webinar that includes an expert presenter and participant interaction.