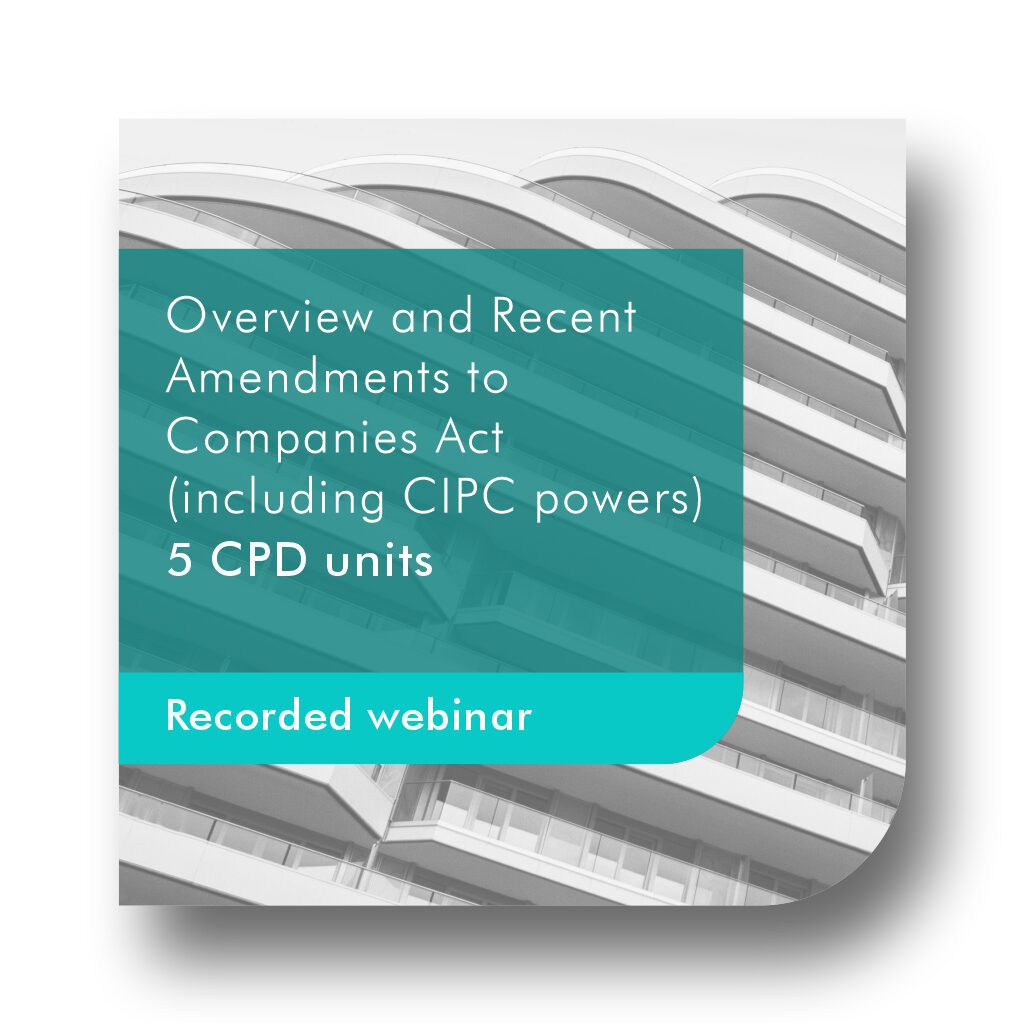 Overview and Recent Amendments to Companies Act (including CIPC powers)
To inform attendees of recent updates to the Companies Act. August 2021
WHAT YOU WILL LEARN
By the end of this webinar the participant should:
Understand a broad overview of the Companies Act;

Understand the main purpose of the Act;

Understand specific parts of the Act that directly affect the accountant's work;

Understand different stakeholders' roles, responsibilities and liabilities;

 

and

Know how the CIPC enforces the Act and monitors compliance with financial reporting standards.
DESCRIPTION
The Companies Act, 2008 provides for the incorporation, registration, organisation, management and capitalisation of companies. This Act also defines the relationships between companies and their shareholders and directors/members.  
The CIPC has its primary institutional mandate derived from the Companies Act. Among other functions, it is also responsible for the following:  
Enforcement of legislation; and

Monitoring of compliance with financial reporting standards by registered companies.
The purpose of this webinar is to discuss an overview of the Companies Act as well as recent amendments that have been made to it. Also under discussion will be the CIPC's powers and how these powers affect the work of the accountant.
PRICE
Adhoc – R575
Subscription Package – Accountant in Practice, Accountant in Practice plus Tax, Bookkeeper
CONTENT
Study Unit 1
The Companies Act – an overview. 
Study unit 2
Stakeholders' roles, responsibilities and liabilities. 
Study unit 3
Recent updates to the Act. 
Study unit 4
Who is the CIPC? 
Study unit 5
Understanding the CIPC's regulatory powers. 
Study unit 6
Corporate governance, transparency and accountability.   
REQUIREMENTS
There are no preconditions for this course.
Moderate level.
Recorded webinar made available on a specified date
PRESENTER
Edith Wilkins
Edith Wilkins is currently a director at Sekretari (Pty) Ltd, a company secretarial practice. She has 25 years experience in Advanced Corporate Law and Corporate Governance. Edith joined Sekretari (Pty) Ltd in 1995 and has been involved with the company's training since 2011 where she presents seminars and webinars as well as conducting in-house training to corporate clients.
Edith acts as company secretary to various large companies on company statutory duties including drafting agendas, board packs, liaising with CIPC, attending meetings and drafting of minutes.
ADDITIONAL MATERIAL
By attending this webinar, you will be provided with:
 Summarised slide presentation
 Reference documents and / or course material where available
Access to a technical knowledge base
Recorded webinar that includes an expert presenter and participant interaction