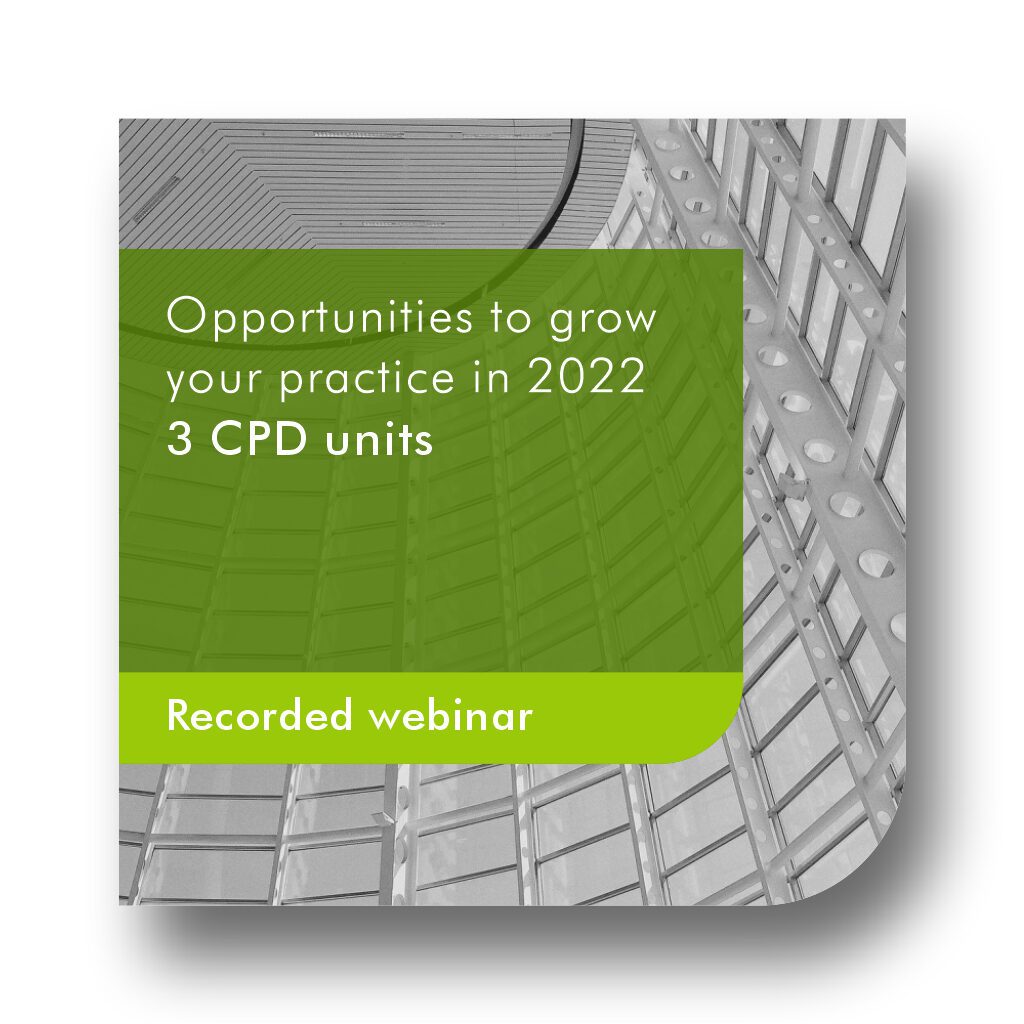 Opportunities to grow your practice in 2022
To give attendees an awareness of how they can grow their practices in 2022. January 2022
WHAT YOU WILL LEARN
By the end of this event the attendee should understand:  
How to remain relevant and competitive in your field.

Knowledge on how to protect your biggest asset – your clients.

An understanding of how to be more pro-active instead of 

being 

reactive.

The ability to know where and how to identify significant advantages.

Acquisition of knowledge taken from various publications on how the illustrated principles can be implemented. 
DESCRIPTION
It is critical for small businesses/practices to find significant advantages from establishing (or enhancing) processes, systems and controls for identifying, measuring, and analysing sustainability information. This can include improved efficiencies and performance, as well as differentiation from competitors.
Every practitioner needs to know how to nurture his or her clients as they are the most valuable asset of the business!
PRICE
The following pricing apply:
Ad hoc: R450 for this webinar
Subscription: N/A
CONTENT
Study unit 1
The need for relevance and competitiveness. 
Study unit 2
Growing your practice – The opportunities available. 
Study unit 3
Protecting your biggest asset. 
Study unit 4
Being pro-active vs being reactive. 
Study unit 5
Finding those advantages.
Study unit 6
Publications with illustrated principles. 
REQUIREMENTS
There are no preconditions for this course.
Moderate level.
Recorded webinar made available on a specified date
PRESENTER
Lettie Janse van Vuuren | CBA (SA)
Lettie is a Certified Business Accountant (SA), Chartered Accountant, Registered Auditor, as well as an Assessor and Moderator. As a professional trainer and webinar host, she is able to hold the attention of an audience with her relaxed and humorous presentation style.  She has a unique ability to communicate with delegates at their respective levels of knowledge and experience.  Over the last 20 years, she has trained thousands of partners, managers, trainee accountants and other professionals.
She is responsible for researching, compiling and presenting our MCLU (Monthly Compliance and Legislation Updates). 
SAIBA ACADEMY SUPPORT
Go to HTTPS://SAIBA.ACADEMY/LOGIN/
Login
Select MY DASHBOARD
Select SUBMIT A TICKET to log a new query
ADDITIONAL MATERIAL
By attending this webinar, you will be provided with:
– Summarised slide presentation.
– Reference documents and / or course material where available.
– Access to a technical knowledge base.
– Recorded webinar that includes an expert presenter and participant interaction.