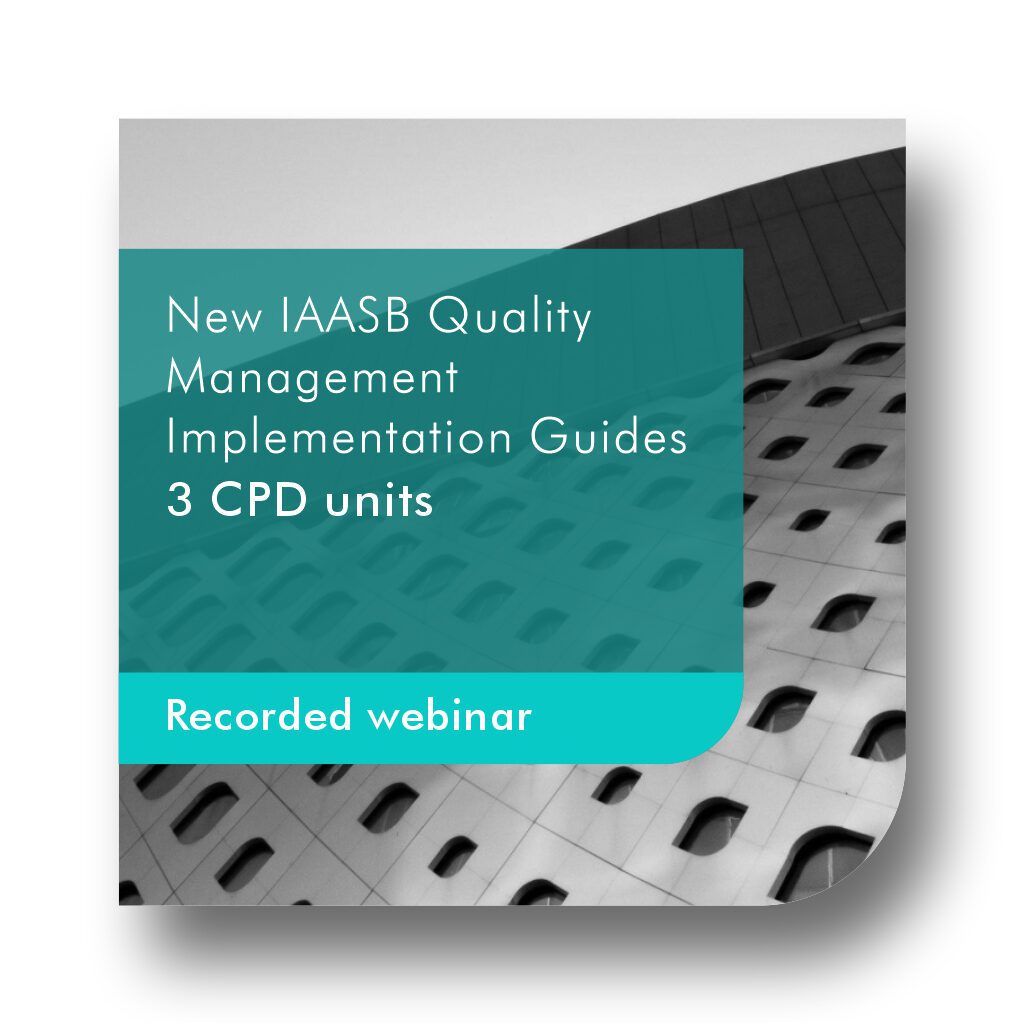 New IAASB Quality Management Implementation Guides
Updating practitioners regarding the new Quality Management Implementation Guides issued by IAASB. October 2021
WHAT YOU WILL LEARN
By the end of this event the attendee should understand:  
ISQM 1 through a comprehensive recap including its 8 components and other requirements;

The need for more robust governance and leadership;

The risk-based approach focused on achieving the quality objectives; 

The need to be proactive in monitoring of the whole system as well as timely and effective remediation; and

Available resources and also how to fully apply aspects of the new standards. 
DESCRIPTION
The International Auditing and Assurance Standards Board's (IAASB) "Suite of Quality Management (QM) Standards" effective from 15 December 2022 are everyone's point of discussion. 
IAASB has released two first-time implementation guides to help stakeholders understand and apply namely:
ISQM 1 –

Quality Control for Firms that Perform Audits and Reviews of Financial Statements and Other Assurance and Related Services Engagements

, and

ISQM 2 – 

Engagement Quality Reviews

.
Many might think they still have a lot of time before then but firms are required to have their system of quality management designed and implemented by the effective date. Practitioners are strongly encouraged to plan early for appropriate implementation, given the potential impact of the changes to systems of quality management.
This webinar will cover the Fact Sheet issued by the IAASB to recap the most important aspects of ISQM 1. This will assist practitioners and firms to successfully plan and implement the standards by the effective date.
PRICE
The following pricing apply:
Ad hoc: R475 for this webinar
Subscription: N/A
CONTENT
Study unit 1
Quick recap of ISQM 1:
The 8 components discussed.

Other important requirements.
Study unit 2
The need for more robust governance and leadership. 
Study unit 3
Achieving quality objectives through a risk-based approach. 
Study unit 4
Proactive monitoring of the system. 
Study unit 5
Timely and effective remediation. 
Study unit 6
Practical application of ISQM 1 based on firm complexity. 
REQUIREMENTS
There are no preconditions for this course.
Moderate level.
Recorded webinar made available on a specified date
PRESENTER
Lettie Janse van Vuuren | CBA (SA)
Lettie is a Certified Business Accountant (SA), Chartered Accountant, Registered Auditor, as well as an Assessor and Moderator. As a professional trainer and webinar host, she is able to hold the attention of an audience with her relaxed and humorous presentation style.  She has a unique ability to communicate with delegates at their respective levels of knowledge and experience.  Over the last 20 years, she has trained thousands of partners, managers, trainee accountants and other professionals.
She is responsible for researching, compiling and presenting our MCLU (Monthly Compliance and Legislation Updates). 
SAIBA ACADEMY SUPPORT
Go to HTTPS://SAIBA.ACADEMY/LOGIN/
Login
Select MY DASHBOARD
Select SUBMIT A TICKET to log a new query
ADDITIONAL MATERIAL
By attending this webinar, you will be provided with:
– Summarised slide presentation.
– Reference documents and / or course material where available.
– Access to a technical knowledge base.
– Recorded webinar that includes an expert presenter and participant interaction.